CBD Oil Buying Guide: Top 18 Brands to Trust
Say no to iffy CBD and make sure you are getting a top-quality product. Shop these 18 CBD oil brands that prioritize purity, quality, and transparency.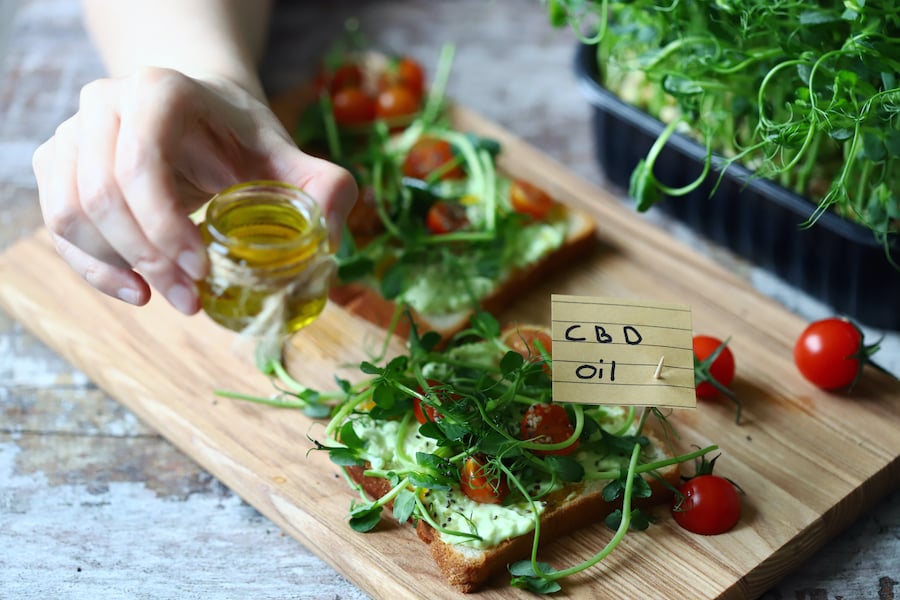 CBD oil has been a growing industry for the past couple of years, but there are still a lot of questions surrounding it. For many who are still largely unfamiliar with CBD brands—you want to feel confident in the product you've purchased.
Our Criteria:
Purity: The brands listed below only use the purest ingredients. Each company on this list uses hemp from traceable sources, and some use only organic hemp in all of their products.
Quality: These brands are consistently innovating to ensure the exclusive use of high-quality CBD.
Transparency: These brands put safety ahead of anything else, with a goal of elevating and supporting customers' wellness. Additionally, they test all of their CBD oils in a third-party lab and publish the results so customers can assess the purity and potency of products before buying.
Quick Buying Tips:
Flavored oils are often ingested on their own, but natural or flavorless oils can be great additions to food and drinks.
New to this? Test the waters with CBD oils with lower milligrams-per-bottle.
Everybody is different. Certain CBD formulas may work better for you than they work for others, and vice versa. Don't be afraid to try a few different types to find your desired effect.
Whether you're new to CBD or simply exploring your preferences, this buying guide is a great place to find and try products you can trust.
According to Merry Jane, the digital authority on all things cannabis, Penguin CBD is the "#1 CBD oil brand right now," and we can see why.
Penguin CBD's meticulous attention to quality results in the purest and best products on the market. They use hemp sourced from organic USDA-certified farms in Oregon, where the climate is perfect to cultivate plants with all the right terpenes to keep you feeling good all day. Their extraction process uses no solvents or additives, and it gives them ultimate control over the final product, for, what they call "CBD oil that will keep you smiling."
Penguin CBD's flavored broad-spectrum oils (a.k.a. mid-range between isolate and full spectrum) are simply made using CBD suspended in MCT oil for maximum absorption, plus the natural flavoring of your choice.
They come in three strengths—ranging from 250mg to 1000mg per bottle—and five delicious flavors including Penguin's latest, cookies and cream. They also carry a natural flavor that's great to add to recipes and beverages.
Click here to shop Penguin CBD oils.
2. Medterra
Medterra cares about their customers so much that they put together a team of experts to innovate some of the most creative CBD products on the market.
The company works in close concert with the Kentucky hemp pilot program to ensure their CBD oils are high-quality from seed to sale.
Medterra has created three different CBD formulas for its customers:
CBD Isolate: Guaranteed to have absolutely no THC. Available in strengths ranging from 500mg-3000mg.
CBD + CBG: For something a little extra, try this. CBG is known to some as the "mother of CBD," because many other cannabinoids (including CBD) derive from CBG. Available in strengths of 1000mg or 2000mg per bottle.
Broad-Spectrum CBD: Offered in citrus, strawberry mint, and natural flavors. Available in strengths of 1000mg or 2000mg.
3. Joy Organics
Joy Organics is a family-owned business that understands the importance of dependability and consistency in their wellness products. Their focus is on creating products from high-quality hemp that will always be effective, no matter what.
Joy Organics offers a range of doses for their broad-spectrum tinctures, from the gentlest—7.5mg per dropper—to a more-potent 45mg per dropper.
Choose from three flavors for your relaxation: Summer lemon, orange blossom, or tranquil mint.
4. Kat's Naturals
Kat's Naturals puts a focus on recovery for the body and the community.
Taking a local approach to wellness, they use hemp from farms in the Southeastern U.S. directly surrounding their headquarters in Tennessee. The company has even helped convert some tobacco farms into hemp farms to grow the perfect hemp for their special formula, which was created by a nutritionist who specializes in herbal medicine.
Kat's Naturals carries a broad-spectrum formula that comes in doses ranging from 500mg per bottle to 1500mg per bottle. Their Metabolize formula is the most unique of this category of offerings, with grapefruit, lemon, ginger, peppermint, and cinnamon extracts infused to give your body a boost of energy. Their full-spectrum formula comes in 750mg- and 1500mg-per-bottle doses.
5. Charlotte's Web
Charlotte's Web is one of the most recognized CBD brands on the market. One of the first companies to make CBD commercially available, Charlotte's Web CBD oil was originally formulated to help a young girl who had uncontrollable seizures.
Once the founders successfully found what they were looking for, they decided they had to make it available to the world. They now have a wide range of products for sale, but their CBD oil is still the backbone of the company.
Charlotte's Web offers only full-spectrum CBD, with over 80 cannabinoids present, for the most powerful experience on the market.
Their doses are as gentle as 7mg per dropper and as potent as 60mg per dropper. They come in four flavors to suit different tastes.
6. Royal CBD
A high level of customer service and quality is what puts Royal CBD on our list.
This company wants you to know that you are not just a number on their spreadsheet, but a valued customer. Their promptness in answering questions shows they care about their customers' wellbeing. Additionally, their CBD is sourced from entirely organic ingredients for some of the purest CBD products on the market.
Royal CBD's CBD oil is full-spectrum, and comes in doses ranging from 250mg to 2500mg per bottle. The highest dose is only unavailable unflavored, but the lower doses can be purchased in three flavors or natural flavor.
7. cbdMD
Constantly striving to improve the quality of their products and accessibility, cbdMD traveled the world looking for the right spot for the hemp they source, and their extraction and testing processes are state-of-the-art.
cbdMD carries only a broad-spectrum CBD oil formula, but they offer some of the highest doses on the market.
You can order one-ounce bottles in doses ranging from 300mg of CBD in every bottle to 7500mg in every bottle. The lower dose is perfect for CBD beginners, and the powerful 7500mg bottle is great for those who need very high doses, or for those who want to get a day's worth CBD in with just a few drops.
8. Hemp Bombs
It may be difficult to take a brand with a name like Hemp Bombs seriously, but this company takes your health and wellness seriously with every product they make.
All the CBD oil at Hemp Bombs is manufactured in-house, and they perform quality testing at every stage in the process.
Hemp Bombs is another company that carries one of the widest dose ranges on the market. Their broad-spectrum CBD oil comes in bottles with as little as 125 milligrams of CBD, and as much as 5000 milligrams of CBD.
9. +PlusCBD
Founded in 2012, +PlusCBD is another innovative company that was a first in the consumer CBD market.
This company values scientific investigation, and they are the only brand that has published research on the efficacy of their products. +PlusCBD is still leading the industry today with their thorough approach, their advocacy efforts, and their educational materials.
You can get try different formulas through +PlusCBD, and every one of them has something special.
Their Gold drops are the original formula of full-spectrum CBD, and they come in strengths of 250mg to 750mg per ounce. Their Total Plant Complex drops are the full spectrum formula with no additional additives, and they come in a dose of 300mg per bottle. Finally, the Raw formula is the most complete whole-plant formula the company makes, and it comes in a 2-ounce bottle with 250mg of CBD per ounce.
10. Green Roads
Green Roads is not only interested in making the best products available today, but they are also driven to elevate the entire industry's standards through education and advocacy.
Through Green Roads, you can purchase full- or broad-spectrum CBD in doses ranging from 300mg to 1500mg. What we love about this brand is that each bottle comes with a unique dosing plunger that makes getting the perfect amount of CBD easier than ever.
Green Roads' CBD oil comes in two flavors as well as a natural flavor.
11. Cureganics
Cureganics is taking its CBD products to the next level by using new technology to innovate products unlike the rest of the market.
They begin with organically-grown hemp with superior genetics, then they use a proprietary nano-emulsion technology to create CBD oil with super-high bioavailability, so not one drop of your CBD goes to waste.
Cureganics offers only full-spectrum CBD oil in natural flavor, but they have a wide variety of doses ranging from 250mg to 5000mg.
12. Sunday Scaries
Sunday Scaries is trying to make life's tense moments feel a little lighter with their fun approach to wellness through CBD.
This brand's CBD oils are made with organic hemp, and they are all infused with Vitamins D3 and B12 for an extra shot of energy.
Sunday Scaries offers only broad-spectrum unflavored CBD oil in a 500mg bottle: The perfect pick for those new to CBD and for those who want ultimate control over their dosing.
13. Balance CBD
A fitness professional who works in healthcare needed to find a natural supplement that would help her with her chronic fatigue, and she found it in CBD. She later teamed up with a doctor who was also excited about the amazing possibilities of CBD, and now they are working together to bring you a dependable, effective product through Balance CBD.
You can even contact a doctor directly through their website to talk about the ways CBD can help you, too.
Balance CBD offers full- and broad-spectrum CBD oils that come in a variety of formulas, infused with added terpenes. Their strengths range from 500mg to 1500mg per bottle.
14. Lazarus Naturals
Lazarus Naturals is an employee-owned company that puts an emphasis on accessibility and quality. They grow most of their own hemp and do most of the extraction for their CBD products in-house.
Transparency is big with this one: They test their oils the entire way through the process, and they share the third-party lab results on their website.
Lazarus Naturals offers full-spectrum CBD oil as well as oil made from CBD isolate. Their oils come in two strengths, 15mg per dropper and 50mg per dropper, and they carry bottles of varying sizes.
15. CBDistillery
CBDistillery wants to educate the world about CBD so much that they have published a full guide (available on their website).
The company's focus is on creating a high-quality product that is also affordable. The CBDistillery offers full spectrum CBD as well as CBD isolate, and their dosing ranges from 250mg per bottle to 5000mg per bottle.
16. PureKana
PureKana is a trusted CBD company, and they use only the best ingredients in their CBD products. They are stringent about their testing, and they aim to bring affordable, high-quality products to the market that customers love.
PureKana's full spectrum CBD oils come in doses ranging from 300mg to 5000mg per bottle, and they offer four flavors to try.
17. FabCBD
FabCBD uses state-of-the-art hemp growing and cloning practices, developing a uniform process that produces products you can trust every time. FABCBD is also meticulous about their testing, ensuring high-quality products only.
Offering a wide range of doses—from 300mg per bottle all the way up to 2400mg per bottle—their oils come in four flavors as well as a flavorless option.
18. Veritas Farms
Veritas Farms grows its own hemp, focusing on quality and sustainability with every plant, which means their farming practices are developed with your health as well as our planet's health in mind.
Veritas Farms carries full-spectrum CBD oil ranging in doses from 250mg to 2000mg per bottle, and each variety comes in natural or peppermint flavors.