Celebrate IPAs at Legion Brewing's 2nd Annual Friends and Beerfest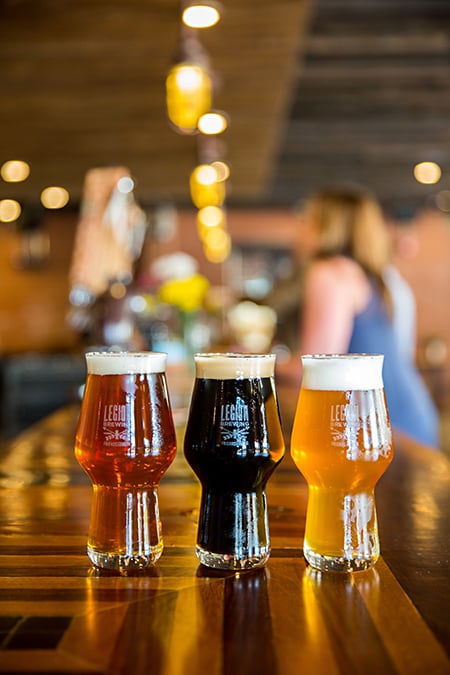 India pale ale, or IPA for short, seemingly remains the most popular style of craft beer. Rarely will you find a brewery without an IPA on tap, and that category is often the most sought-after award at larger beer festivals. Craft beer drinkers gravitate toward IPAs and their strong flavor (with many of them hop-forward), and the IPA subcategory has become just as popular, led by the current belle of the ball, NE IPAs.
This Thursday officially marks National IPA Day (which I've written about in years past) and Legion Brewing is once again celebrating the style with other Charlotte-area breweries with its second annual Friends and Beerfest. The festival will take place Saturday in Legion's taproom and parking lot from 4 p.m. to 8 p.m. and features more than 20 breweries.
While beer festivals can be hit or miss as of late, Legion's inaugural Friends and Beerfest last year was remarkable. The idea is simple: breweries gathering together to pour their best IPAs, with the ability to get as creative as they want. That resulted in quite a tasting last year, as breweries had both their flagship IPAs along with a number of one-offs.
Legion, of course, has one of the top IPAs in the city with its Juicy Jay, so it's a given that beer will be one of the more popular ones available. You'll also get a chance to sample beers from local breweries such as Birdsong, Blue Blaze, Bold Missy, Free Range, Heist, Lenny Boy, Salud Cerveceria, Sugar Creek, Thirsty Nomad, Unknown and Wooden Robot. Additionally, regional breweries just outside of Charlotte will be pouring as well, including High Branch (Concord), Newgrass (Shelby), and The Dreamchaser's (Waxhaw), all of which have impressed with their respective IPAs.
This is also a chance for many to try Resident Culture's beers for the first time. Charlotte's newest brewery, located in Plaza Midwood, isn't open quite just yet but is scheduled to appear at the festival. (Resident Culture has quietly been rolling out some of their kegs to area bars, and have been received well so far.)
Roots Catering will have a full taco bar to wash down those beers, with Two Scoops Creamery onsite as well in case you want a frozen treat to beat the heat. The festival will also feature live music from The Goodnight Brothers, The Bloodworth Project and Late Night Special.
Tickets for Saturday's festival can be purchased at this link. Advance tickets are $15 while day of tickets (which also will be sold at the door are $20). Each ticket includes a sampling card good for five 4-ounce samples, along with a festival logo tasting glass. You'll also have the option to purchase additional cards at the event for $10.