Celebrate the holiday weekend with these local beers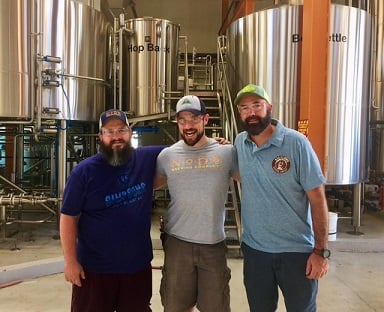 With America's birthday approaching, several local breweries are releasing beers just in time for your cookout, lake party or to enjoy on a long weekend. Here's the scoop:
FRIDAY, JUNE 30
–Whether it's the haze, the juice or the hops, there's no questions that NE-style IPAs are the most popular style in craft beer right now (you'll agree after reading this article). After high praise last fall, NoDa Brewing is back with its version, Good Will Hopping. Once again, you'll be able to get Good Will Hopping on tap or in 4-packs of cans to go. NoDa's taproom opens at noon, with live music and food from The Tin Kitchen as part of the release.
SATURDAY, JULY 1
–Birdsong's latest release, Say It To My Face, has certainly grown in popularity. Originally brewed as a small batch in 2013 by co-owner Tara Goulet and lead sales representative Jenny Sassman, it quickly became a favorite, to where the brewery upped it to a seasonal production. This year, for the first time, you'll be able to get this red double IPA in cans, beginning Saturday at noon in the taproom. Say It To My Face will be available on tap as well, and Birdsong will also have special hours on Monday and Tuesday from 2 p.m. to 8 p.m. in case you miss out on Saturday's release.
–For its fourth anniversary last year, Triple C created a (what else?) NE-style IPA. And the reviews were high (of course!), so much so that the brewery is bringing it back. You'll be able to try Not Just NE IPA Saturday at noon when the taproom opens. From the brewery's notes, this beer features a copious amount of Amarillo, Azacca, Citra and Mosaic hops from late boil additions and was also dry-hopped three separate times. Saturday's release will also feature live music from Tony Eltora from 4 p.m. to 7 p.m., while New Wrap Order food truck will be onsite as well.
MONDAY, JULY 3
–Putting a twist on the NE IPA, NoDa Brewing and Cornelius' Ass Clown Brewing collaborated on Directionally Challenged, which is what the two breweries are calling a Southeastern IPA. This beer has the base characteristics of an NE IPA, but Ass Clown and NoDa used flaked corn instead of wheat and oats, hence the Southern flavor. Directionally Challenged also features seven pounds of hops (El Dorado, Eureka, Mosaic and Simcoe) per barrel, which NoDa points out is the most it has ever brewed per barrel. For this release, NoDa's taproom will open two hours earlier than usual on Monday, at 2 p.m.
TUESDAY, JULY 4
–Fresh off a strong showing of its first Barrel Room release (the delicious Head Rush Brett IPA), Triple C is set for its next offering from the seven-barrel brewery across the street. Session 7 is described as a hazy session IPA that was dry hopped with a new hop, Idaho 7, that the brewery says "provides flavor of resiny pine, pungent tropical fruit, citrus and a slight earthy hint of black tea leaf." Triple C's taproom will be open July 4 from 1 p.m. to 6 p.m. for you to try this new beer, with Buddy's Oinker Express food truck also at the brewery that day.
FRIDAY, JULY 7
–Unknown Brewing collaborated with Revelry Brewing in Charleston for what is described as "a perfect beer on a South Pacific beach." At just 4.4 percent ABV, this is a light ale that was infused with grapefruit and then dry hopped with experimental hops. Try it at Unknown next Friday when the taproom opens at 3 p.m.