Celebrate Wooden Robot's one-year anniversary Saturday with "Bash at the Bot"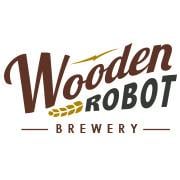 It's been quite a rookie year for Wooden Robot Brewery.
Before the brewery even opened, CEO Josh Patton and head brewer and president Dan Wade wowed everyone at Brawley's Black & Blue VI in March 2015 with Hop Rocks, an absolutely incredible sour IPA that was brewed in collaboration with Fullsteam Brewery in Durham.
Entering the explosive Charlotte brewery scene can be tricky, so it's good to be a bit different and offer something no one else has. For Wooden Robot, that's the must-try Good Morning Vietnam, a blonde ale brewed with local coffee from Enderly Coffee and Madagascar vanilla beans. When Wooden Robot officially opened its location on South Tryon Street last July, Good Morning Vietnam, Overachiever Pale Ale and the rotating What He's Having IPA series (always brewed with a different batch of malt and hops) quickly became fan favorites.
Wooden Robot also added to its setup in November with the announcement of Twisted Eats, the city's first beer-inspired food truck (if you haven't yet, try chef Rob Masone's Boss Hog mac and cheese egg rolls with pulled pork. In a word – outstanding).
The brewery was named one of the 33 best new breweries in the country by Beer Advocate, and also took this city's best new brewery title as part of Charlotte Magazine's 2016 Best of the Best Awards. Yes, it's safe to say Wooden Robot has impressed mightily in a short time with its beers, both at the taproom and various festivals. And this Saturday, some of those fan favorites are coming back, while Wooden Robot is also debuting five new beers as well. It's all part of "Bash at the Bot," celebrating the brewery's one-year anniversary.
Wooden Robot has quickly become known for its sours (including the aforementioned Hop Rocks), and two are among those returning: A Sour Darkly (sour brown ale) and the much-beloved Thicket as Thieves (sour blackberry ale; heads up that this won't be tapped until 6 p.m. Saturday). Also back are Cut it in Half and Dubbel it, Wooden Robot's Belgian Dubbel, and Sweet Tater Pie, a red ale brewed with cinnamon, nutmeg, sweet potatoes and vanilla.
Five beers will debut from Wooden Robot on Saturday, including Kill All Humans, a stout that the brewery says contains notes of caramel and chocolate. A small batch of Kill All Humans dry-hopped with Apollo hops will also be offered. At 2 p.m., Wooden Robot will tap Positronic Mind, a sour ale that was fermented in one of the brewery's foeders then dry-hopped with Denali hops. The brewery will be tapping Galactic Nexus, a raspberry sour, at 4 p.m., and rounding out the new beers is The Floor is Guava, a Belgian white ale fermented with guava puree.
Bash at the Bot also features two live sets (3 p.m. and 7 p.m.) from Modern Primitives, while That Guy Smitty will be the resident DJ, from noon until 11 p.m. For the occasion, Twisted Eats is planning a special menu as well.
Tickets to the event can be purchased here. Admission is $5, which gets you a commemorative glass, and beer tickets (one 12-ounce pour) are $5 as well. You can redeem two tickets for one food item as well. Bash at the Bot will go from noon until 11 p.m.