Celebrity Style: SATC 2 Premiere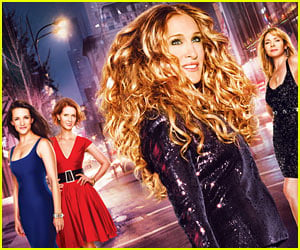 The wait is over. Sex and the City 2 hits theaters tonight at midnight – as if we even need to tell you that. The mobs of women in stilettos swilling martinis (we heard tales of some who even smuggled in cosmos in their purses when the first movie hit theaters) are likely to be legendary. Our advice: carry your most sturdy handbag – you may need it to whack rogue seat-stealers away from your row. If hand-to-handbag combat sounds a bit to serious for you, then just wait and see the movie next week when things die down. In the meantime, check out these photos from the SATC 2 premiere:
SJP– My favorite ensemble of the four. I like the cut of the dress and her makeup and hair look nice. The color of the dress seems a bit garish – but I am going to blame that on the saturation of the photo, and I feel like it's lacking a little sparkle. And maybe I'm being nit-picky, but I don't love the shoes with the dress.
Kim Cattrall– Again with the yellow! It's such a happy color, so I don't know why I am feeling such a vendetta towards it, but alas. I am. Not liking this yellow. It looks a little washed out – especially next to SJP's yellow dress. Kim Cattrall's body is smokin' hot, which means she can wear just about any dress she wants, so I am sad that she picked this one that seems a bit dull. However, her hair looks fab.
Cynthia Nixon– Ol' Cindy played it safe with a strapless black gown, and she looks nice in it. I like the detail on the bust, but the color leaves me feeling lacking. I'm not sure if you've noticed but, it's spring time Cynthia! Though I didn't approve of the yellows, at least they were on target with the season.
And finally…
Kristen Davis– I must admit, I'm biased. I am totally a "Charlotte," but I still think Kristin got a lot of things right. Sure it looks a little bit like Barbie on prom night (which is to say VERY pink) but the shade goes well with her skin and hair (which looks great, per usual). The fit is also very flattering.
So what do you think Shop Talkers? Which SATC gal do you think nailed it on premiere night? Did I get it wrong? Are you secretly hoping Carrie leaves Big for Aiden? Let's hear it in the comments.