Celedore Fine Wallpapers Opens in Myers Park
The store carries multiple lines of high-quality wallpaper in designs from subtle and traditional to bold and modern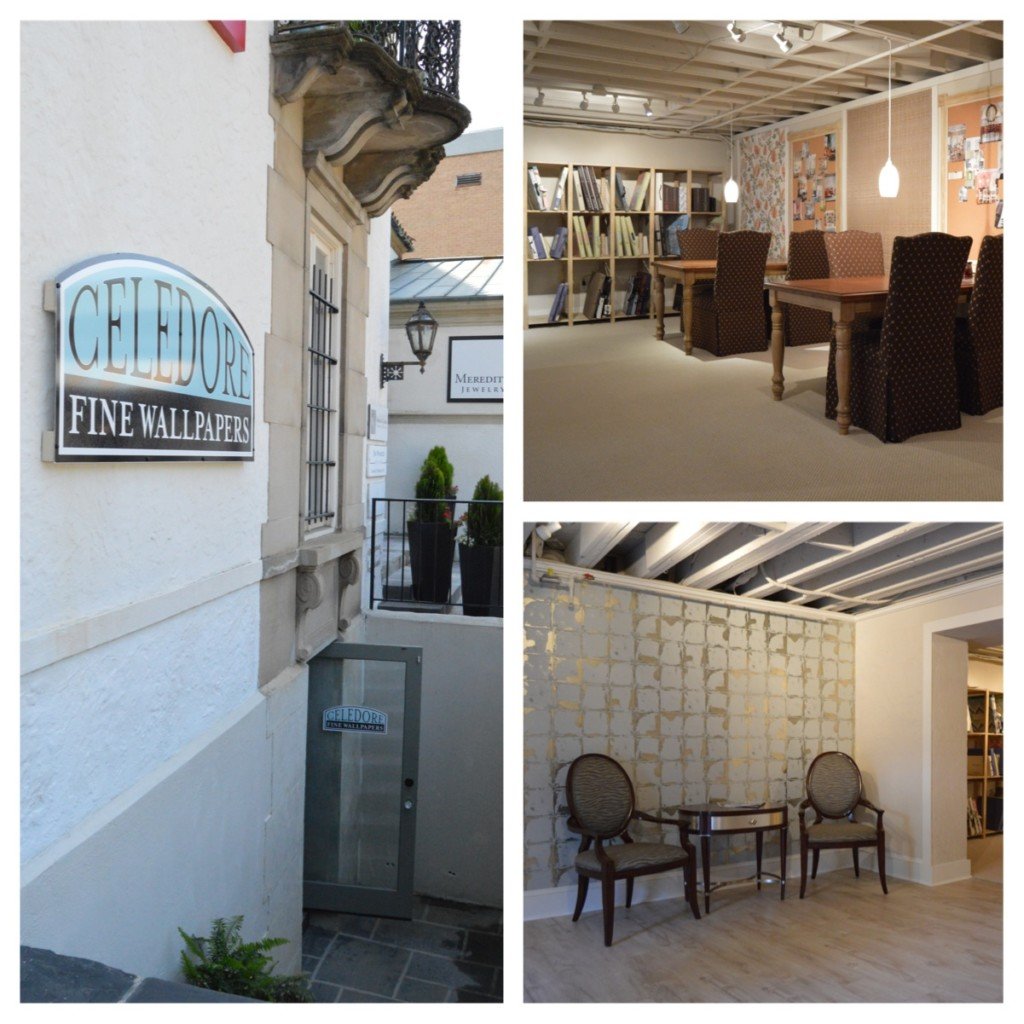 Elayne Langley had no idea when she named her new wallpaper business Celedore that she would wind up running the place in a basement suite reminiscent of a cellar, albeit a well-decorated one. The truth is, she needed an original name for which she could secure a web address, and Celedore fit. But after a possible location fell through, her now-landlord showed her this spot on Providence Road in the historic home where Stagioni and RuRu's Tacos are located. A large blue sign on the wall out front clearly marks her wallpaper shop, and another directional sign reads, "Open Downstairs."
Celedore Fine Wallpapers completes its first week in business this Friday, and Langley is already eyeing a couple of new lines to add to her offerings.
"This brand is getting a lot of play," she says, pulling up the website for Quadrille, which includes bold colors and patterns.
She switches to the site for Tempaper, a line of self-adhesive, removable wallpaper including textured options to make a wall resemble brick, metal, or stone. "With all of the lofts and apartments in Charlotte, this is going to be something really exciting."
Wallpaper got a bad reputation around the 1980s, Langley says. It was popular, so people put it everywhere. Wallpaper companies sold it in quadrants. One quadrant might include wallpaper for the living room, bedrooms, border for the bathroom. As builders constructed homes, many of them applied it directly onto the Sheetrock. When those houses turned over, new owners who wanted a new look were left with the terrible task of trying to strip the wallpaper and save the Sheetrock. Real estate agents advised against putting up wallpaper because potential buyers didn't want to mess with removing it.
Paint became the go-to choice. To add variety, people would sponge paint an accent wall or paint one wall a bold color, such as red. Paint is still popular these days, but people are reconsidering wallpaper for certain situations.
"Gray is so popular," Langley says, "but if your whole home is gray, you have to [add] something."
Peelable, vinyl wallpapers are showing up for those who want to personalize a rented space or quickly dress up a room. Adding it to one wall in an entryway makes the area pop. Then when it's time to leave or do something different, the wallpaper peels off.
On the other hand, for homeowners redesigning one room or an entire house, wallpaper companies are turning out real paper in stunning designs. When applied properly to a prepared wall, it can still be removed relatively easily, Langley says.
The left wall of Celedore's back room has shelves full of big sample books. She pulls them off the shelf to show some of her favorites: the latest from the longstanding Schumacher brand, handmade paper by Koessel Studios, and a European line of children's patterns.
"To me, it's art," Langley says.
Celedore Fine Wallpapers, 715 Providence Road, Suite B1; 704-817-8679; hours: Tuesday-Saturday, 10 a.m.-6 p.m. or by appointment.