Character Building
A secluded SouthPark home gracefully combines past with present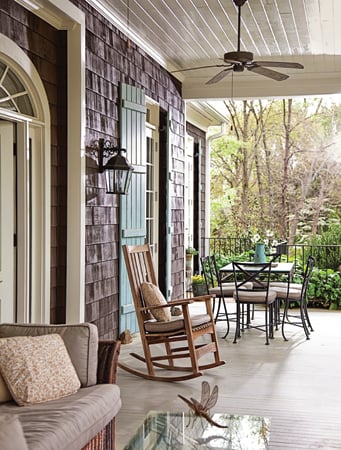 Nestled in a quiet SouthPark neighborhood, Millie and Tom Cox's empty-nest dream home sits atop a hill, overlooking land that was once a favorite haunt of Charlotte hunters. The hands-on couple designed the home themselves, without the help of an architect, enlisting the expertise of builder Doug Dunaway, contractor Steve Gunn, and draftsman Peter Goebbel. It rests on the footprint of the property's original ranch-style home, which was demolished after a renovation proved impractical following the discovery of asbestos. And although the home was built just a decade ago, many of the couple's favorite elements and one-of-a-kind touches give it a sense of timelessness.
"I knew what I wanted," says Millie. "I wanted to build a southern American home that had our influences."
The sweeping front porch, complete with sitting and dining areas, gives the home a southern feel. The couple's daughter, Liza, faux-finished the oversized plantation shutters, giving the home a pop of color that stands out against the property's lush foliage.
Inside, the wide-plank heart pine floors and exposed beams are striking. The russet-colored wood was originally part of the Renfew Bleachery in Travelers Rest, S.C. (established in 1929), which Tom salvaged after learning that the factory was in the midst of a demolition. Later, Millie realized that her father, who'd worked in the textile industry, had once sold textiles there. In its raw state, the wood was blackened and full of nails, but Tom could envision the beauty within. To prepare the wood for refinishing, the Coxes' son Dalton spent an entire summer locating and removing nails with the help of a few friends and a metal detector.
The resulting floors and beams are beautifully rustic, giving the home an historic feel.
The Coxes carefully considered their floor plan during the building process. "Every single night, we worked on the blueprints," says Millie.
Instead of sacrificing living space for enough bedrooms to hold the entire family, they chose to build just two bedrooms in favor of larger living spaces that would allow them to easily do the two things they most enjoy—hosting dinner parties and playing music. On many evenings, the room at the front of the house (dubbed the "music room") is full of the sounds of bluegrass. Millie plays the guitar; Tom, the mandolin. When they're not practicing or rehearsing, the couple loves to entertain, and the open floor plan allows guests to easily flow between the music room, dining room, and kitchen.
"When you're building a house, I think there are at least a hundred important decisions that you have to make," Tom says. A hundred decisions, all leading to a home that truly reflects the people who live within.