Charles Robinson: A Voice for the Vulnerable
A west side native hopes to build a caring community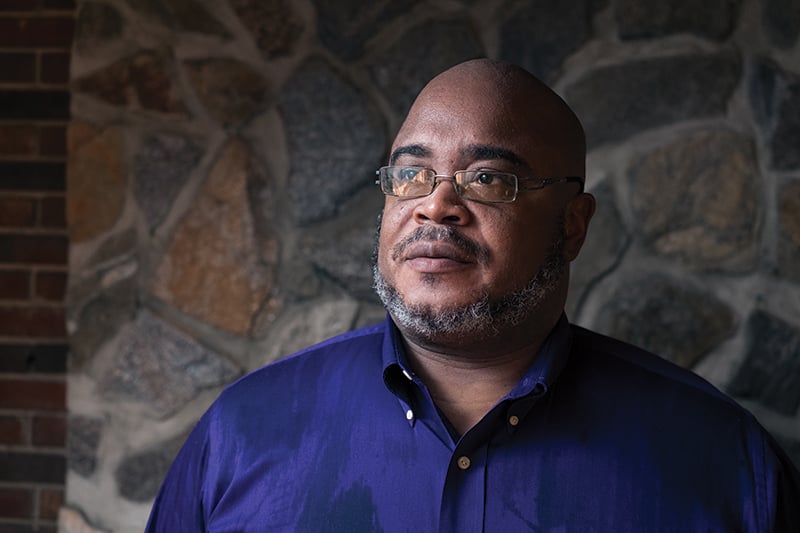 CHARLES ROBINSON WALKED through the heart of uptown, supplies in hand, bracing himself against the cold. He didn't feel like he had a choice; he couldn't pass by another homeless person on a Charlotte street and not help. For a frigid week in January, he and volunteers handed out 250 blankets, shoes, and socks to men and women huddled on benches on Tryon Street, along the bridge on Nations Ford Road, and elsewhere near uptown.
Overnight temperatures dipped below freezing that first week of the year. Some men near the Urban Ministry Center used the blankets to line the cardboard boxes that they wrapped themselves in like shoeboxes.
It was too cold for anyone to sleep outside, but Mecklenburg County leaders wouldn't open additional warming shelters, because the conditions didn't meet their protocols. Certain criteria had not been met—primarily environmental conditions that contribute to prolonged health risks or overcapacity at shelters.
So Robinson did what county leaders wouldn't. His cousin, Catherine Brewton, saw his Facebook posts about the people he was helping. She called him and suggested using the Barbra Brewton Hope For Harvest Youth Center, which she chairs, as a shelter.
He got on the phone and on Facebook, asking for a cook, pillows, clothes, blankets, personal hygiene products, and food. Within two hours, he'd organized the Winter Shut In. He invited homeless individuals and families into the building off of Oaklawn Avenue that weekend for free food and warmth.
"By the grace of God, it happened. It was a great event. People had a great time," he says. "Families could come in and stay together."
Opening shelters isn't Robinson's typical community outreach effort—helping families, especially kids, is his focus. His primary endeavor is mentoring through Team TruBlue, an organization that works with children in schools. Robinson was nominated for a Mayor's Mentoring Alliance Award in January.
"If somebody calls me, we're going to help," he says.
During the January cold snap, the Salvation Army, Men's Shelter of Charlotte, and Room in the Inn added additional beds, but the number of people still living on the streets dismayed Robinson and others. People avoid shelters for various reasons, from rules separating occupants by gender to mental illness to fears about safety.
"It was embarrassing… I thought the county should be doing more," says County Commissioner Pat Cotham, who also pushed for a warming shelter.
"We have so many rules. People's lives don't fit with the rules," Robinson adds. "I'm tired of begging the city. I'm not begging the city for nothing else."
So to make things happen, he instead taps a grassroots network he's cultivated over years of working in the community. His Facebook page is like a community bulletin board, with calls to action for one crisis or another, from coat drives to shoe drives. Community activists have his cell phone number, and they call—about a family living in a car on the east side, or a child threatening suicide, or a little girl some feared disappeared into the local sex trade industry.
They call. Robinson answers.
Helping those in need is in his nature. His late aunt was the Rev. Barbra Brewton Cameron, a community leader in the once crime-ridden Double Oaks area. It's called Brightwalk now, but Cameron was there when the neighborhood wasn't so bright, back when The New York Times dubbed it one of the most violent neighborhoods in America. Cameron founded Community Outreach Christian Ministries, which operates what's now called the Barbra Brewton Hope For Harvest Youth Center, where Robinson welcomed the homeless those cold January nights.
J'Tanya Adams, founder and president of Historic West End Partners, showed up for Robinson's temporary shelter. She brought a cook and volunteers to help. Adams knew Cameron and remembers Cameron's nephew as Lil' Charles.
"He was birthed into that family that has a gift for doing that kind of work," she says. "When I try to support him, I really feel like I am supporting (Barbra). She made a huge difference in people's lives."
Robinson, 46, grew up in Little Rock Apartments off of West Boulevard. He graduated from Garinger High School in 1989, after his family moved to Hidden Valley in east Charlotte. Little Rock is a low-income housing complex, in the Boulevard Homes area, with a median income of less than $10,000. Hidden Valley was home to one of Charlotte most dangerous gangs, the Hidden Valley Kings. "We weren't supposed to make it," says Robinson, who still lives in the Hidden Valley area.
But he did. He grew up with guys who would go on to be professional football players and lawyers, others who would end up in prison or dead. Robinson played football in high school and could have found himself in the prison pipeline. He loved to fight, but he also got good grades.
After dropping out of college, Robinson returned to Charlotte and started a landscaping company. Later, he managed fast food restaurants, became an ordained minister, and raised nine children. But he is best known for his work in the community.
"This is what he's been doing for a long time behind the scenes," says Garcia Nelson, cofounder and secretary of the nonprofit The M.E.N. Inc., standing for mentoring, educating, and nurturing. "He's actually being an example. He is the preventative measure."
Team TruBlue is an example of that prevention. Robinson and several childhood friends, who had loved ones killed or shot at, launched Team TruBlue in 2014 at Reid Park Academy. The area had experienced a spate of murders, and Robinson's team wanted to help the children affected by the violence. The organization now works with kids in more than a dozen schools on the east and west sides, offering mentors and violence prevention strategies.
"Everybody is not going into the streets trying to save a child," Nelson says. "When it comes to protecting our children, advocating for our children, that's what Charles Robinson does."
For many Charlotteans, the victims of homicide are just numbers on a news death count, but for Robinson, many of them are people he knew or who were connected to someone he knows. "We gotta stop this," he says. "We have to have a community that cares."
Robinson is building that community each time he answers his phone. One recent call encouraged him to speak about the homeless at a Mecklenburg County commissioners' meeting in February. Despite a recent bout of the flu, Robinson dragged himself to the meeting to share some advice.
"We opened up the warming station because I saw a need," he said at the meeting. "Let's get together and help each other. Charlotte is better than that."
TONYA JAMESON is a writer and rabble-rouser in Charlotte. Hit her up: tjameson11@gmail.com.