Charleston Eats: A 16-Stop Tour
A look at one of the best food cities in America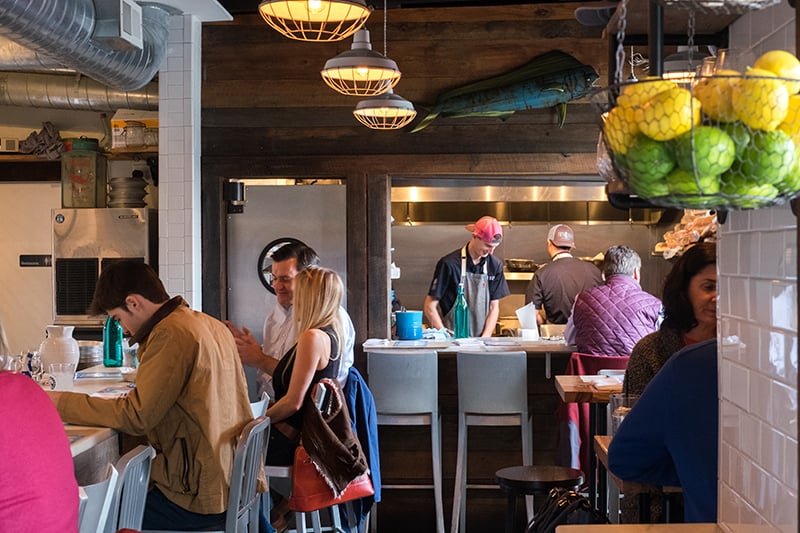 WHEN I FIRST started visiting Charleston a little less than a decade ago, the list of restaurant recommendations people gave me was short: Cypress, Magnolias, Poogan's Porch, High Cotton. Maybe a few others.
These days, with a new generation of chefs bringing their own styles and veteran chefs opening new concepts, there's not enough time to visit all the worthy restaurants in one trip.
Poogan's Porch, inside a Victorian house along Queen Street, is still a place where many people choose to start their day. Or you can try Callie's Hot Little Biscuit, a grab-and-go eatery serving up handmade biscuits, stuffed, if you prefer, with goodies such as country ham (and on Fridays, fried chicken). The Park Café is great for breakfast all week long, and is on trend with an assortment of toasts, but the creamy kale toast is a standout. Always on the menu are the Danish æbleskivers, puffed pancakes served with house preserves. The juice is fresh and so is the décor, a successful conversion of an old dry cleaners into a bright spot that helps you wake up.
Along a cobblestone alley you'll find McCrady's, a restaurant whose past is on display at every turn. Brick archways, gas lamps, original fireplaces, and an old water well at the corner of the dining room are silent testaments to this historical landmark's role in Charleston's own story. Originally built as a tavern in the 18th century by Edward McCrady, a leader in Charleston's militia during the American Revolution, it remains a place where locals and visitors can meet for a good drink.
As noteworthy as the architecture and cocktails are, Southern fare reimagined by award-winning chef Sean Brock remains McCrady's calling card. The kitchen seeks out fresh ingredients from local farmers and fishermen, presenting them in carefully constructed entrées. The menu changes frequently as a result, but expect to see Brock's signature use of ember cooking, in which ingredients sit in a pan that rests directly atop slow-burning embers. The result is a soft, smoky flavor that can't be achieved over a live fire.
My first experience at FIG, another upscale option, involved chilled razor clams over fresh corn and melon. Dusted with cayenne and drizzled with corn milk vinaigrette, this clean-cut dish is one example of what draws food-lovers to Charleston. If you find the tomato tarte tatin on the menu, be sure to make room for it.
You'd miss 167 Raw if you didn't know where to look. In a town known for shucking oysters, this little spot, which started out as a fish market with just four seats, might be my new favorite.
These days, the market-turned-raw bar seats a tight 22. The menu is a tidy list of hot and cold items, with specials and the day's oyster selection found on large chalkboards. Pull up a chair to the gleaming white bar and nosh your way through the menu, or grab a dozen oysters and a drink before heading somewhere else. The lobster roll, raw oysters, and ceviche are all hits, and the 10-hour pork carnita is a nice surprise (and a late-night craving).
Charleston's culinary scene continues to evolve, as residents and visitors alike increase their expectations and as the city grows outward. Chef Brock's newest concept, Minero, offers diners casual Mexican cuisine with a hint of Southern influence. Locals swear by Ko Cha, a Korean joint beside a gas station in West Ashley, a western district of the city where Charleston (and the colony of Carolina) was founded. Evo Pizzeria in North Charleston serves up good pies and craft beer in a family-friendly atmosphere.
Lee Lee's Hot Kitchen has a décor that lives up to its fun-loving name and a Chinese American menu that includes crispy scallion pancakes fried in pork fat. Chez Nous composes daily menus that speak to the cuisines of southern France, northern Italy, and northern Spain.
The evolution isn't limited to food. A restaurant's design is decidedly part of the conversation when dining out in Charleston, from the casually hip Leon's Oyster Shop to the bright and beautiful Westendorff.
Even this list barely covers what Charleston's food scene has to offer. My advice: Try something old, and try something new. In the corners of town that are less familiar to tourists are places such as Spero, a funky joint with a sense of humor, and Zero George, a boutique hotel pulling off an ambitious menu in a kitchen barely bigger than my own. Enjoy the shrimp and grits at Poogan's Porch, certainly, but also make time on your itinerary for Edmund's Oast, located (for now) on the outskirts of downtown.
---
5CHURCH SPREADS
5Church now has a sister restaurant in Charleston. It opened in November along Market Street, a popular tourist destination. Named for the address of the original location in Charlotte, 5Church in Charleston keeps the name relevant by occupying an old church, taking its stylish decor to a larger setting. The menu is familiar to those who've eaten at 5Church here, as is the handwriting on the ceiling spelling every word of The Art of War. 32b N. Market Street, 843-937-8666.
---
This article appears in the March 2016 issue of Charlotte Magazine
Did you like what you read here? Subscribe to Charlotte Magazine »
---