Charlotte 49ers vs. North Carolina Tar Heels College Cup Championship Viewing Parties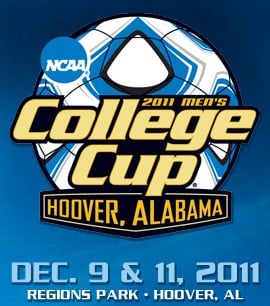 You might have seen the news this weekend—it's an all-North-Carolina Men's College Cup National Soccer Championship set to go down Sunday, after the Charlotte 49ers (UNC Charlotte) and the North Carolina Tar Heels (UNC Chapel Hill) won their semifinal games Friday night. You can read The Charlotte Observer's coverage here and here. And I figured I'd offer what Dusk Till Dawn does best: tell you where the viewing parties are.
Since this is all late-breaking, I'm just listing a couple of places where you can watch Sunday's College Cup Championship, and these are both places that drew crowds for the semifinal games Friday night. They're hosting viewing parties and will show the games on the big screens with sound. The game airs Sunday, 4 p.m. on ESPNU, live from Regions Park Stadium in Hoover Alabama.
Sunday, December 11
Wild Wing Café University
It will, because of the location, obviously be dominated by 49er fans.
711 W. Mallard Creek Church Rd., 704-708-9453, wildwingcafe.com.
Courtyard Hooligans
Tar Heel fans are welcomed, but there will be a contingent of 49er fans.
140 Brevard Ct., 704-376-2238, courtyardhooligans.com.
Also, below is video of the 49ers celebrating their victory Friday night.
Be sure to bookmark www.charlottemagazine.com/Blogs/Dusk-Till-Dawn to stay plugged into Charlotte nightlife.