Charlotte and Ferguson: The Big Difference
In the shooting death of Jonathan Ferrell, Charlotte took the anti-Ferguson route—it charged the cop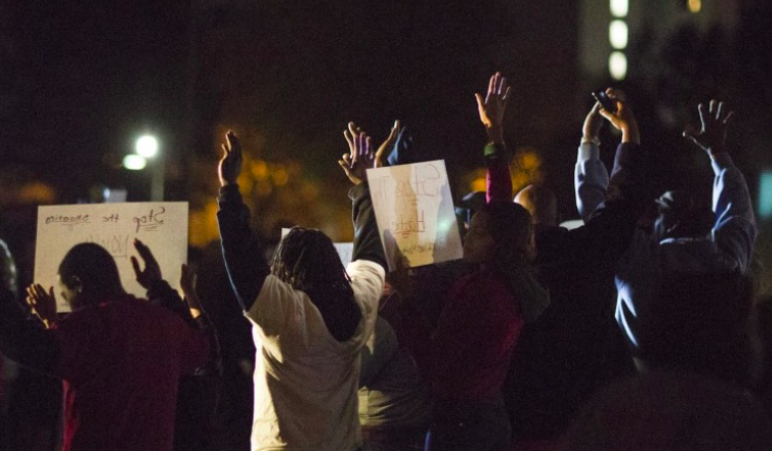 "No justice, no peace!" The common chant echoed again throughout the nation Tuesday in reaction to a grand jury's decision not to indict police officer Darren Wilson in the August shooting death of Michael Brown in Ferguson, Missouri. People chanted it in Oakland, Seattle, New York City, and here in Charlotte, too—in Marshall Park, at a rally hosted by Ignite NC, an activist non-profit.
It seemed to be an odd refrain for the 200 or so people who gathered in the dark and drizzle, considering the rally was about as violent and angry as a Kiwanis Club meeting. The event disrupted nothing—as usual, no one was using Marshall Park anyway—and blocked no roads, sidewalks or city centers, as happened in other cities. Charlotte-Mecklenburg Police made no arrests, either at the park or during another demonstration at the federal courthouse.
So why? It's not like CMPD officers haven't pulled the trigger on people. It's happened six times, four fatally, since the beginning of 2012. In five of those cases, the officers weren't charged.
It's that sixth—the September 2013 shooting death of Jonathan Ferrell, a 24-year-old former Florida A&M football player—that may have made the difference here. Like Michael Brown, Ferrell was unarmed. The CMPD officer who killed him, Randall Kerrick, fired 12 shots and hit Ferrell 10 times.
The difference, of course, is that the Police Department actually charged Kerrick with voluntary manslaughter—within hours of the shooting. The District Attorney's office pursued, and won, an indictment, and the trial is set for sometime next year. The city stopped paying for Kerrick's legal bills in the civil suit filed by Ferrell's mother.
In short, CMPD and the city treated the Jonathan Ferrell shooting case as a serious matter, and Kerrick in a manner appropriate for someone who had shot an unarmed man 10 times. Kerrick will get his day in court, and he may yet win an acquittal. But there's a lesson here, and the rally organizers—while they mentioned the Ferrell case at Marshall Park—understand the distinction between what happened in Charlotte and the ugly events in Ferguson.
"I do believe the prosecutor [in the Ferrell case] is seeking justice," Bree Newsome, a Charlotte resident who serves as Ignite NC's western field organizer, told me. "Unfortunately, what happened in Charlotte is not the norm." As long as the facts warrant it—and it's as hard to justify shooting an unarmed man in Missouri as it is here—why isn't it?