Charlotte Art League's Lease Terminated in South End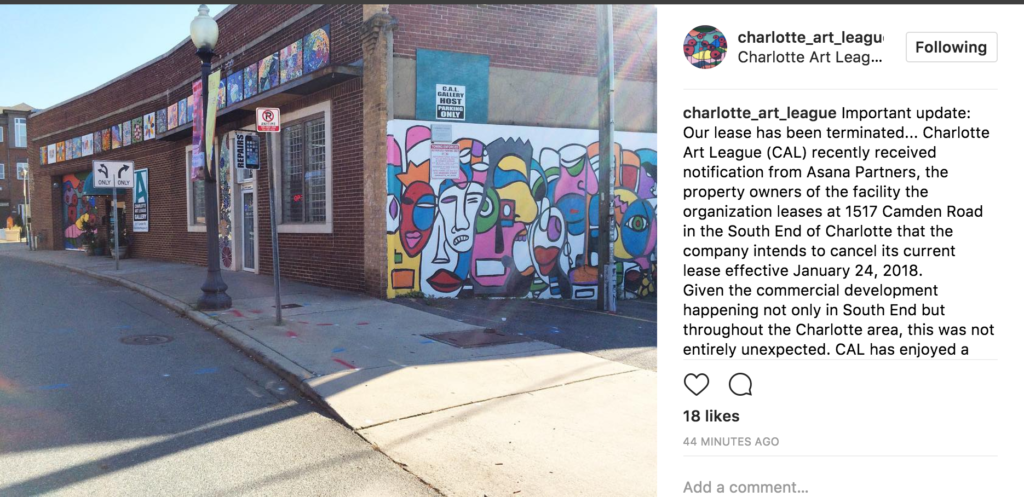 ARTS NONPROFIT Charlotte Art League is now looking for a new home. CAL was recently told by venue owners Asana Partners that "the company intends to cancel its current lease effective January 24, 2018," according to an Instagram post. The group has been in the neighborhood for more than 20 years (and it's been operating for more than 50 years). The group plans to stay at 1517 Camden Rd. until January.
CAL is a multi-pronged arts organization, offering several studio spots for members, a public gallery, educational opportunities, and teaming up with several Charlotte arts organizations. One recent collaborator has been Donna Scott Productions, which has staged a few shows and other events in the space. This decade hasn't been kind to South End arts venues, with music venues Tremont Music Hall and Amos' Southend both shuttering within the past two years.
CAL has been one of the anchors of the South End Gallery Crawl, an effort that includes Ciel Gallery, Dilworth Artisan Station, Elder Gallery, Lark & Key Gallery, and several others. CAL says it's "currently exploring opportunities to relocate."