Charlotte Brewers' Wild Ingredients
A rundown of the eccentric stuff Charlotte brewers throw into their batches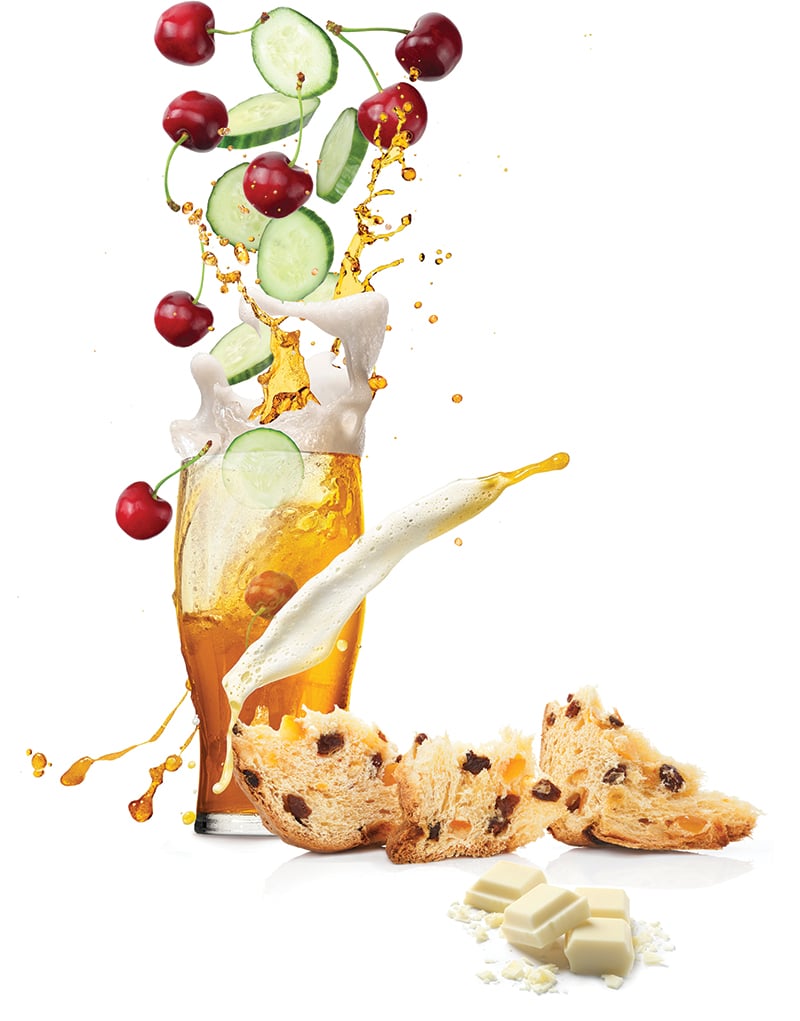 The banana split-inspired smoothie sour with cherry purée and white chocolate—that's a good one. The hazy IPA brewed with Phantasm powder, derived from sauvignon blanc grape skins, which gives the beer a refined, white-wine flavor? Another successful experiment. The lactose-free soft serve powder that goes into the Freeze fruited sour series? That's the stuff. That's what activates Gen Zers' salivary glands.
"Beer can sometimes be off the wall, and the Freeze series is one of our attempts to push the boundaries," says Tripp Moser, the head brewer at Heist Brewery, which developed, brewed, and tapped all of the above. "Plus, it is damn delicious."
This is where the craft beer movement has taken us. In the good ol' days, drinking beer meant sitting around a campfire with your buddies after a long day of fly-fishing for brook trout. (That's how it was in the Old Milwaukee ads, anyway.) Now, guys named Tripp are making beers that taste like banana splits. Heresy.
"There is that, you know, art aspect of craft beer," Moser tells me. We're at Heist's Barrel Arts taproom, the North End counterpart to its original location in NoDa. "It's kind of like French cooking: some onions here, some herbs there, but with a little bit of science. I think you get that personal touch from breweries, knowing that there's that human aspect."
Moser, 35, has been head brewer at Heist since early 2022, and he and his team have shown a penchant for the adventurous, at least in limited releases. The banana smoothie sour, Spilled Pick'n, was a collaboration with Houston-based Urban South Brewery that Heist released in June 2022. The hazy IPA with Phantasm powder—named Phantasm of the Opera, obviously—is an older recipe, from 2019, but still lands on Heist's menu every 18 months or so.
The possibilities may not be endless, but they're extensive. I contacted a few more Charlotte brewers about their own beer science projects.
Co-owner Ted Rosenau and Head Brewer Ryan Walsh won the now-defunct Strange Brews event at Unknown Brewing two years ago with a shandy that contained taco seasoning and blue Mountain Dew. They've thrown boxes of Krispy Kremes into a dark table lager. They've used Panettone, a kind of Italian fruitcake, in a Mardi Gras-themed king cake pastry blonde called Benni Royale. Possibly to balance the Krispy Kremes, they collaborated with Newgrass Brewing in Shelby on a helles lager filtered with alfalfa hay in the mash and aged in bottles with locally grown lemongrass. The lager's name: Is This Thing Cursed?
If it is, they don't care. "Nothing is sacred in the pursuit of flavor," Rosenau says. As a small brewery, he adds, Petty Thieves reserves the right to make old-style Czech pilsners and low-alcohol table beers along with excursions into the bizarre. "Because of our size," he says, "we can experiment with wild beer ideas that may only ever be on tap at the taproom."
Head Brewer David Carey scoffed at the idea of the usual St. Patrick's Day green beer with food coloring. If people wanted green beer this time around, they could drink Four Leaf Clover Blonde, with dried clover and cucumber. The beer wasn't green, but the ingredients were.
"Clover flowers give a flavor I would describe as fresh, green, melony, cucumbery, floral (kind of similar to gardenia)," Carey says in an email. "As with many herbs and plants, there's a substantial difference in character between fresh and dried."
Co-founders Alex Shoenthal and Tim Curtis have won multiple NC Brewers' Cup awards for their conventional brews. But their Strange Brews entry in 2021 broke the weird-o-meter. Let Shoenthal, via email, explain BeetleJuice, an "Imperial Beetle IPA."
"Starting with a dry-hopped New England IPA as the base, I added red beets, dragon fruit purée, and cochineal beetles for added color. These tiny subtropical beetles have been used for centuries as a bright magenta, color-fast dye and are used to color MANY everyday food items. The finishing step was the use of over 100 food-grade beetles ordered online (giant water beetles, rhino beetles, and June beetles). When we served the beer at the event, a crispy fried cricket garnish was optional!"
BeetleJuice proved a bit too strange, even for Strange Brews. Petty Thieves took the trophy. Nonetheless, Shoenthal collected the undrunk portion of BeetleJuice and put it on tap at Lower Left, "and it was a hit with the adventurous crowd." There actually was a bug in their beer.
GREG LACOUR is the editor.