RECIPE: Charlotte Cocktails for Pride
How do you address LGBTQ culture through food and drink?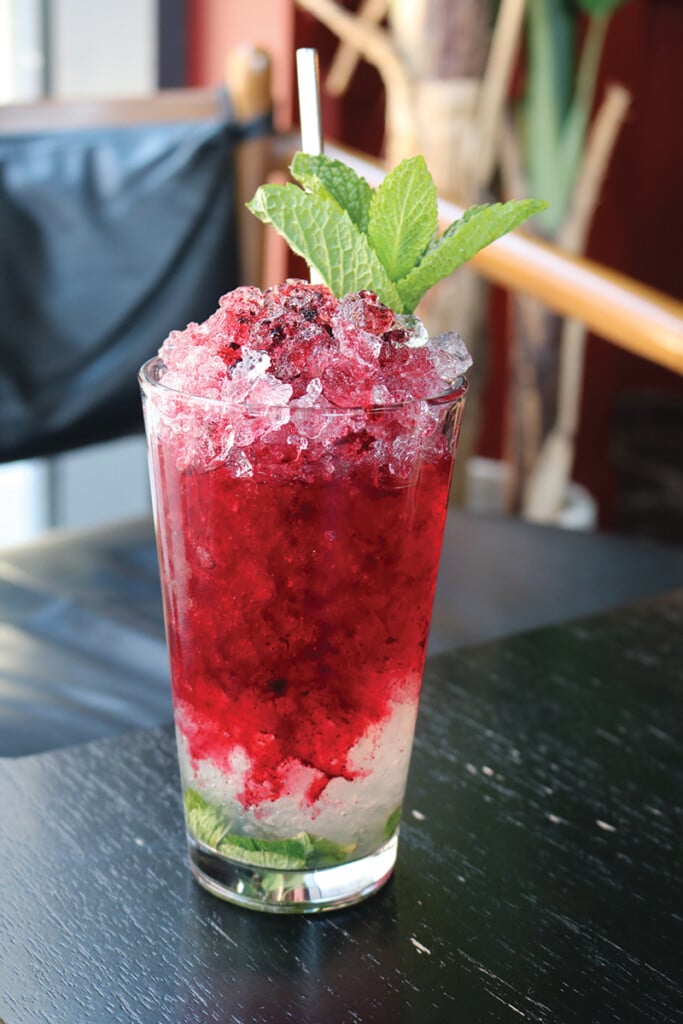 Each June, businesses show support for Pride and the LGBTQ community in myriad ways, but bars have a built-in advantage: They can do it in a way that's fun and gets people buzzed. 
Both Billy Sunday and its sister concept, Spindle Bar, roll out Pride-themed drinks at their Optimist Hall locations. In the past, they've made cocktails in every color of the rainbow and donated $1 for each one sold to The Plus Collective, a Charlotte-based foundation that awards grants to organizations that support the LGBTQ community. 
This year, Annie Stevenson, general manager at Billy Sunday, has created the Calm Before the Storm. "Think of a mojito without soda water, but layered with mint, lime juice, and rum over crushed ice," she says. "I add blueberries to give it more color and Peychaud's Bitters to add red and give it a rainbow effect."
Both bars promote Pride in ways that aren't visible on the menu, too. Their team, which includes five staff members who identify as LGBTQ, works with like-minded or queer-owned brands whenever possible. Deep Eddy Vodka, for example, donates swag like T-shirts and rainbow cocktail tins to PFLAG during Pride Month. "There are also brands we never carry," Stevenson says, because they openly discriminate against the LGBTQ community. (She declines to name them.)
It's more than just rainbow-colored treats and limited-edition drinks they roll out for 30 days in June. Billy Sunday hosts an event called Eat, Gay, Love on Thanksgiving for anyone who doesn't feel welcome in their own home. It's free to attend, and last year, it served close to 150 people. "We have different vendors in (Optimist Hall) contribute," Stevenson says. "Bao & Broth offered food and let us use their kitchen. It's a real community effort at the Hall."
So how do you build a cocktail menu that addresses community and inclusivity year-round? On International Women's Day, Stevenson created a cocktail with tequila, vanilla hibiscus syrup, Luxardo liqueur, and burlesque and orange bitters for an industry event at Billy Sunday. "I called it Risky Hibisc-y," she says. "I love cheesy names and puns. I get more of a kick out of it than I probably should. For Galentine's Day, I made one with Wahaka Mezcal that I named Wahakin' on Sunshine."
Stevenson, who has a degree in psychology, recognizes that bars are more than just a place to grab a drink. They can also be safe gathering places for the queer community in a predominantly heterosexual culture. "I've literally had people say they only came into our bar because they saw the Pride flags hanging," she says. "Everyone deserves a safe space, not just during Pride Month."
---
RECIPE
Annie Stevenson's Pride cocktail 
CALM BEFORE THE STORM
Ingredients:
Small handful of fresh mint leaves
¾ ounce lime
¾ ounce simple syrup
2 ounces white rum
Peychaud's Bitters
¾ ounce Blueberry-Infused Cocchi Americano (instructions below)
Mint sprig, for garnish
Instructions:
1. Combine mint, lime, and simple syrup in a pint glass and muddle.
2. Fill a glass about halfway with crushed ice, then pour rum over
the ice.
3. Add a small amount of crushed ice, then a dash of Peychaud's Bitters, until a thin layer appears in the ice.
4. Mound crushed ice above the rim.
5. Garnish with a mint sprig and serve with Blueberry-Infused Cocchi Americano on the side to pour over the cocktail.
Blueberry-Infused Cocchi Americano:
Combine equal parts blueberry purée and Cocchi Americano and let soak for a couple of hours before straining.