OPINION: Charlotte Council (Barely) Dodges Disaster
An RNC of some kind will happen even under COVID-19. For a critical vote Monday, five council members failed to grasp that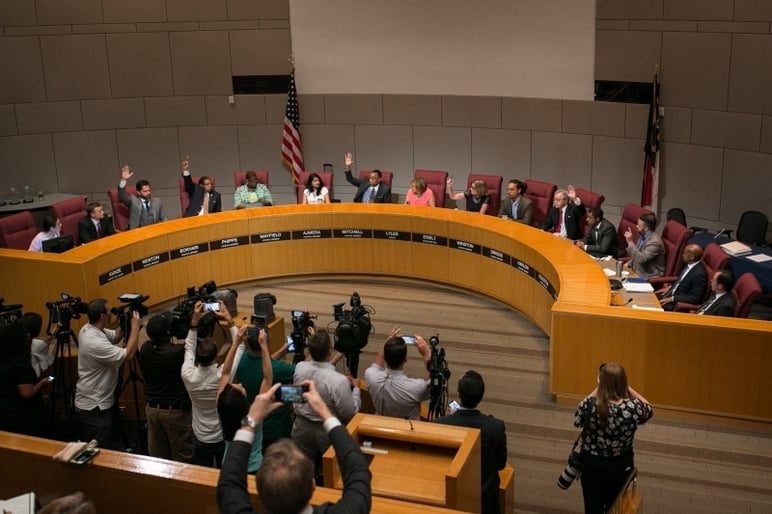 We need to get a few things clear about Charlotte and the Republican National Convention, still scheduled for August 24 through 27:
1. No one knows what it will look like. It could be a "virtual convention," a tidy term that does not reflect how it might occur in reality. It could be, insanely, a standard convention, with crowds in the aisles of Spectrum Center and the streets of uptown Charlotte and heaven knows where else. It could be something in between. No one knows what that would look like, either. The GOP might proceed under the proviso that delegates and attendees observe social distancing, in which case I'd wish them luck with enforcement.
2. It's April. We don't know what tomorrow will look like, much less August.
3. Any leverage the City of Charlotte had in the matter of hosting the RNC came and went in July 2018, when the City Council voted 6-5 to accept it. That was a bad idea. But once the GOP formally awarded the convention to Charlotte a few days later, that was that.
4. The council voted Monday, in another 6-5 vote, to accept a $50 million grant from the U.S. Department of Justice to cover convention-related security costs, including emergency medical treatment, technology, and insurance. The deadline for accepting this grant was May 6.
5. The council vote represents a narrowly averted disaster, and we need to grasp just how close the five council members, all Democrats, who voted against accepting the grant—veterans Dimple Ajmera, Matt Newton, and Braxton Winston and first-termers Reneé Johnson and Victoria Watlington—brought the city to a financial catastrophe to match the civic, cultural, and public health crises we'll likely face even with the grant.
City Manager Marcus Jones and City Attorney Patrick Baker could not have been clearer Monday: Acceptance of the grant would neither guarantee nor prevent an in-person convention. It would not dictate what kind of convention the Republican Party would hold. It merely ensured that the federal government, not the city, "would be on the hook to pay for it," as Mayor Pro Tem Julie Eiselt put it.
This didn't seem to matter to Winston, who punctuated a series of mostly irrelevant questions with a short speech based on the (also irrelevant) presumption that an in-person RNC would not happen. "We need to stop this charade right now," he said. "It is ridiculous to not make a statement … It sends a bad message to everybody." This might have been a fine sentiment to express if it had anything to do with the issue at hand.
When you cast votes to make statements and send messages, you risk real-world consequences that steamroll your message. Early on, Jones informed the council that he expects the city to run $13.7 million short of expected revenues for the 2020 fiscal year because of COVID-19. To tack on an extra $50 million, or any amount, by refusing to accept the security grant would have been madness—and that doesn't even include the cost of an inevitable breach-of-contract lawsuit. But we avoided it. By one vote.
The only thing we can be sure of with the RNC at present is this: When late August comes, it'll be up to the Mecklenburg County and state health departments, and ultimately Governor Roy Cooper, to determine whether it's safe for the convention or any other mass gathering. If public health data say it's not, he can extend the current statewide stay-at-home order (if it remains in place, which it might) or impose a new one. If that happens, we can count on the GOP to cast the decision as another example of Democratic tyranny and governmental overreach, which the party does regularly anyway. We could probably expect an untold number of people to crash Charlotte even with mass gatherings banned, and we'd really need that federal grant money then.
Regardless of how it plays out, the RNC will not be a pleasant experience for anyone who lives here. That was true before COVID-19. With it, we have to think of our city as an extension of ourselves and our families: We accept what we can't control, keep cool and level heads, protect ourselves as well as we can, and don't do anything stupid. It's a pity that the council edged so close Monday to the civic equivalent of sneezing on your dinner to make a point.