Charlotte craft beer happenings this weekend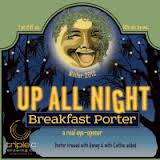 There's no shortage of Charlotte beer events this weekend, as a number of breweries are rolling out new releases while having events as well. I touched on some in my winter beer post, but here's a rundown of a busy weekend in Charlotte beer.
Thursday
Birdsong Brewing is tapping/releasing two great beers, The Pride and bourbon-barrel aged St. Tuber. The Pride, which made its debut last year, is a Belgian-style Abbey Ale while the St. Tuber was previously released a couple months ago. The sweet potato ale is even better now that it's been aged in bourbon barrels (trust me on this one). Birdsong opens at 4:30 p.m. and will also have That Guy Smitty providing music.
Also, Vintner Wine Market is having a tap takeover from Stone Brewing. All 16 of Vintner's taps will be dedicated to the famous California brewery, highlighted by Ruination randalled through habaneros, 2012 and 2013 IRS (Imperial Russian Stout), 2012 Double Bastard and oak-aged Old Guardian.
Friday
I've been endlessly waiting for this one: NoDa Brewing is finally bringing NoDaRyeZ'd back. This imperial rye IPA is the first beer I tried at NoDa when it opened just more than two years ago, and I've been a huge fan ever since. My only problem now is convincing the fine folks at the brewery to keep this on tap. Beginning at 6:30 p.m., Ryan Scarberry Trio will be playing to start soundtracking your weekend.
Saturday
The SouthEnd district is the place to be on this day, starting with Triple C's release of Up All Night and the bourbon barrel-aged version of the breakfast porter. As part of the release, Triple C will have two bands, Mojo Ruckus (4:30-6 p.m.) and Strawberry Flats (7:30-10 p.m.). Tickets are available for $15 and also include a 20 oz beer. The taproom opens at 2 p.m., and there will also be food available from Zach Goodyear of Sauceman's.
Later that night, Olde Mecklenburg Brewery is hosting Chefs Unchained. Nicolas Daniels from The Wooden Vine will be taking on Geoff Bragg from The Peculiar Rabbit. Tickets can be purchased here for $15 or at the brewery the day of the event, as the price rises to $20. The competition starts at 10 p.m., with proceeds benefitting No Kids Hungry. While at the brewery, grab one (or both) of OMB's latest releases, Bauern Bock and Dunkel.
Sunday
If you haven't made it out to Charlotte's newest brewery, Unknown Brewing, they're now open from noon to 8 p.m. on the weekends and have now installed TVs, just in time for the Panthers-Dolphins game.
Or if you'd rather watch in the confines of your own home, Good Bottle Co. just got in 64 and 40 oz. stainless growlers for your filling/refilling pleasure.