Charlotte Food News
From Barrington's to Fig Tree, here's what's going on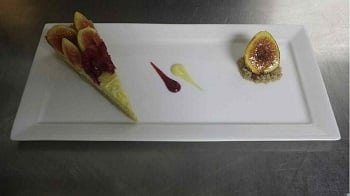 Here's what's going on in the restaurant world of Charlotte:
Temporary Closing: Barrington's, the French eatery owned by the Moffett brothers of Stagioni and Good Food on Montford, will close for a week starting September 7. Don't panic; the restaurant will reopen with new decor and motifs reflecting the brothers' hometown in Long Island, for which Barrington's is named. Additionally, Barrington's will be posting clues via social media to keep diners in the loop of what to expect.
Kosher BBQ: On Monday, September 1, Levine JCC will host the first annual Kosher BBQ Championship. The competition, which is for both barbecue enthusiasts and backyard grillers, is hosted by the Levine Jewish Community Center. Events will range from a pickle and watermelon eating contest to live entertainment and a kids play zone. The event runs from 11am to 3 pm.
New Dessert: If you aren't outside grilling all weekend, be sure to head to The Fig Tree Restaurant to test out a new dessert. Chef Greg has crafted a Fig Raspberry Lemon Mascarpone Tart. Said tart also features lemon curd and blackberry coulis complemented with a carmelized fig. Fun fact: the figs are being pulled from the restaurant's own fig tree on the property. The tree only blooms this time of year, so head over to try this delicious creation before those figs are gone!