Charlotte Greek Picnic, Fashion Events, Live Music, NFL Parties, and More Sept. 5-8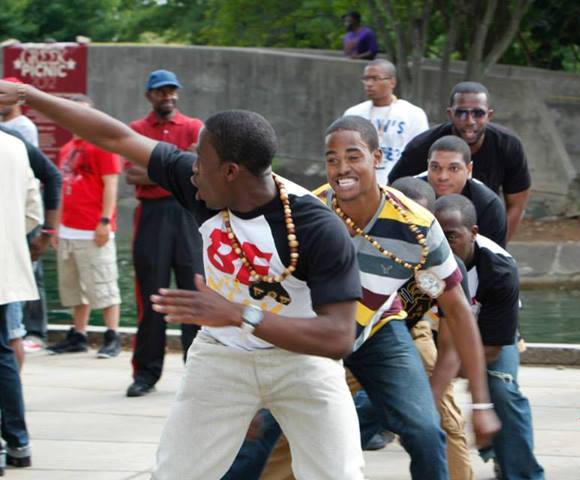 Don't wear white after Labor Day. And don't stop enjoying summer just yet. Check out this list of social events and parties.
Charlotte Greek Picnic 2013 (Sept. 5-7)
Charlotte Greek Picnic celebrates the rich culture and history of Black Greek Letter Organizations (BGLOs) with social events, including a stroll-off on the campus of UNCC (Friday), a picnic at Marshall Park (Saturday), and parties at local nightclubs. There's also a service initiative through T.I.M.E. To G.I.V.E. Visit charlottegreekpicnic.com for the full schedule of events.
Thursday, September 5
Alive After Five (weekly event)
This week's installment celebrates the start of the NFL season, and you're encouraged to wear your team's jersey or attire. Music by Mo Money on the rooftop stage. 5 p.m. Free admission; VIP tickets available. Wristbands from Alive After Five also get you free entry into official after-parties at Whisky River, BlackFinn, Suite, Vida, StrikeCity, and Bubble. EpiCentre, 210 E. Trade St., aliveafterfives.com/the-epicentre.
MetLive: Music on the Greenway (weekly event)
This Thursday kicks off the six-week fall run of this after-work series, taking place each Thursday through October 10. Music this week by The Boomers, while you enjoy a great view of Uptown and food and drinks from surrounding restaurants and bars. 6:30-9:30 p.m. Free admission. Metropolitan, 1111 Metropolitan Ave., metmidtown.com/metropolitan-metlive.htm.
Unplugged (weekly event)
Described as "a movement encouraging people to unplug from society's influence and plug into Christ," this social mixer features acoustic guitar and singing performances, spoken word, and a DJ. All faiths are welcomed. 7 p.m. Free admission. 2xSalt, 1900 Queen City Dr., iamunplugged.com, facebook.com/iamunplugged.
Thursday Night Jazz with Maysa
Maysa will perform live and celebrates the release of her new jazz album, Blue Velvet Soul. Presented by Jazz Diva Events and CBS Radio. Doors open 7 p.m.; show begins 8 p.m. $25. Label, 900 NC Music Factory Blvd., labelcharlotte.com, eventbrite.com/event/7651506863.
Friday, September 6
Third Annual Suds for Studs
This car and bike wash fundraising event features several bikini-clad chicks, including many of the club's dancers, who'll wash your ride for a great cause. There'll also be the "dunk a dancer" booth, a cornhole competition, DJ, food, and a raffle. Proceeds will benefit local animal rescue organizations. 2-7 p.m. $20 donation requested for car/bike wash. The Men's Club of Charlotte, 444 Tyvola Rd., mensclub.com/charlotte-mens-club.
Kady Z Live
The rising pop music star will perform songs from her debut album, Ordinary Girl. 6 p.m. The Saloon At The NC Music Factory, 900 NC Music Factory Blvd., thesalooncharlotte.com, facebook.com/kadyzmusic.
Front Row Charlotte: The Men's Show
This intimate runway show will feature men's apparel from Abbeydale, Blank Canvas, Nordstrom, Silverfly, and Taylor Richards & Conger, along with pop-up shops from vendors, Revolve Upscale Men's Consignment, and Dilworth Eye Associates. All proceeds from ticket sales will go toward the Charlotte chapter of Coalition to Unchain Dogs. Event organized by Joey Hewell and Erica Hanks, and presented by Scott Jaguar. 7 p.m. $50. CenterStage @ NoDa, 2315 N. Davidson St., centerstagenoda.com, frontrowclt.eventbrite.com.
Black. Fashion + Rock + Art
This outdoor show brings together fashion, music, and art, featuring a dozen vendors including Hudson and 7 Diamonds, a 40-model runway show, and live performances from Knoxville band Black Cadillacs. There will also be living pieces of art, a human concept sculpture, and live painting from Matt Moore and Ken Youngstrom. Presented by Hendrick Lexus. 8 p.m. General admission, $25; VIP, sold out. Fountain Plaza at NC Music Factory, 1000 NC Music Factory Blvd., ncmusicfactory.com, fashionrockart.com.
Reminisce
It's one party across two rooms with four DJs: DJ Justice, DJ Chance, DJ Freedom, and Concrete Kash. Hosted by JC the Poet and Coco of the Coco and Boogie Show. 10 p.m.- 2 a.m. Free admission before 11 p.m.; cover charge after. Volume Lounge, 1801 Commonwealth Ave., facebook.com/VolumeLounge, instagram.com/p/dz1Q2jxo3P.
Cedric Gervais
The internationally known house music DJ and producer from Miami will rock the party, including playing his own hits "Molly" and his remix of Lana Del Rey's "Summertime Sadness." Brought to you by Disco Donnie Presents and Sugar Society. 10 p.m.-2 a.m. General admission, $10; VIP admission, $20. Label, 900 NC Music Factory Blvd., labelcharlotte.com, cedricgervaislabel.eventbrite.com.
Saturday, September 7
Third Annual Brewer's Ball
It's a signature fundraiser for the Cystic Fibrosis Foundation, Charlotte Chapter, offering you a great evening of beer and food. Guests will sample a variety of handcrafted ales and lagers from top local microbrewers and food from some of the Charlotte area's best restaurants. There will also be a silent auction. 6:30-10:30 p.m. General admission, $75; VIP admission, $125, includes reception beginning at 5:30 p.m., tour of the brewery, and goodie bag. The Olde Mecklenburg Brewery, 215 Southside Dr., oldemeckbrew.com, charlotte.cff.org/brewersball.
Neo Soul Suite Volume 2
Enjoy a night of live soul music, featuring performances by Kyran and Friends, and Beverly Crowder. After-party with music by DJ 2Notty and DJ Uptown. Presented by Distinguished Gentlemen. Doors open 8 p.m.; show starts 9:30 p.m. $10 in advance; $15 at the door; dinner available for reserved tables. UpStage, 3306 N. Davidson St., upstagenoda.com.
2-3-4 Night with Polyester Apocalypse
Funk, soul, rock, disco band Polyester Apocalypse will take you back to the 1970s with their popular cover songs. Drink specials include $2 beers, $3 and $4 shots, and $4 well drinks. 9 p.m. Free admission. Miciah's Speak Easy, 229 Medical Park Rd., Mooresville, miciahsspeakeasy.com.
Farewell Summer
Get your party on before summer officially ends, with music by Power 98's DJ Incognito. 10 p.m. Free admission before midnight; cover charge after; VIP tables available. Privilege, 223 S. Brevard St., privilegecharlotte.com.
Rí Rá Live (weekly event)
The Irish know how to party…every weekend. On one floor, DJ Method will spin popular tunes, and on the other floor, Scott Moody and The Attitude Adjusters will perform. Drink specials include $2 Miller Lite, $2 Coors Light, $2 PBR, $3 Heineken, and $5 Jager Bombs. 10 p.m. Rí Rá, 208 N. Tryon St., rira.com/charlotte.
Sunday, September 8
It's Just Brunch
This brunch series continues, offering you a great menu, live music, and chance to make new friends. Presented by Digital Divas. 11 a.m.-3 p.m. Free admission. Ruth's Chris Steak House, 222 S. Tryon St., ruthschris.com, digitaldivasevents.com.
NFL Fancave
It's three things you love: beer, food, and football. The game will be shown on a giant flat screen TV, along with cornhole on the patio and prize giveaways. Drink specials include $3 domestic pints and $4 Bloody Marys. Doors open 11 a.m. Mortimer's Café & Pub, at EpiCentre, 210 E. Trade St., mortimerspub.com.
Cans:Recycled — Panthers vs. Seahawks
The Roaring Riot, the group of diehard Carolina Panthers fans, has found a new venue this season for Cans:Recycled, their party during and after home games. The game will be shown on multiple TVs, followed by music from DJ Matt Bolick. Noon. Free admission. All American Pub, 200 East Bland St., allamericanpubclt.com, facebook.com/TheCansRecycled.

Verify dates, times, prices, and other info at the web addresses listed for each event.