Charlotte Has Two Rare Blooms in One Week
Titan Arums open at Daniel Stowe Botanical Garden and UNCC Botanical Gardens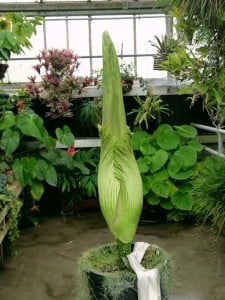 One Titan Arum bloom in this area is rare. Two in one week — that's unheard of.
This past Monday, the Titan Arum plant, named Morphius, bloomed at Daniel Stowe Botanical Garden. Now, the Titan Arum at UNC Charlotte Botanical Gardens, named Odoardo or Odie for short, is about to bloom. It is expected to open later today (Friday, July 17) or Saturday, July 18.
The rare tropical plants, native to the jungles of Sumatra, take eight to 12 years from seed to bloom if the plant is satisfied with its growing conditions. Then the plant might bloom every three to five years. They are known for their height, producing the world's largest floral structures. Odie is expected to be five feet tall when it opens. They are also known for their smell and have the nickname the corpse flower. During the first 12 hours of the bloom opening, the plant emits an odor that has been compared to rotting flesh. The bloom will remain for a couple of days afterward with a faint smell.
"These plants are rare to bloom at all," says Paula Gross, interim director at UNC Charlotte Botanical Gardens. "We had the first to bloom at all in the Carolinas in 2007."
UNC Charlotte has two Titan Arums; Bella bloomed in 2007 and 2010. There are more Titan Arums in the United States now than a few years ago, Gross says. In 2007, there might have been six blooms in the United States. Now there are about 12 or 15.
"For two to happen in Charlotte within a four-day period, that is unusual," Gross says.
The day Odie blooms at UNCC, the Botanical Gardens will stay open until 7:30 p.m. The following day, the gardens will be open from 8:30 a.m. to 7:30 p.m. If it opens in the middle of the night, the gardens will be open 8:30 a.m. to 7:30 p.m. the following two days. The plant is located in the McMillan Greenhouse. The garden will post updates to its Facebook page, and you can keep an eye on the progress with the live webcam here.