Charlotte Hosting Opus One Wine Dinner on 2012 Release Date
Wine dinner at The Fig Tree will span vintages from 2005 to 2012.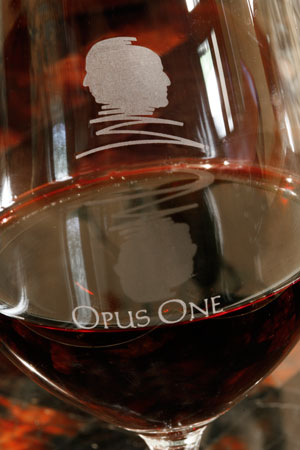 Opus One is a name every blossoming wine drinker hopes to stock their not-yet-existing wine cellars with. California winery Opus One began as a collaboration of the late Robert Mondavi and Baroness Philippine de Rothschild, two of the most revered names in wine. Today, its Bordeaux-inspired reds are among the top wines in United States, if not across the globe. For those such as myself, who can't afford the $200+ dollar bottles, drinking Opus One is an aspiration. Someday, I hope, I'll have a palate worthy of the esteemed wines.
It turns out, there are a lot of palates in Charlotte that are already there. Karen D'Amour, who represents Opus One in the South, says she's always been impressed with how progressive Charlotteans are in their wine tastes. She attributes our love of California reds ("Cab is king," she says) to the number of banks here, which employ well-cultured folks with the ability to spend more on fine wines.
"There's a reason that every steak house wants to be here, and not even Atlanta," D'Amour says. "You have Del Frisco's [here]; Atlanta's got Del Frisco's Grille, for example."
It's not often we're seen as farther along than Atlanta in many aspects of city life, but in terms of wine, we seem to have The Other Big Southern City beat. When The Fig Tree posted that it would be hosting an Opus One wine dinner on Oct. 1 on its website, without a price or menu, the dinner sold out in a week. There wasn't even a mention of it in the restaurant's newsletter. A few seats opened up this week, though, so if you're a lover of fine wines, the dinner offers a chance for pairings with four pours of Opus One, including vintages ranging from 2005 to the 2012, which is being released worldwide the day of the dinner.
"October 1st is one of the most highly-anticipated wine dates in a long time," Greg Zanitsch, executive chef and owner of The Fig Tree with his wife, Sara, said in a press release announcing the dinner. "We couldn't be more thrilled that our diners here in Charlotte will be some of the first in the world to taste the Opus One's 2012 vintage—and that we will be part of such an exciting release."
It can be difficult for restaurants to host a dinner with Opus One, as the dinners require the restaurant to have the wines already in their cellars; the winery doesn't provide any of the wines. It also requires a ticket price that can range from $200 to $400, D'Amour says.
"That makes the pool even smaller," she explains. If you've got a deep cellar and a clientele that will pay to try it, "That's how you end up with an Opus 1 dinner," she says.
The dinner will take place Oct. 1 at 7 p.m. The five-course dinner costs $210, which does not include tax or gratuity, and you'll have the chance to buy wines in limited quantities. See the full menu here.