Charlotte Magazine's Holiday Gift Guide: 2021
These four Charlotteans workshop giftworthy keepsakes from others' discards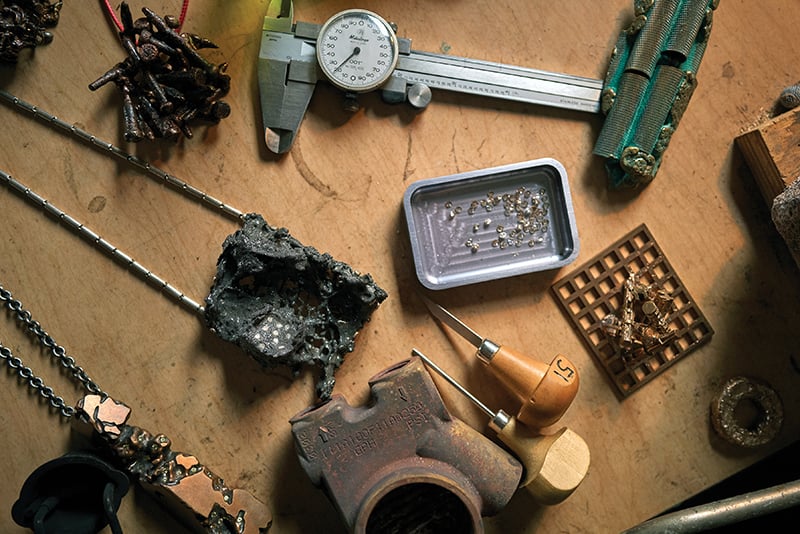 PHOTOGRAPHS BY CHRIS EDWARDS
Jason Stein
Jason Stein Metals
Jason Stein works full time as a bench jeweler at Perry's Jewelry, where he does custom design, repair, and consultations. In his spare time, he creates what he calls "wearable sculpture": heavy statement jewelry made with found objects and repurposed materials like nails and screws coated in steel, brass, and bronze. "This isn't a piece you wear every day," he says. "You might wear it to a gallery opening to be seen in it, then take it off and hang it on the wall." Often, clients bring him family heirlooms they want to repurpose. "Sometimes I can't reuse the gold … but if someone brought me a pair of Grandpa's binoculars or Grandma's sewing needles, could I turn it into a wall piece? Sure." During a winter residency at Penland School of Craft, Stein used a technique similar to casting to create a decorative tabletop piece with plastic model parts and electroformed copper. "If, say, someone was in the Army Corps of Engineers," he says, "that would look fantastic on a desk."
See Jason's work at jasonsteinmetals.com
Some items available for purchase through Splop Design: splopdesign.com/artist/jason-stein
---
Jaianna McCants
JVinylArt
Jaianna McCants first put paint to vinyl a few years back at the suggestion of a friend with a trove of well-worn albums. The experience opened a new artistic practice for the New York native, who depicts her favorite musicians on used records under the moniker JVinylArt and sells them from her web store. The mixed-media work includes a purple-soaked tribute to Prince; J. Cole's seminal record 2014 Forest Hills Drive, with the real-life street sign created via collage; and shoulder bags dedicated to the likes of DMX (shown) and Marvin Gaye. "People used to get mad at me and said I was ruining usable vinyl," she says with a laugh. "But sometimes the ones I'm using are scratched, and I tell them I always have the option of taking blank records and adding a cheaper custom label to emulate the real thing." Over the past two years, McCants has shared her practice at McColl Center workshops. Teaching's nothing new for her, though. By day, she's a visual art teacher at Mallard Creek High School.
Order bags, custom vinyls, coasters, and more at jvinylart.com
---
Kat Sánchez Standfield
Fiberess
At a glance, Kat Sánchez Standfield's art looks anything but traditional, but the Panama-born artist weaves and knits with techniques older than a High Renaissance fresco. The artist is part of the Goodyear Arts Collective, based at Camp North End. Her wearable "Noodle Scarves" and wall hangings ("Magnified Weavings") are influenced by "the history of textiles and its intrinsic connection to humanity," she says. Their appearance as enormous, simplistic knots reflects the age-old utility of fiber. When you examine them closely, you see all the careful twists and turns made by Sánchez Standfield's hands—similar to those her mother would use to craft a new bouyetta, or traditional Panamanian dress, with each stage of her childhood. Some of her larger pieces appear unspooled and unfinished at the edges, much like the ongoing story of the form.
See and purchase Kat's work at fiberess.com
---
Ilan Paltrow
Gear Goat XCHG
Before we visited Gear Goat XCHG in Elizabeth, we asked owner Ilan Paltrow: Do any of your items have a particularly interesting story? "Bicycles from European mountain trails, hiking shoes that have been to Africa, sleeping bags that have kept people warm in snowstorms … a few minutes in here, and you'll be wondering what to shoot," he replied. Paltrow, a former speed skier and entrepreneur originally from Portland, Oregon, founded Charlotte's only gear consignment shop in 2018. The staff at Gear Goat Xchg, an outdoor equipment and apparel shop, doesn't just sell used materials: They prolong their storied lives with new and custom parts. Their motto: "ReUse + ReLive + ReLove." For the adventurous and the globetrotters in your life, the "new" descriptor may not be as desirable as "tested." Many items at Gear Goat XCHG have already gotten others home safely.
Visit Gear Goat XCHG at 824 Lamar Ave. Monday through Saturday from 11 a.m.-6 p.m. geargoatx.com