Charlotte Oktoberfest finds new location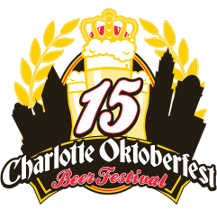 The next upcoming beer festival for Charlotte is one of the city's biggest, and recently made a huge change that I think will benefit all parties involved.
It had been rumored and talked about for the past few months, but Charlotte Oktoberfest officially announced that the 2013 event, which will be Sept. 28, would be changing venues, moving to the N.C. Music Factory to coincide with its 15th anniversary.
Longtime Charlotte Oktoberfest attendees will remember the festival has had a number of sites. It originally was held at Independence Park, off 7th St, and later moved to the South End district, Park Road and then NoDa, where it had swelled to its biggest size.
Given the high number of ticketholders, Charlotte Oktoberfest needed a larger spot, so for two years, the festival was held at Memorial Stadium, followed by the Metrolina Fairgrounds. The latter became the official site by default from 2009-12, due to a sinkhole at Memorial Stadium that effectively shut that location down for a couple of years.
And while Charlotte Oktoberfest has always been a great time, it's great to see it move to a more centralized location. Metrolina can be a hike for some city residents (myself included), and the fact of the matter is this is a festival you really don't want to be driving to anyway. Credit to the festival's organizers for offering a number of transportation alternatives through the years, but those cab rides or shuttle services can get pricey.
The other major benefit of having the event at the N.C. Music Factory is the terrain. Attendees of last year's Charlotte Oktoberfest know what I mean there. The 2012 festival was, in a word, muddy. Actually, that's an understatement. It was a mess of water, mud and straw due to a mid-festival rain shower, but the good news was the rain didn't stop the beer from flowing.
I've attended a few events at the N.C. Music Factory, including Charlotte Magazine's BOB awards party. It's a huge location, so there should be no problem for the more than 100 breweries scheduled to attend. And if there's a repeat of rain (given the recent weather, I wouldn't be that surprised), there's no need for your boots (or an ark).
Tickets for this year's festival will go on sale Aug. 1, and will be $40. There's also a $60 premium ticket, which allows entry into the festival an hour and a half earlier than the general admission ticketholders.
I'll have another post about Charlotte Oktoberfest next month as the festival draws closers. For up-to-the-date information, you can go to the festival's Web site at www.charlotteoktoberfest.com.