Charlotte Restaurant Week
The most magical time of the year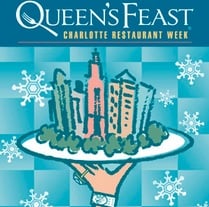 IT'S HERE! IT'S FINALLY HERE! As a food writer, Charlotte Restaurant Week is like an explosion of all things culinary — a week long adventure to explore some of the best restaurants throughout the city.
If you haven't already made reservations at a few of the restaurants, I encourage you to go ahead and do so. Most of Saturday's dinner have already filled up, but there's still Friday, Sunday, and alllllll the other days until next Sunday.
The feast runs from this Friday, January 17, to Sunday, January 26. The best part of this food festy is that diners can enjoy three or more courses per person for only $30. I say "or more" since some restaurants also add a glass of wine to the dinner.
Many of Charlotte Magazine's "Top 25" restaurants are part of the week, including 5Church, Aria, Blue, Bistro La Bon, Upstream, Passion8, and more, but there's a full list of participating restaurants here. The restaurants are all organized by region, so you don't have to stray far for an amazing meal.
As a note: the $30 deal is for dinner only and coupons may not be accepted at many eateries. If you do book reservations and change your mind, please call the restaurant and cancel — many of us would be happy to take your place!
See you around Charlotte — I'll be the one who's so full I can't breathe.