Charlotte Restaurants Nab Top Honors at Dig Into Local
Bonterra and Heirloom both made the top five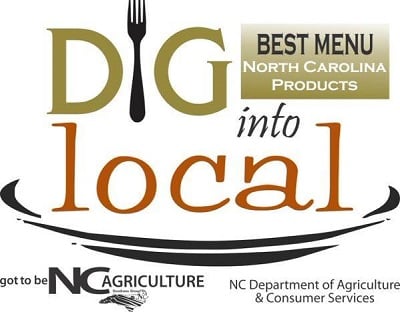 In yet another awesome effort to focus our attention on the bounty of local food coming from the Tarheel state, the recent Dig into Local contest by GotToBeNC selected 13 restaurants and food businesses from across North Carolina to participate in a competition highlighting locally sourced ingredients on menus.
The menus were judged on several criteria, including:
Clearly identifying NC agricultural products, farms, and/or manufacturers
Highlighting seasonal produce
Identifying items with unique regional connections
Offering NC wine, beer, and spirits
Inclusion of multiple cources featuring NC ingredients
Offering a good balance of NC products across protein, grain, and produce categories
If you've been there, it's no surprise that the first place overall prize went to Heirloom – Clark Barlowe's Charlotte restaurant built solely on the products of the chef/owner's home state. "I take this award very seriously," Barlowe told me. "It shows our state is serious about supporting local and I am honored Heirloom is able to showcase those products. I also hope this award can lead to partnerships with the Department of Agriculture on some of the projects we are working on with CMS and the Mecklenburg County Health Dept. Again, though both myself and the entire team at Heirloom are so excited to be named #1, I really want to give all the credit to our farmers. They're the ones who do the hard work; we have the pleasure of putting it all together at the end."
Second place went to Gravy in Raleigh; third to Bonterra in Charlotte (congratulations to Chef Blake Hartwick); fourth to Harvest Moon Grille in Lincolnton; and fifth to Sitti in Raleigh. Winner for Best Menu for North Carolina Seafood Options went to Basnight's Lone Cedar Cafe in Nags Head while winner for Best Menu for North Carolina Spirits/Cocktails Options went to Over Yonder in Valle Crucis.