Charlotte Restaurants Open on Thanksgiving 2018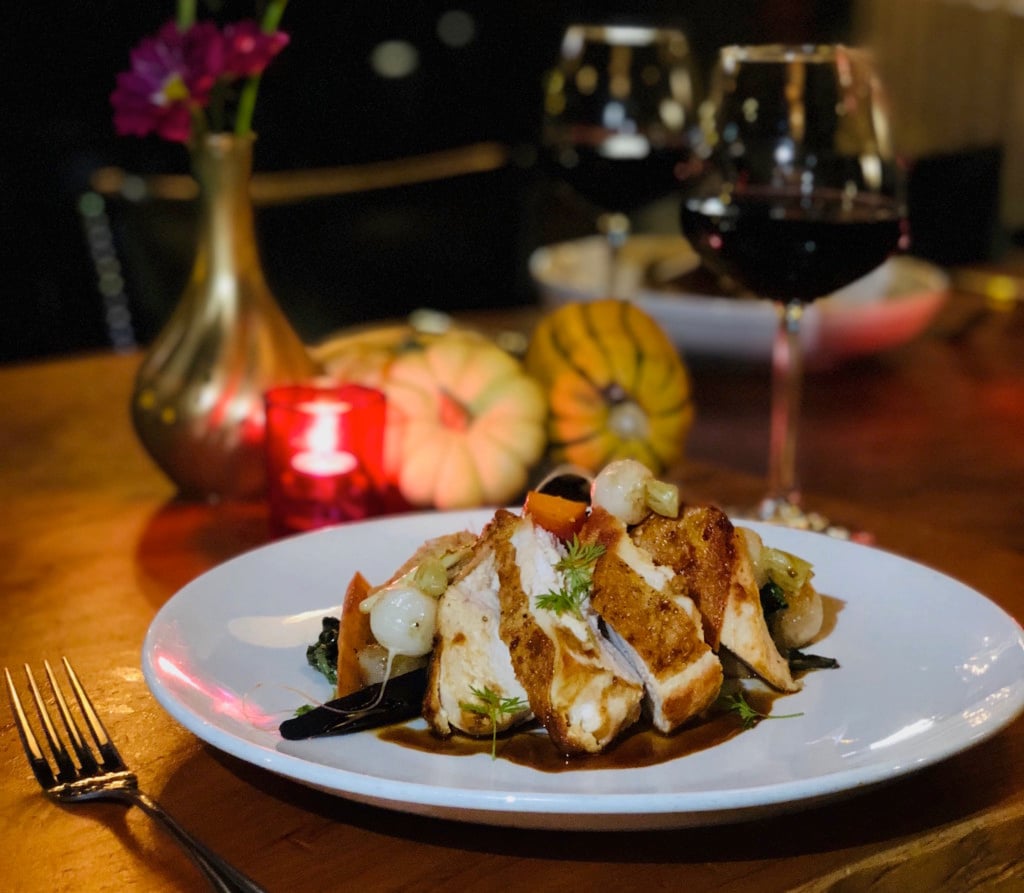 ---
HOPE YOUR Thanksgiving outfit features an elastic waistband.
Surely you've learned from years past, secretly unbuttoning your britches after dinner? No, just me? Well, if you're opting not to cook or clean Thanksgiving dinner this year, you'll need a stretch-proof outfit to wear to one of the Charlotte restaurants open on Thanksgiving. You know, to refrain from undressing in public and such.
Here are the Charlotte restaurants open on Thanksgiving (Nov. 22) this year—be sure to make a reservation. Then, all you have to do is show up with an appetite and clothing that grows with you, not against you. You'll be thankful you did.
Fleming's Steakhouse
Address: 210 E. Trade Street
Phone: 704-333-4266
Thanksgiving hours: 11 a.m. to 8 p.m.
Reservations: Click here.
A three-course meal awaits you at Fleming's, where all the food is from scratch. Starting at $42, the prix-fixe Thanksgiving menu features favorites such as lobster bisque, herb-roasted turkey breast, family-style sides, and sweet seasonal desserts like Apple Crisp. For devoted steak eaters, the main dining menu will also be available. Children can also enjoy a three-course meal for $19. By dining at Fleming's, Guests will help provide over 11,000 meals to Charlotte-area families.
Vivace
Address: 1100 Metropolitan Avenue
Phone: 704-370-7755
Thanksgiving hours: 12 p.m. to 6 p.m.
Reservations: Reserve on OpenTable.
This sleek, midtown Italian restaurant will be offering a $35-per-person Thanksgiving buffet. It is $15 for children 12 and under. Vivace will have traditional holiday favorites as well as items such as Italian sausage, whipped roasted sweet potato and Mascarpone, and roasted root vegetable hash. There will also be a carving station with roasted turkey, prime rib, and spiral ham, along with four dessert options featuring tiramisu and pear rum raisin bread pudding.
Metro Diner
Address: Three Charlotte-area locations.
Phone: 980-215-9961 (Charlotte-Pineville)
Thanksgiving hours: Closes at 2 p.m.
Gather 'round the table at Metro Diner for breakfast, brunch, or lunch on Thanksgiving Day. Diner fare comes to life in this nostalgic gem across three area location—fried chicken and waffles, biscuits and sausage gravy, croissant French toast all delight the morning crowd. Plus, there will be a holiday special to try. Sink your teeth into the stuffing waffle with turkey, which is a "waffle" made from stuffing, topped with mashed potatoes, gravy, and roasted turkey, and served with a side of cranberry sauce.
5Church
Address: 127 N. Tryon Street, #8
Phone: 704-919-1322
Thanksgiving hours: 11 a.m. to 9 p.m.
Reservations: Click here.
5Church in uptown will be serving a prix-fixe, three-course Thanksgiving menu at $45 per person and $20 for children under 12. You can also add a wine pairing for the three courses for an additional $15. The first course will be a choice of butternut squash bisque or poached pear salad-endive. The second course will give diners the option of brined and roasted turkey, blackberry peppercorn glazed smoked ham, stuffed and roasted acorn squash, pan roasted filet mignon, or seared sea scallops. For dessert, take your pick from the carrot cake, pumpkin tartlet, or s'mores trifle.
Angeline's
Address: 303 S. Church Street
Phone: 704-445-2540
Thanksgiving hours: 8 to 11 a.m. and noon until 7 p.m.
Reservations: Reserve on OpenTable.
Angeline's, the Italian-influenced American restaurant adjacent to the Kimpton Tryon Park Hotel, is offering a traditional, family-style Thanksgiving feast with a modern twist. "Friendsgiving" – for families and friend groups alike – will be available only on Thanksgiving Day. A portion of the proceeds will benefit No Kid Hungry, a nonprofit with the mission to end childhood hunger. Funds raised during Friendsgiving at Kimpton Hotels across the country support free breakfasts for schoolchildren, summer meals, and after-school meals. The special Friendsgiving menu is $45 per person, $25 for children aged 5 to 12, and free for children under 5. View the menu here.
Stoke Charlotte
Address: 100 West Trade Street
Phone: 704-353-6005
Thanksgiving hours: Seatings at 12 p.m., 2:30 p.m., and 5 p.m.
Reservations: Call the restaurant.
After watching the Novant Health Thanksgiving parade, head to Stoke for a holiday feast at $60 per person. Kids under 10 are $25 and those under three years old are free. To start, guests will share mom's deviled eggs with bread and butter pickles and pretzel brioche. Then, a choice of mushroom and Carolina gold rice bisque or frisée salad will follow. Wood-finished smoked turkey with herbed turkey gravy will be the main course. Or, you can choose the Harmony Ridge pork loin with chestnuts and pear mostarda or the sunburst trout with pecan gremolata. Sides for the table and dessert inspired by Stoke's doughnut will also join the feast.
BLT Steak
Address: 110 N, College Street
Phone: 704-972-4380
Thanksgiving hours: 2 to 9 p.m.
Reservations: Click here.
The Ritz-Carlton's BLT Steak has created a three-course prix-fixe menu for diners to enjoy on Thanksgiving Day. Created by Chef De Cuisine, Matt Slezak, the menu features seasonal ingredients within iconic holiday dishes. For $80 per person, the Thanksgiving menu will have options such as fontina and bacon toast, roasted prime rib with garlic jus and caramelized onion popover, and chocolate tart with almond crumble and orange ice cream.
The Asbury
Address: 235 N Tryon Street
Phone: 704-342-1193
Thanksgiving hours: Two seatings at 12:30 and 3 p.m.
Reservations: Reserve on OpenTable.
Join The Asbury for a traditional Thanksgiving dinner with Southern favorites including spiced pumpkin soup, herb-roasted turkey, sausage and sage dressing, and more. The three-course prix-fixe meal with family-style sides will be offered at two seatings; the cost is $55 plus tax and gratuity for adults, $25 for kids aged 6-10, and children aged five and under eat free.
Upstream
Address: 6902 Phillips Place
Phone: 704-556-7730
Thanksgiving hours: 10 a.m. to 4 p.m.
Reservations: Call the restaurant or book online.
Indulge in a family-style buffet at Upstream in SouthPark this Thanksgiving. Expect to see a seafood bar with assorted sushi and shellfish, an array of fresh salads and greens, and classic holiday sides including mac 'n' cheese. The carving station will feature a wood oven-roasted organic turkey breast, as well as a special CFT: Charlotte Fried Turkey. There will also be salmon, pork shank, and prime rib for non-turkey lovers. Of course, a decadent dessert bar will complete the feast.
Mimosa Grill
Address: 327 South Tryon Street
Phone: 704-343-0700
Thanksgiving hours: 11 a.m. to 4 p.m.
Reservations: Call the restaurant.
Take the family to Mimosa Grill for a Southern Table Buffet this holiday. For $44.95 per adult and $15.95 per child under 12, the whole clan can feast on a myriad of Southern and traditional Thanksgiving foods. Starters include skillet cornbread, Betty's pimento cheese, and butternut squash and apple bisque, and there will be a carving station plus a raw bar for your proteins. From stone crab claws to shrimp cocktail to smoked ham and slow-roasted Ashley Farms turkey, Mimosa Grill will have plenty of options to choose from. Sides will range from sweet potato gnocchi with crispy brussels sprouts and cranberries to old-fashioned squash casserole with Ritz cracker crust. Try the skillet apple pie for a Southern solution to your sweet tooth.
Harper's Restaurant (SouthPark)
Address: 6518 Fairview Road
Phone: 704-366-6688
Thanksgiving hours: 10:30 a.m. to 3:30 p.m.
Reservations: Call the restaurant or book online.
The SouthPark location of Harper's Restaurant, located in Sharon Corners, will be available to host your family's traditional Thanksgiving feast. The menu will include a hand-carved serving of slow-roasted turkey, brown sugar honey-baked ham, and/or 'the best' Prime Rib—choose all three or just one. Plus, you get to choose three homemade sides. All the meals are served with warm jalapeño cornbread with cranberry chutney and a choice of dessert. The cost is $32 per adult and $15 per child aged 12 and under.