Charlotte Restaurateurs Give Insight on 2 Highly Anticipated Openings
Here's what you can expect from these new spots as they kick off a new year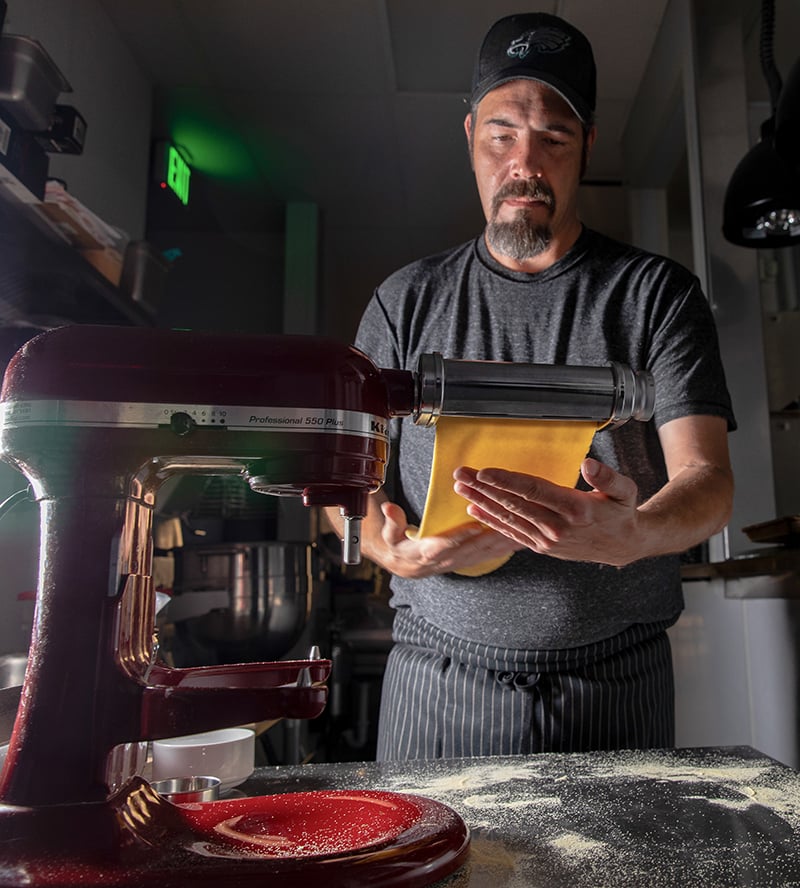 Owner: Paul Verica
You might know him from: The James Beard semifinalist is executive chef and owner of The Stanley.
The premise of Orto: Orto is Italian for "kitchen garden." The casual Italian spot, located in the Novel NoDa project on 36th Street, focuses on handmade pizzas and pastas.
Original opening: June 2020
New grand opening: Verica is targeting mid-January for a soft opening.
When was it clear the pandemic would postpone your grand opening? (Fiancé) Jane and I were in Italy in late February, and we had to cut our trip short because of COVID. We woke up one morning in Genoa; we were getting ready to head to Milan, and they were shutting the city down. Jane is a doctor, so she started looking at emails and said, "We need to get the hell out of here." Four hours later, we were at the Genoa airport. The day after we left, they stopped letting people back in the U.S. from Italy. We came home and quarantined for two weeks. We'd planned to start construction in March, but we kept holding off. Finally, in August, we started construction.
How did you keep Orto moving forward? I've made a lot of pizza dough in the last eight months (laughs). At one point, I talked about walking away and not doing it. But Jane pushed me to keep going.
What's been the biggest hurdle? What's going to happen when we open? That scares the living daylights out of me. Thankfully it will be a lot more delivery and to-go-friendly than The Stanley is. This food translates better to a to-go box.
Any adjustments you've made to Orto's layout? We'll have a huge covered patio, which we never realized would be so important before we started.
What's a can't-miss-dish we should order at Orto? The pizza. It's based off my favorite pizza spot outside Philly, called Pica's. We'll have an upside-down square pie with cheese and toppings on the bottom and sauce on top, so kind of Detroit-style with a thicker crust.
---
Owners: Jamie Brown and Jeff Tonidandel
You might know them from: The spouses and business partners also own Haberdish, Crepe Cellar, Growler's Pourhouse, and Reigning Doughnuts.
The premise of Supperland: The couple transformed a historic Plaza Midwood church into a restaurant and cocktail bar. The menu is a nod to a church potluck picnic.
Original opening: Summer 2020
New grand opening: January 2021.
When was it clear the pandemic would postpone your grand opening? "I was at Supperland scoping out a new stereo system—I'd spent a lot of money on speakers," Jeff recalls. "I got a text that we would have to shut down our other restaurants, and I'd have to fire 90 people. At Supperland, things just slowed down naturally. Construction was still allowed, but it was harder to get people over there."
How did you keep Supperland moving forward? "Jeff took over a lot of the construction work, so our garage became a woodshop, and he built the tables in our backyard," Jamie says. "That would typically be done by a professional, so it was a nice cost savings and gave us work to do outside the restaurant to keep things moving."
What's been the biggest hurdle? "We're cooking on live fire for the first time," Jeff says. "We had a whole bunch of stages in New York set up for our chefs, but now we're down to watching Zoom videos and cooking in our backyard on a Green Egg. It may take us awhile to get a handle on consistency."
Any adjustments you've made to Supperland's layout? "We will likely do Plexiglas like we did at Haberdish, at the bar and the chef's counter," Jamie says, "but for the most part, the design is what we originally intended. We designed it for the future."
What's a can't-miss-dish we should order at Supperland? "The lobster made on the grill, served simply with butter," Jamie says. "We'll also have homemade breads and potluck-type dishes like mac and cheese and homemade Jell-O with natural ingredients."