Charlotte SHOUT! Festival Returns to Uptown in Fall 2021
Local creatives in various industries are invited to apply to be a part of the lineup.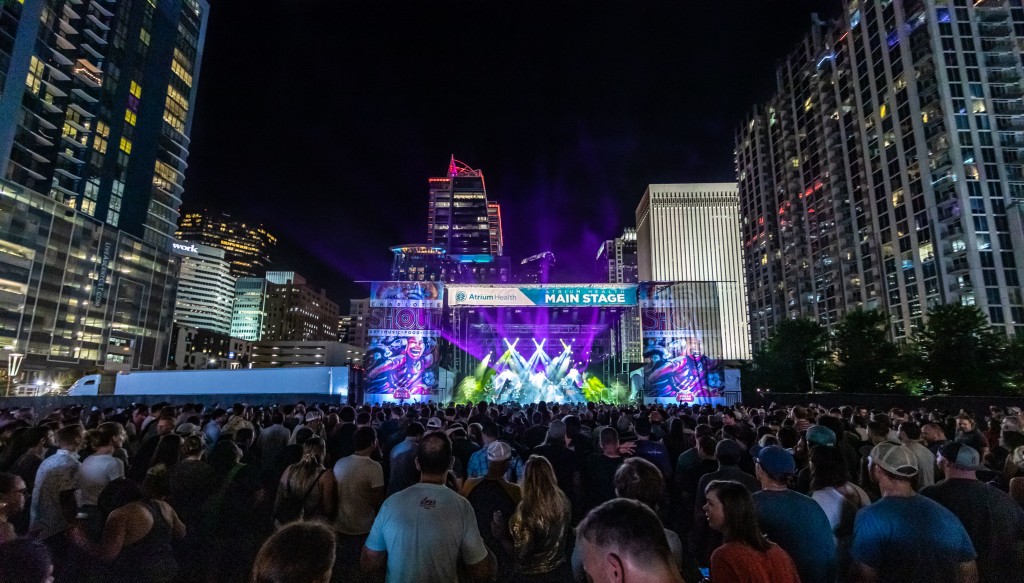 If you've been craving culture and for live music to return to the Queen City, this news will make you want to shout.
On April 2, 2021, Charlotte Center City Partners and Blumenthal Performing Arts announced the long-awaited return of Charlotte SHOUT!—the curated celebration of Charlotte's resiliency, diversity and creativity.
Charlotte SHOUT! will take over the heart of Uptown Charlotte from September 17 through October 3, 2021.
Along with many new art installations from internationally acclaimed artists, the festival will also feature the return of a favorite from 2019—Amanda Parer's Intrude (inflatable bunnies).
In addition to the public art to explore, local creatives, thought leaders, and culinarians will lead the multi-week celebration to bring the community together to discover anew the vibrant sights, sounds, and streets of Center City.
"Our goal is to make Charlotte SHOUT! the most inspiring annual festival in the southeast celebrating art, music, food and ideas," says Blumenthal President Tom Gabbard. "This year we will especially savor the chance to safely be together again to enjoy our vibrant City, and the creativity that helps to define it."
Charlotte SHOUT! 2019 marked the first time Charlotte Center City Partners and Blumenthal Performing Arts partnered together to plan and produce the festival, which had been on hiatus since 2009.
The festival's inaugural revival in 2019 drew thousands of visitors to more than 200 events over its two-week run. That success led to expanding the festival to three weeks and has launched a worldwide search for unique and thrilling festival content, many of which will be free to the public.
"We are excited to continue the momentum we started in 2019 with Charlotte SHOUT!" says Robert Krumbine, Chief Creative Officer for Charlotte Center City Partners. "This destination celebration brings everyone together to share the basic human need for community in an experiential extravaganza!"
Local Creatives: Apply to be involved
This year's festival will debut two programs aimed at recognizing and showcasing local creativity and talent.
Applications are now open at charlotteshout.com for Made in CLT, the umbrella moniker for participating Charlotte-area acts, and Of Earth and Sky, a large-scale poetry installation project featuring pieces from local poets.
"In addition to talent from around the world, we're actively searching for local artists from all areas of Charlotte's vibrant creative community to participate in this year's festival," says Krumbine. "Whether you're a local musician, a playwright, an acrobat, a master chef or a graffiti artist, there could be a spot for you in our lineup."
Made in CLT invites creatives to think outside the box and bring their unique ideas, energy and passion to the festival. The categories for participation include art, music, food and ideas. Applications are due by May 15, 2021.
Poets interested in participating in the Of Earth and Sky project are invited to attend a workshop hosted by Emmy award-winning poet Boris "Bluz" Rogers and National Poetry Slam champions Jay Ward and Jordan Bailey at the Middleton McMillan Gallery at Spirit Square or via ZOOM. Held each Saturday this April and May, the free workshops will allow poets to learn more about the Of Earth and Sky vision and receive writing prompts to help guide their work.
"The goal for the Of Earth and Sky project is to poetically amplify the voices of Charlotte residents, with the workshops functioning as a way to help those edit and fine tune their work before submitting," says Rogers. "The curation team will simply be looking for honesty and creativity, so whether you have been writing for 40 years or 4 minutes, we will be accepting submissions from everyone with a poem in their heart."
Winning pieces created through the workshops or submitted online will be announced in June. The pieces will then be curated and installed across multiple locations in Charlotte, forming a temporary sculpture trail.
The full lineup of musical acts, installations, performances and conversations will be announced this summer. To sign up for updates and learn more about Charlotte SHOUT!, visit CharlotteShout.com.