Charlotte Teen Starts Charity to Shelter the Homeless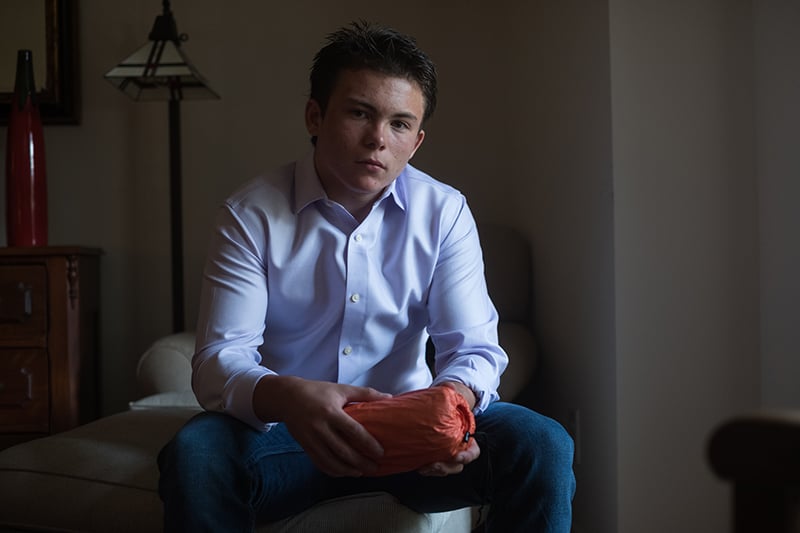 NOAH RUPP was walking back to his hotel after a family dinner in Asheville last November, when he noticed the city's homeless taking cover in the doorways of downtown shops, shivering.
"We're seeing a bunch of people just curled up," he recalls. "They're not really equipped for the weather."
Noah, then 14 and in eighth grade at South Charlotte Middle School, wanted to find a lightweight, packable, waterproof covering that people could use until they found permanent shelter. On the drive back to Charlotte, he and his dad, Mark, started brainstorming.
"A lot of times, we have these great ideas and you put them aside because it just… how are you going to help?" Mark says.
"We didn't want life to get in the way," Noah adds.
We're sitting in the family's living room nine months after their Asheville trip so Noah can show me what he calls "this little miracle right here," a bright orange, eight-ounce sleeping bag designed as an emergency shelter for hikers. The bags retail for $60, but after a couple of weeks of emailing, the Chinese company that manufactures them agreed to sell a shipment of 1,000 to the Rupps for $15 apiece.
"We always wanted to help the community," Noah says. "This time, you see the problem and you're not going to put it on hold any further."
The father-son team built a website, named their effort the Noah's Ark Project, and set out to raise the $15,000 necessary for their first shipment of sleeping bags. They did all that while Noah juggled his schoolwork; football, wrestling, and track team practices; and theater performances.
"Honestly, we were a bit naive," Noah says. "We thought we could get the sleeping bags in by last winter, which was stupid, because it was $15,000."
"How hard could it be to raise $15,000?" Mark says with a laugh. "People don't mind spending $15 on a drink when they go out, but to ask them to spend $15 to provide someone warm, dry shelter for a year—"
"It's crazy!" Noah interjects with exaggerated incredulity. "Turns out, it's a little harder than that."
So far, Noah has raised about $4,000 from family friends, churches, and a yard sale sponsored by his eighth grade class. Eventually, when he raises enough for the first set of sleeping bags, he'll partner with nonprofits that serve the homeless here and in Asheville to distribute them. But he's not discouraged by the timeline. He's asked his new classmates at Providence High School to help, and plans to continue the Noah's Ark Project through college.
"When people start to accept that this is real, it's a real project that's not going to go away," he says, "then they're going to support us."
Donate: noahsarkprojectusa.org
---
3 More Groups Geared Toward Homelessness
Housing First Charlotte-Mecklenburg
This coalition of 27 organizations aims to end chronic homelessness by placing people in safe housing, and then providing support services such as mental health and medical care and job training.
Crisis Assistance Ministry
Formed by a group of Charlotte clergy members in response to the mid-1970s recession, Crisis Assistance Ministry provides support to families in need, with everything from furniture to help with utility bills.
Supportive Housing Communities
Earlier this year, SHC bought a 32-unit apartment building that it will convert into permanent, affordable housing for families that are currently homeless.