Charlotte vs. Tampa in a 'City Smackdown', and a Return of News Coverage Boosters Love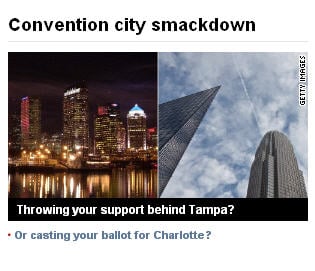 Charlotte is receiving quite a bit of attention from national media this week, and so far it's mostly the favorable kind. This coming after tons of unfavorable national news coverage the city and state received last week.
Last week's media black eye came from the many stories journalists, bloggers, and political pundits filed after North Carolina residents overwhelmingly voted on May 8 in favor of Amendment One, to change the state's constitution to legally define marriage as an act between one man and one woman. Aside from the social ramifications this stirred nationally, it continued to be a political issue when online petitions began to surface asking that the 2012 Democratic National Convention move out of Charlotte, which isn't going to happen (if for no other reason, do these people not understand how much planning and logistics are already underway); and when President Barack Obama gave a groundbreaking interview announcing that he supported same-sex marriage, the first time a sitting U.S. president had done so. Plus, sticking with the DNC, this was all coupled with news reports of how the convention is struggling to meet its fundraising goals and how, so far, it's not getting the support of labor unions.
Got that? Okay.
So you must imagine that Charlotte leaders and convention officials had to have breathed a sigh of relief when news stories shifted this week to the positives, what the city's doing right, led by favorable coverage from the resources of CNN.
Charlotte started buzzing Monday with CNN iReport's Convention City Smackdown, pitting Charlotte, home of the 2012 Democratic National Convention, against Tampa, home of the 2012 Republican National Convention (I did a by-the-numbers comparison of the two convention host cities for the December issue of Charlotte magazine). In this iReport contest, until May 21: "If you love Charlotte, here's your chance to stand up for your city! Tell us the very best thing about it, or the one or two reasons you like it better than any other. Make sure to include your most stunning Charlotte photos to back up your claim. Show us why you can take on Tampa any day!," says the iReport verbiage, which, conversely, states the same thing for Tampa in this contest. It's part of CNN's Destination USA project, which is pitting rival cities against each other. The best stories, photos, and travel tips could be featured in a CNN story, the contest says.

As of this morning, 27 iReports for Charlotte had been filed—mostly as videos—compared to only 13 for Tampa. So we clearly have a two-to-one lead, but I must also point out that I noticed at least seven of the Charlotte entries are videos that had recently been created as part of the Charlotte in 2012 Convention Host Committee's Carolina Stories series. The host committee launched the series in March, and is releasing at least one video per week leading up to the convention, describing the project as to "showcase Charlotte and the Carolinas as a great place to live, a community of opportunities and a region where people represent the new face of a diverse America working together." I'm not sure if the Tampa Bay Host Committee has anything similar.
Also as part of the city smackdown between Charlotte and Tampa, CNN is publishing articles to showcase the passion for each city. Yesterday it published "Charlotte vs. Tampa: Charlotte, 'you have arrived,' says former resident," written by Sarah Aarthun, who used to be a reporter at The Charlotte Observer until she left at the end of 2009 and moved to Atlanta to work at CNN (she's currently a weekend supervising editor). In her ode to Charlotte, Aarthun states: "I last stood at that intersection in the center of the city more than two years ago, right before I moved to Atlanta. I thought foolishly then that I needed a bigger city. The truth is, I've never missed Charlotte more." According to the site, CNN will post "an equally passionate argument for Tampa" some time today.
Then over on the CNN Money website, an article was published yesterday about how Charlotte has begun to rebound from the recession and is focused on diversifying its economy beyond the big banks. Titled, "Charlotte after the bank crisis: 'Just fine, and you?'" and written by Winston-Salem-based journalist Ken Otterbourg, it's one of the best told stories I've read about Charlotte. The story of how Charlotte is persevering after the loss of Wachovia and doesn't want to place most of its eggs in Bank of America's basket anymore has been told often, but Otterbourg's piece gives the kind of depth and perspective that other national stories tend to lack. And I love how he began the story by taking readers inside Hyatt Gun Shop on Wilkinson Boulevard. The article appears in print in the May 21 issue of Fortune magazine.