Charlotteans' Crock Pot Recipes You Need to Bookmark
Recipes from Charlotte-area bloggers that will help you ride out the rest of winter.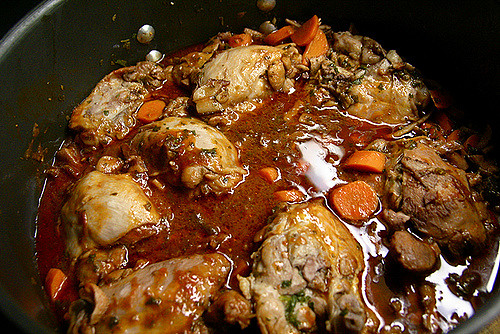 Though we've been experiencing a springtime teaser, don't be fooled. Weather forecasts are showing that cold winter temperatures will be returning as February rolls in. Just in time to slash those pool days you've started envisioning!
But not all hope is lost. While it seems rough to slip back into a winter chill, there's nothing a slow cooker can't fix. Honestly, who doesn't love a crock pot meal? The food basically cooks itself, and in the meantime, your house fills with tantalizing aromas. It's a win-win. Of course, the only issue with slow cookers is the fact that you have to sit around smelling the deliciousness coming from the cooker, waiting hours in agony until you can finally indulge in your culinary masterpiece. But no pain, no gain, right?
To help you make it through the last leg of winter, we rounded up some slow cooker recipes from Charlotte bloggers that are sure to warm you right up. Whether you're looking for a weekday dinner staple or a delicious dessert, we found some crock pot dishes you're going to love.
Turkey and Bolognese Sauce
If you love mushrooms and pasta, this recipe is for you. Blogger Julie Fagan at Peanut Butter Fingers says on her post that it's crucial to cook the turkey before placing it into the crock pot. She also says you can serve this hearty sauce over zucchini noodles, ravioli, or any 'ole pasta. Between the lean turkey and the veggies, this meal is a healthy choice, so you don't have to worry about derailing that New Year's resolution to lose, like, three pounds. The sauce takes about four to six hours to cook, and you can get the recipe here.
Cinnamon Applesauce
Luckily for you, dear reader, you don't even have to stray too far on the interwebs to sink your teeth into some sweet homemade applesauce. We featured this recipe on Charlotte at Home before, so we're bringing it back for you to add a crock pot dessert to your list of must-makes. The recipe is created by Julia Fain of Tag & Tibby, and Fain notes that the key to amazing applesauce is top-notch apples, so don't skimp on your fruit, folks. You can travel back in time and see the recipe here. This recipe is super-simple and takes four hours.
Sweet Potato and Apple Soup
Shock your taste buds with this unique flavor combination created by Lisa Leake of 100 Days of Real Food, a blog focused on omitting processed food from the diet. This sweet potato and apple soup recipe features brown buttered sage leaves as a finish, and Leake says they are worth the extra work. The recipe takes five hours to make, and you can check it out here.
Buffalo Turkey Meatballs
This recipe had us at "buffalo" and "meatballs." Seriously, how could we pass this one up? Especially with some Super Bowl watch parties being planned, this dish is sure to outshine average football game fare. Local blogger Chrissie of Off the Eaten Path adapted this recipe from another blog, Damn Delicious, making gluten-free adjustments and using ground turkey instead of chicken. The buffalo turkey meatballs only take two hours to cook, and the recipe resides here.
Slow Roasted Pork
For pull-apart pork, look no further than this dish from Ashley of The Olive and the Sea. Using pork butt and a couple of seasonings you likely already have in your kitchen, this easy recipe is a perfect pick for the days you really don't feel like cooking. It takes eight to 10 hours in the slow cooker, so put it on before you leave for work in the morning, and come home to tender pork waiting for you. You can get the recipe here.