Charlotteans of a Hard Year
Third group of Charlotte's honorees honored at luncheon that wasn't always comfortable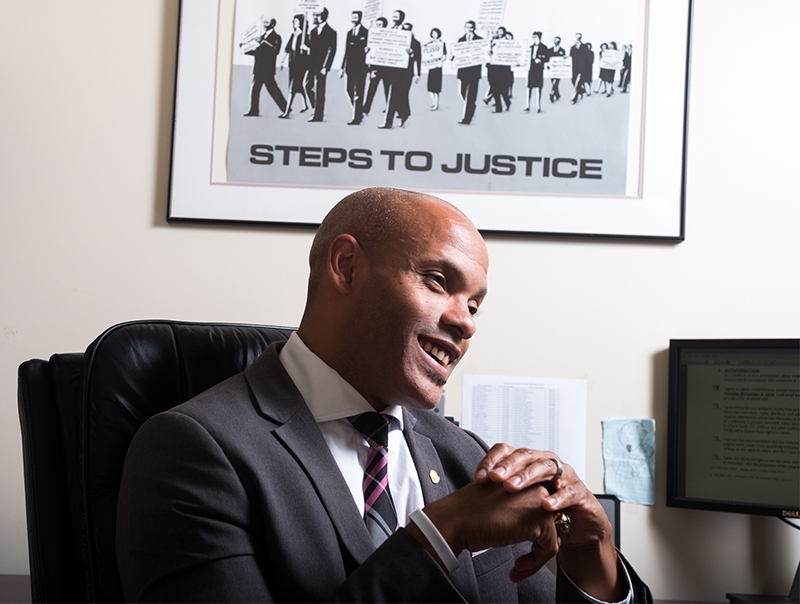 THE MAGAZINE has named Charlotteans of the Year only since 2014, so there's still not much of a mold to break. But to the extent that there is, this year's crop surely broke it, and in ways that involved more than pats on the back and platitudes about Making This Community a Better Place. This has been a disquieting year for Charlotte, a year in which we had to face some realities about the city that before now were known only to parts of it. The COTY roster reflected that unease. The awards luncheon Monday at the Omni was a collegial event, punctuated by warm greetings, handshakes, and applause—this is still Charlotte, after all—but nobody could dodge the memory of an event less than three months before, one that left a 26-year-old man dead just outside the doors of the same hotel.
If you wanted to forget about it, Charlotte Editor Michael Graff made sure you didn't. In his introductory remarks, he talked about that night, Wednesday, September 21, a day after the police shooting death of Keith Lamont Scott. The demonstrators that night clustered at the intersection of Trade and College streets, across from the EpiCentre, in the heart of the city.
Graff was right there, taking notes. Logan Cyrus, a photographer, Iraq War veteran, and frequent Charlotte contributor, was there, too, taking photos for The New York Times. I was across Trade Street, on assignment for Reuters. I didn't hear the gunshot; Graff did. Cyrus plunged into the crowd that surrounded a figure prone on the sidewalk and took a series of photos, one of which ran the next day in the Times. Time magazine recently included it in its list of Best Photos of 2016.
On the awards ceremony Monday, just after lunch, the image was projected onto the screen at the front of the room. The point wasn't just to recognize outstanding work. "In times like these," Graff said, "we have to make an effort to find out what's real." We're surrounded more and more by fakery. There was nothing fake about this. The truth isn't always comfortable, Graff said, and sometimes you simply need to face it, accept it for what it is; 2016 in Charlotte wasn't comfortable, either. The photo remained on the screen, enlarged so everyone could see it clearly, for a long time.
***
THAT'S NOT to say people didn't do splendid things for our city this year. The magazine honored Ann Clark, the outgoing Charlotte-Mecklenburg Schools superintendent whose successor was named just Tuesday, a woman who handled a near-impossible job with professionalism and patience. Joe and Katy Kindred helped redefine (or define) Charlotte-area cuisine. The Double Door Inn exited its own stage with dignity after 43 years as an essential Charlotte music club.
Kelly Brooks of SHARE Charlotte has managed to organize 401 Charlotte nonprofits under the cyber-roof of one website, designed to quickly match people who need services, and those who want to donate or volunteer, to the right organizations. "I believe in the power of local communities," Brooks said as she accepted her award Monday. And Cam Newton, whose parents accepted for him, was … well, Cam, a young man of transcendent talent and singular wardrobe whose high-and-low 2016 symbolized his city's as well as anyone's.
***
THAT LEAVES three, and what was that about the truth not always making you feel comfortable?
Charlie Comero was one of the most visible and vocal members of Charlotte's transgender community after the state legislature's passage of House Bill 2 back in March. He began life as a woman and now identifies as a non-binary transgender man. If you have difficulty grasping that, he doesn't much care. "The truth is, I just am," he said from the lectern Monday. "I don't fit in the box of female, and I don't fit in the box of male—and that's OK."
Lately, Comero's been pushing intersectionality, the idea that marginalized communities—including racial and economic minorities along with gay and transgender—should coalesce to fight for social justice. When he showed up for his photo shoot with Logan Cyrus, he at first wouldn't let the photographer take his picture without his Black Lives Matter sign. He eventually relented, somewhat. But two weeks ago, outside Charlotte-Mecklenburg Police headquarters, Comero was part of a group of demonstrators shouting at police after the District Attorney's Office decided not to charge the officer who shot Keith Scott. Their main target was police Major Mike Campagna, who happened to follow Comero onto the stage at the Omni.
Campagna is the unofficial head of a new police "conversation unit" formed after the Scott shooting. His experience on the streets with protesters in September and again in November "was like a master's-level class in how to listen," he said. "My challenge to you all, in the face of someone who doesn't share your views, is to be the one who stops and listens, and see if you can open up that doorway—and I think you'll find that maybe we aren't that different."
***
"My challenge to you all, in the face of someone who doesn't share your views, is to be the one who stops and listens, and see if you can open up that doorway—and I think you'll find that maybe we aren't that different."
WE SAVED Toussaint Romain for last.
You can read about him in depth here. During the demonstrations in September, the public defender literally stepped into the breach between protesters and police, trying to cool things off. On Monday, he related a barnyard parable that drew another kind of distinction, between those who merely offer and those who sacrifice. Charlotte is and always has been a city full of people who offer, he said: "What are you doing in Charlotte? Are you offering your time and effort—or sacrificing?"
Romain then did something the COTY event hasn't seen before and probably won't see again. Arms waving and voice rising, he praised Campagna for his relaxed enforcement of a citywide midnight curfew on the third night of protests, then openly accused CMPD of murdering Keith Scott, using that word, and castigated Mayor Jennifer Roberts for enacting the "cowardly" curfew to begin with. In other words, a Charlottean of the Year, an agent of the state government, sang hosannas to a fellow Charlottean of the Year, an agent of the city government, as he called that government a coward and murderer.
"I stand in the blood of a man who was murdered by the police," Romain said. "So it's hard to be too appreciative of this."
He quoted, at length, Tupac Shakur.
He earned a standing ovation.
Afterwards, the lot of them—cop and protester, superintendent and nonprofit coordinator, public defender and restaurant owners—came together in a corner of the ballroom for a group photo.
That's our city, now and maybe for the duration. It's a city now, with interests and agendas and points of view and vocations that jostle and collide, that break bread one day and curse each other in the streets the next. That discomfort, that rejection of deference as default behavior, that newfound sense of not knowing exactly what tomorrow will look like—it's a feeling Charlotte may need to get used to.


See Facebook Live video of the awards ceremony.