Charlotteans of the Year 2017: Chandra Johnson
The owner of Myers Park's SOCO Gallery is making Charlotte an arts destination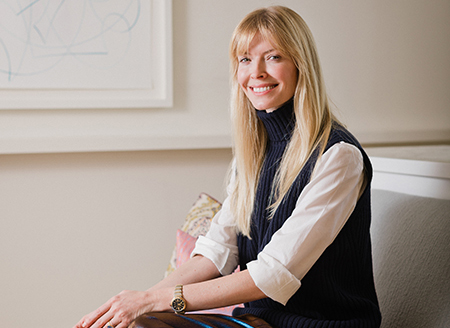 ON A SEPTEMBER NIGHT in Myers Park, a crowd overflows onto SOCO Gallery's front porch. The opening for Elliott Puckette's Recent Works teems with local artists, longtime and budding collectors, and celebrities such as Seth Avett of the Avett Brothers and his wife, Dexter actress Jennifer Carpenter. At the center of the crowd is owner Chandra Johnson, greeting all visitors in the same way as they enter the 1920s bungalow: with a hug and an introduction to Puckette. It's a reminder why this gallery is named for "Southern Comfort."
Puckette's large, abstract works feature a continuous line with no obvious beginning or end. It's the fifth show in a year of growth and daring curation for the gallery, which has evolved from a photography-centric program to a broader survey of the art world.
In the weeks that follow the opening, staffers study Puckette's drawings, trying to find the starting and ending points of her dramatic, winding strokes. The gallery's own beginning is much easier to identify; SOCO's been in this space since 2015. Led by Johnson, its trajectory from sparse pop-up to Southern cultural force is unprecedented for the city. The growth is perhaps a reflection of the city's growing cultural sector, Johnson says. Her modesty aside, SOCO's success is more complicated than that, considering the difficulty of running an art gallery.
The late art historian Kirk Varnedoe said that with abstract art, "The less there is to look at, the more important it is that we look at it closely and carefully … Small differences make all the difference." You can apply this principle to the unpretentious, white-walled space inside the house SOCO shares with men's clothier Tabor. Whether it's the show lineup or audience development, SOCO's business is armed with nuanced strategies. Names on the exhibition schedule are some of the international art world's most exciting, in addition to previously untapped regional talent. Staffers educate first-time art collectors while maintaining a base of longtime buyers. Nationally, W magazine hailed its "Southern charm," while SOCO remains connected to the local conversation by sponsoring panels on collecting art. Anytime Johnson travels across the United States, visits museums in Paris or artist studios in Brooklyn, she thinks about how the work could live on her gallery's Myers Park walls. "It all started with great artists," Johnson says.
The Oklahoma native and former model married into Charlotte. Her husband, NASCAR champion Jimmie Johnson, was a Lake Norman resident when they met in 2002. She's been an art collector for a little more than a decade, but it was only in 2014 that she started the pop-up concept that became SOCO. Moving into the permanent space came with trepidation. She asked for input from Jerald Melberg, a longstanding Charlotte gallery owner. And her husband, she says, was her most avid supporter. Jimmie Johnson says it was a matter of equality. "In a sense, I've already been able to pursue my passion and chase my dreams, but she had wanted to do something in the art space for decades," he says. "I just wanted to support her in any way I could."
Johnson wanted her gallery to offer Southern comfort on several levels. The idea was that every artist with a show at SOCO would stay at the Johnsons' home during his or her opening, meet anyone who walked through the doors of the gallery, and receive a personalized agenda of Charlotte spots to see. If the gallery was going to be named after Southern comfort, she wanted the operations to reflect that. "In the beginning, of course, I had small reservations," Jimmie Johnson says, with a laugh. "I thought, 'How would Chani feel if I had racecar drivers stay at our house?' But I tell you, it's been so rewarding to meet these artists and form these close relationships. Literally hosting these artists in my backyard and to become close to them—I didn't see this part coming."
As SOCO's grown, Johnson has brought in new figures to curate the "puzzle" of the gallery's schedule for each year. Monica King Friel, a North Carolina native who served as director of exhibitions at the world-renowned Pace Gallery and Paul Kasmin Gallery in New York City, joined the staff as director last year.
"What's amazing about this audience is that when you introduce them to art the way we do—we put the artists in front of them, and their work—it makes it easier to connect," Johnson says. "I love how people have shifted their mindset from, 'Oh, I want to buy a piece and hang it over my sofa' to 'Oh, I want to support the artist.' It becomes less about things that are pretty than what's interesting and powerful."