Charlotteans of the Year 2017: Covenant Presbyterian Church
The venerable Dilworth church invested $2 million in a west side affordable housing complex—and may have signaled a new role for Charlotte's faith community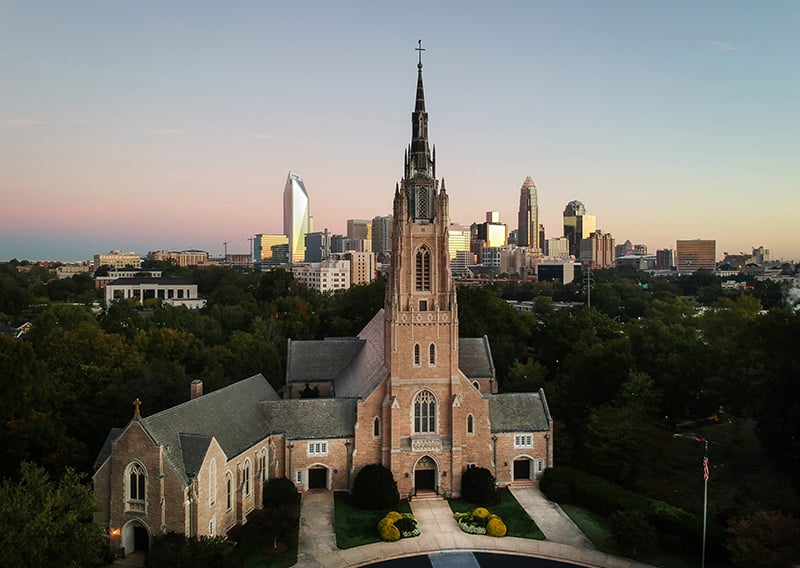 THERE'S NOT MUCH to see yet at the westernmost corner of Freedom Drive and Camp Greene Street on the west side, save for a convenience store and a man cooking and selling jerk chicken from a trailer grill. "Man," remarks Fred Dodson Jr., "that smells good, doesn't it?" Dodson and Julie Porter are showing me the land on a bright, warm afternoon in early October. The three of us begin the trek northwest along Freedom. I want to sense the scale of what the Charlotte-Mecklenburg Housing Partnership intends to build here, and what could exist only with a $2 million investment from a church just across town and in a separate social and economic universe.
We trudge up a mild slope, passing a stretch of vacant property on either side of a creek bed overgrown with creeper vines and kudzu that chokes the trees. Overhead soar power lines and the towers that support them, on Duke Energy property where the Housing Partnership won't be able to build. Friday afternoon traffic whips by. There's an Aldi across the street, and a Cash America Pawn. We reach a white brick retaining wall, a Showmars, and behind them a vast parking lot that served a Kmart before the store closed in 2014. The four-story, 185-unit affordable housing complex will begin back here and run for most of the block down to the convenience store at the corner, filling the 12 acres reserved for it and boosting the west side's roster of affordable units.
"And over there, you've got Compare Foods, and then right next to it is the school, and the apartments will start about where that white building is now," says Porter, the partnership's president, pointing to a vacant annex building. "So that will be gone, and we're building it all along in here, the bulk of the units. How many units are in this first part, Fred?"
Dodson is chief operating officer and executive vice president for the Housing Partnership, a nonprofit that's helped build housing for low- and moderate-income families in Charlotte since 1988. He consults the schematic map. "One-twenty-nine."
"So that part will be a lot smaller," Porter says, pointing back downhill, where the partnership will build 51 units on the other side of the power lines. "But it'll be cool, because we're building a sun room up top, and it'll have a courtyard so the people can engage with the community there. There'll be a leasing office on this side …"
The Housing Partnership envisions the $30 million project, tentatively called Freedom Apartments, as a step toward solving one of Charlotte's biggest and most difficult civic problems: housing for individuals and families whose household incomes are no more than 80 percent of the Area Median Income, or AMI, which in Charlotte is $67,200 per year for a family of four. There's a 21,195-unit shortage of affordable apartments for households at the lower end of that scale—those making no more than 50 percent of AMI.
The City Council has voted to speed up construction of hundreds of affordable units, but the Housing Trust Fund that the city uses to pay for such projects is nearly exhausted and can't be replenished with voter-approved bond money until after the 2018 elections. That's forced the Housing Partnership, as it concentrated on developing low-income housing along the Freedom Drive corridor, to seek help elsewhere. Freedom runs through one of the poorest areas of Charlotte, but it's gentrifying quickly because it's so close to uptown. Porter worries that the market could force hundreds of low-income renters from their homes in the coming years without affordable housing.
By summer, the partnership had already made preliminary plans for the Freedom project and secured most, but not all, of the necessary funding through a mortgage loan, grants, and tax credits. Then the organization learned about a way to fill the gap, a $2 million, low-interest loan offer from a highly unorthodox source: Covenant Presbyterian Church in Dilworth.
This magazine named Covenant a Charlottean of the Year not just because it's devoting $2 million raised from its congregation to help relieve one of this city's most intractable problems, even though that alone would be an excellent reason. It's also because Covenant is pointing a way forward for faith communities in this city of churches.
Faith communities in every city do charitable work. But few have ever approached it as Covenant has for this project, with a systemic effort by leaders and congregants to determine what's needed most, how they might meet that need, and—the forward-looking part—whom the church might enlist as partners in fulfilling its goal. Governments hesitate to raise taxes, even with growing populations and need for public services, and charitable organizations and businesses have to pick up much of the slack. Churches can do some good on their own. They can do far more when they join corporate and secular nonprofit partners to accomplish big things.
Here's how the Freedom Drive project will unfold: Marsh Properties, a family-owned real estate developer in Charlotte since 1926, owns eight of the total 12 acres. The other four acres are owned by the Movement Foundation, the nonprofit wing of Movement Mortgage, a South Carolina-based lender founded and run by former Carolina Panthers tight end Casey Crawford. The Movement Foundation operates Movement School, a charter campus that opened in the old Kmart building this year. The two landowners have agreed to allow the Housing Partnership to build the four-story apartment complex. Of its 185 units, 30 percent—about 55 apartments—will rent at market rate. The rest will be reserved for people making less than AMI, and across a range of incomes—with affordable units renting for as much as $900 per month and as little as $348 in a city where the average two-bedroom apartment costs $1,468.
That last condition was a primary reason why the church decided to join the landowners and Housing Partnership in developing the project. "An essential criterion for us was that it was across the spectrum of economics. It went from 30 percent AMI to 80 percent AMI," says Bob Henderson, Covenant's senior minister. "That's what really got us excited about this project, because those are the people who have the hardest time in society, and the market does not support that range of income for housing. We wanted our dollars to help those who had no other help."
Covenant's $2 million contribution, raised entirely from its members—"We don't have a magical bank account this is coming from," Henderson says—will be in the form of a loan repayable over 15 years and at a variable rate of less than five percent. "Most real estate investors want something in the 15 percent range," Porter says. If Covenant hadn't offered the money, "we would have to find another $2 million from somewhere. Because it costs what it costs, and you only have so many other sources. So the project would be at risk. It really would."
Founded in 1951, Covenant has always looked for ways to help poor Charlotteans find homes, Henderson tells me when we meet in his office. In the 1960s, it arranged for low-cost housing for black families displaced by Urban Renewal. Two decades later, it was one of seven churches that comprised the Jeremiah Group, which helped launch Habitat for Humanity Charlotte. But the economic recession that began in 2008 handcuffed Covenant's and other congregations' outreach efforts. "We count on people's generosity," Henderson says, "so when there's a difficult economy, churches don't have as much financial latitude."
When the recession began to ebb around 2010, Covenant's leaders decided to recommit the church to community projects. They and select members of the congregation met to discuss the church's vision and overall goal, then to determine what specific projects would fit its priorities. The process took about two years. What emerged was a mission statement that said, in part: "We will bravely work toward a whole and just world."
"It comes from the Hebrew notion of 'shalom,' which is usually defined as 'peace,' but which also contains a notion of wholeness and justice that contributes to that peace," Henderson says. "Part of our mission is to work toward a whole and just world, or a world of shalom. It was just time for us as a congregation to re-clarify our role and our mission in the city."
It took a few more years for the church leadership and congregation to bring the divinely inspired principle down to earth. They asked themselves, "What are the biggest social needs in Charlotte that we can meet?" They eventually decided on two main areas: early childhood education and affordable housing. The latter, even with Covenant's history in the field, was hard to corral. Henderson says the congregants who volunteered to work on housing had trouble deciding what to do and how. They knew Covenant couldn't do much on its own. They thought about joining forces with a for-profit developer and raising money to help defray some of its costs. That's perhaps the most challenging aspect of developing affordable housing: The same market forces that raise property values and rents mean developers have trouble recouping their expenses by renting units at prices below the market rate. The economics just don't work.
"We've learned and understood, as we've gone through this, how the economic realities impact things like housing," says Betsy Grant, a Covenant congregant who chairs the church's affordable housing task force. "Developments are very risky ventures, and when you're building affordable units, you're not necessarily going to get the return on investment that developers are seeking."
Grant, a 32-year-old account supervisor for a marketing and advertising agency, says she's thrilled not just with the project but the example it might set for others. "We wanted to do something that would make an impact in Charlotte," she says, "but would be replicable by other congregations."
As a rule, churches don't fund affordable housing projects. The Catholic Diocese of Charlotte entered the market three years ago with a 13-unit complex, Mother Teresa Villa in south Charlotte, built on land the diocese owns. Yet it's all but unheard of for an individual congregation to invest in a project the way Covenant has. Both Porter and Dodson, who have worked in the field for decades, say they've never encountered a similar arrangement. "For a faith-based community to say, 'You know what, I'm going to partner with an affordable housing developer, and we're gonna do this'—I don't know of any," Porter says.
In his office, Henderson tells me he wants to be delicate on this subject. He chooses his words with care.
"We don't expect or think that other congregations should do exactly what we're doing, and we know other congregations might have more financial resources, and they may have fewer," he says. "Our model is that we carefully and prayerfully discern and work hard to do what we can do, and that model can cut across all sizes of congregation and all economic levels. I don't want it to come across as a wealthy big church calling out others to do more and be like us. It has brought our congregation life and energy to be bold in our mission, and I hope that inspires others just as we have been inspired by them. I would not presuppose to say that they should do it our way."
And yet the gesture seems to portend something new, along with Covenant's next big capital project, an early childhood development center that the church wants to open by 2021 and that, Henderson says, may involve an even bigger investment than the $2 million for the Freedom apartments. We talk for a while about whether Charlotte, in the midst of a difficult season of exposed racial and economic division, might be headed toward a new era of collaboration among entities as varied as churches, banks, hospitals, and new community nonprofits, all pitching in to work on civic problems. He agrees enthusiastically, saying he's just come back from a meeting with Jesse Cureton and Ophelia Garmon-Brown of Novant Health, who wanted to talk to clergy about "how we can build a different social fabric, how we can collaborate on important social issues."
A few minutes later, Henderson asks a rhetorical question, not specifically about affordable housing or the evolving role of churches but about Charlotte, the community at large: "How is the city going to maintain some heart?"