Charlotteans of the Year 2017: Dale Earnhardt Jr.
NASCAR's most popular driver takes a final lap, prepares to be a dad, and reminds us why he's an everyman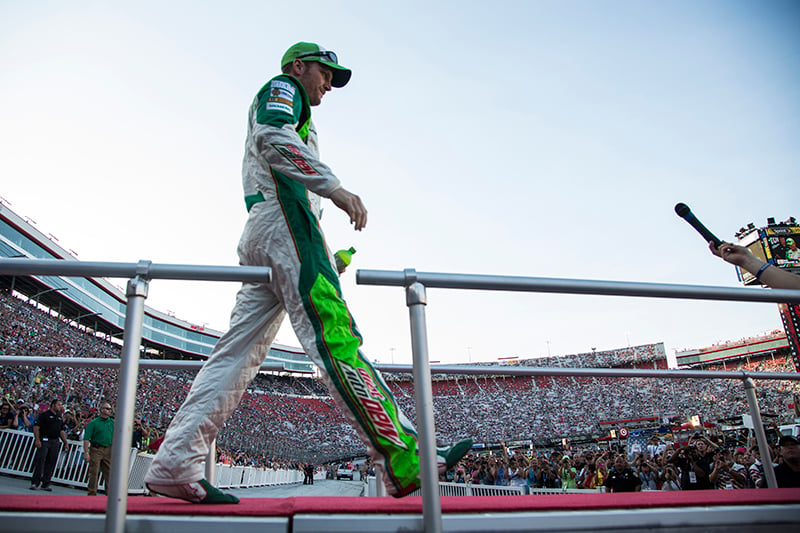 EVEN IF HE didn't have that name, or that distinct facial profile, even if he didn't have that skill on the racetrack, he might not be all that different.
Dale Earnhardt Jr. would probably be the same down-to-earth guy who describes his loves in his Twitter bio as simple, everyman pleasures: "Friends, Music, Beer!"
But because he has that name, the one shared by his father who was so adored by NASCAR fans, he grew up in the shadow of fame. Because he so resembles Dale Earnhardt, who was beloved as "the Intimidator" for his aggressive, take-no-prisoners driving style, he had an instant fan base when he began driving, too.
And because he is Dale Earnhardt Jr., he not only retained that fan base through 26 Cup series career wins, but also earned more fans as he elegantly shouldered the grief of legions when his father was killed on the last lap of the Daytona 500 in 2001.
As he displayed his guy-next-door personality, he watched his fan base grow, including a list of Twitter followers that has reached 2.3 million. He touted his bizarre love for banana-and-mayo sandwiches. He unabashedly declared a fondness for Milli Vanilli. He has been voted NASCAR's Most Popular Driver 14 years in a row and is a heavy favorite to win again this year.
When 43-year-old Earnhardt Jr. announced earlier this year he would retire after 19 seasons of driving at NASCAR's top level, it was not necessarily a surprise. He gave one overriding reason for the decision.
"I just wanted the opportunity to go out on my own terms," he said.
That seemed questionable last year, when Earnhardt Jr. was forced to miss half the season because of a concussion and its lingering effects. It was at least the fifth concussion of his career, and he was open about his fear that symptoms might affect him the rest of his life.
He was transparent about his recovery, posting videos of rehab exercises so his social media followers could see what he was doing to recuperate from vision and balance issues. He's also pledged to donate his brain to the Concussion Legacy Foundation upon his death so it can be examined for signs of CTE, the disease found to be associated with repetitive head injuries.
Of all the retirement gifts showered upon him by tracks as he made his way through his final season, the most significant might have come from Charlotte Motor Speedway in October. His hometown track donated $100,000 to establish and underwrite the Dale Earnhardt Jr. Concussion Research Fund at Levine Children's Hospital.
He has a career as an NBC Sports analyst awaiting him next year, along with the arrival of his first child. He and his wife Amy are expecting a girl in May.
Not bad for the son of a legend who once wondered if he'd ever be able to earn a living as a racecar driver.
"I was afraid of not being able to do it," he said. "I guess what I'm saying is I accomplished way more than I ever dreamed. Way more than I ever thought I'd accomplish. So, I'm good."