Charlotteans of the Year 2017: Judy Williams
Her goddaughter was strangled to death by a serial killer nearly 25 years ago. Since then, she's held candlelight vigils for hundreds of murder victims. Who will take over when she retires?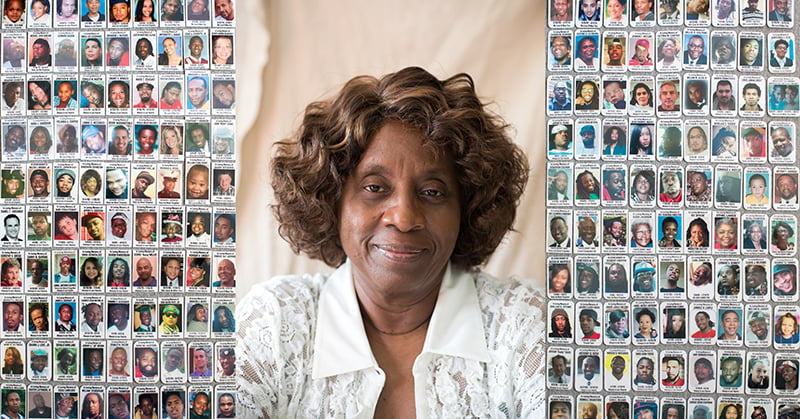 THE FACES ARE arranged in neat rows and columns, affixed to the gray, accordion-fold display board, the kind companies take to trade shows. The people pictured are black and white, bankers and crack addicts, elderly and infants. A few of the photographs are of police officers in uniform; others are clearly mugshots. The pictures are mounted on white cards, each a little smaller than a business card, printed with the person's name and birthday.
Judy Williams, her hair pulled back into a messy bun, stands here in her cluttered office in a working-class complex off West Boulevard and stares at the faces. It's an unseasonably mild day in January, and she's propped the door open to let in the springlike air. Her memory isn't what it once was, she says, and not all of the people stand out as they did years ago. Ms. Judy—that's what everyone calls her—has a minister's warmth and a judge's bluntness, although she is neither. She's just an apartment complex manager, in pink and purple socks, who can't walk away.
"The boyfriend killed her," she says, pointing to a young black woman who died in 2006. "Same thing here." The tip of a manicured nail taps on the plexiglas sheet protecting the photos. Twenty-four years of murder victims. Her finger hovers and then finds another familiar face, and then another, and another. "This one's still unsolved. They're still trying to figure out who killed him. She was in the wrong place at the wrong time. He was killed at a cookout."
They are the faces of people she's never met, mostly, who were shot, stabbed, strangled, and worse. Ms. Judy sat with their parents, their spouses, their confused children. She organized candlelight vigils in front of their homes. She told the men who lived in her neighborhood to stop killing each other. Her nonprofit, Mothers of Murdered Offspring, printed stacks of cards like the ones on the display board for each family it's helped since the early 1990s. Volunteers hot-glued safety pins to the backs, and nearly a quarter-century later, there are women here who don't leave home without their child's picture pinned to a lapel. "It's my mission," she says. "I'm the comforter. I'm here to help you to get through this. God has trained me over the years in how to help people who need to know that somebody cares."
I count 753 people on the board.
"That's not even all of them," Ms. Judy says. She opens the seam of a plastic sandwich bag, filled with cards she hasn't had time to post with the others, and dumps dozens more faces onto the table.
***
SHE DIDN'T KNOW, on that sad night in March of 1993, that it would turn into this.
Ms. Judy had invited a small group of family members and friends over to her apartment for dinner. They'd buried her goddaughter a few weeks earlier. Shawna Hawk was a 20-year-old paralegal student who had been raped and strangled and left in a bathtub full of water in the house she shared with her mom, Dee Sumpter. Hawk worked at a Taco Bell to pay for school, and her manager was a man named Henry Louis Wallace. Despite his friendly demeanor, Wallace was a violent crack addict who preyed on young black women he met at the fast-food restaurants where he worked and ate. Hawk was his third victim; Wallace raped and murdered seven additional women by the time police connected the cases and arrested him in 1994. Reporters called him the Taco Bell Strangler.
Of course, the crowd gathered in Ms. Judy's small living room didn't know that yet.
As they grieved, Ms. Judy turned to Hawk's mother, Sumpter, and suggested they start a support group for families of murder victims. Sumpter wasn't ready. But Ms. Judy kept pushing. A week later, she brought up the idea again, and then again. Sumpter agreed, and before long, Ms. Judy called everyone back together in her living room for a brainstorming session. They came up with a plan, a mission statement, a slogan: "End the madness, stop the sadness." They picked a theme color, purple, because it was Hawk's favorite; her mother had nicknamed her the Purple Princess.
Ms. Judy wanted to call their organization Mothers of Murdered Children. Sumpter suggested Mothers of Murdered Offspring, and everyone agreed. MOM-O was born. "The main focus was to help Dee," Ms. Judy says. "We had to get her focused on something other than her loss. We weren't thinking about longevity or anything like that, whether it would even last."
The city, as it turned out, would need MOM-O as much as Sumpter did. There were 129 murders in Charlotte in 1993—the most in the city's history, including four committed by Wallace—an overwhelming caseload that Charlotte-Mecklenburg Police Department homicide detectives couldn't solve fast enough.
"When Henry hit," Detective Garry McFadden tells me, "it just blindsided us."
He was one of just six homicide detectives working cases in town at the time, the height of the crack epidemic in Charlotte, with rampant violence that hit the black community hard. McFadden is brash, quick with a one-liner, likable, and telegenic. He retired in 2011 after 21 years on the murder squad, but came back to the department part-time a month later. The cliché would be that McFadden is straight out of central casting, and there's some truth to that: He reviews old cases as the star of his own TV show, I Am Homicide, on the Investigation Discovery channel.
We meet on a chilly Monday, a couple of weeks after I visited Ms. Judy, at McFadden's "morning office," the chrome-clad Midnight Diner on the edge of uptown and South End. He's dressed in a blue plaid blazer and navy oxfords, polished to a shine. As Tom Jones blasts from the overhead speakers, McFadden recalls MOM-O's early days, which weren't comfortable for cops.
"We did not get along," he says between bites of turkey sausage and grits. "They came on hard. It was MOM-O against the police." At one point after they arrested Wallace, he recalls, MOM-O asked the City Council to fire him for the way the CMPD handled the serial killer investigation. He thought the group was uninformed. Slowly, over several years, MOM-O and the cops began to cooperate. "One day, it just clicked," he says. "To this day, couldn't tell you what it was. But they were there. We were there. And neither of us could go away."
MOM-O held candlelight vigils for the victims of many of the 800-plus murders McFadden investigated. He would be at a scene, and there'd come Ms. Judy, candles and lapel pins in hand, ready to hold a vigil. Victims' families started calling MOM-O with tips. The relationship between police and the black community improved. "As a department, sometimes, we see it as a case, as a number, as a file," McFadden says. "MOM-O makes you understand this is somebody's daughter, somebody's mother."
In 1999, MOM-O held a vigil for Cherica Adams, the pregnant girlfriend of Carolina Panthers wide receiver Rae Carruth. She was shot five times in her car on Carruth's order, and before she died, she told police he was responsible for the hit. During Carruth's murder trial, Ms. Judy babysat the couple's brain-damaged son, Chancellor. (Carruth has been in prison since his conviction and is scheduled to be released next year; Chancellor turned 18 last month.) The organization held vigils for national tragedies, too. Ms. Judy sent ribbons to grieving families after the Columbine school shooting; to Newtown; to the congregation reeling from the Charleston church massacre.
She organized vigils for addicts and prostitutes, people whose deaths were worth only short stories on the inside of the local section, a quick mention on the nightly news. Some of the killings happened in the Boulevard Homes community—"the Homes," people in Charlotte called the public housing project back then—just a couple of miles from Ms. Judy's apartment. The Homes was one of the city's most dangerous neighborhoods, a place people didn't want to linger outside. At the worst of the violence, a suspected car thief executed two cops after they chased him through the Homes. Officers Andy Nobles and John Barnette have pictures on Ms. Judy's board, too.
At one point, the antenna on the Honda she drove was festooned with purple ribbons, each hand-stamped with a victim's name. The ribbons fluttered in the wind like sad streamers off a little girl's bicycle handlebars.
***
MS. JUDY SAYS she's not tired. Her knees just hurt sometimes.
She keeps a small stool in her van, and if a vigil runs long and the concrete feels hard under her feet, she'll pull out the stool and rest a spell. She says she feels sharper, mentally, than she did at 26. Ms. Judy wants to keep running MOM-O until her health dictates otherwise. But she turned 66 this year, and the possibility of retirement, first from her landlord job and eventually from MOM-O, is easy to conceive. "The problem is, there's no one waiting in the wings," says Ms. Judy's son, David Howard, a former city councilman who helped start the organization with his mother in the '90s. (When he ran for office for the first time, Howard says people didn't know who he was until he started mentioning his mother's name. "Oh, you're Ms. Judy's boy," he remembers people responding.)
CMPD has its own Homicide Support Group, started eight years ago, which meets once a week and sends representatives to crime scenes. It's a little better organized, and feels more institutional, than Mothers of Murdered Offspring. But the department's "family advocates" aren't as overtly religious as Ms. Judy. The missions are similar, but they don't cleanly overlap.
MOM-O was never supposed to scale in the way many nonprofits desire to grow. Hiring a big staff and chasing grant money isn't the goal, and its leader needs to understand that, Howard says. They have to keep up with the lapel pins; Ms. Judy made cards for the more than six-dozen people murdered in the city this year since I counted the faces on the display board. But more than anything, whoever comes along after Ms. Judy has to care about the victims and their families—to have the strength and grace to comfort them at their darkest moments.
"Without that, MOM-O will go away," Howard says. "After all these families it helped, to not have that anymore is a shame."
***
SHE NEEDS to get back to work—there are apartment applications to process—but Ms. Judy can't walk away from the display board.
"It's just…" She stops and shakes her head. "It's just crazy. I've never counted them before. There are so many."
Without prompting, Ms. Judy picks out more faces. Despite her insistence that her memory is fading, she is able to recall details, even from crimes that happened 20 years ago.
"Mr. Jung-Sup Pak. He was the store owner over there on Freedom Drive, right there at Alleghany. Somebody went in there and robbed him. Did a big candlelight vigil for him. Patricia Jones. She was here for a meeting in Charlotte with her company, and these guys carjacked her and shot her. We sent her family some stuff. I remember talking to her husband."
She keeps going.
"Man, this one. He had gotten out of the military—made it out the Army—and was working over there at the Hardee's at Cotswold. You remember that Hardee's? He was working there, and someone went in there to rob the place and shot him in the face with a shotgun. Couldn't even open the casket." Her nails tap the plastic. "These three. They were all killed on the same day. They shot 'em all and put their bodies in a car and set the car on fire.
"And of course you have to remember little Kevin," Ms. Judy says. Kevin Rodas was a seven-year-old picking up candy from a just-broken piñata at a front yard birthday party on Labor Day weekend in 2015. A group of men shot into the crowd, killing Kevin and wounding two other people. The shooting is still unsolved. "What happened to you, Kevin?" she asks, as if the little boy's picture would come to life and speak to her.
***
ONE NIGHT this past winter, Ms. Judy unloads the back of her minivan at the edge of a covered basketball court just outside uptown. The sun set an hour ago and it's cold; she wears a fuzzy white hat and a white fleece jacket, zipped nearly to the top.
She sets two folding tables together on the concrete court. On one, she carefully places two white picture frames and scatters a dozen purple votive candles in front of them. The frames have purple mats with white writing down the sides: "WE LOVE YOU" and "R.I.P." Ms. Judy drops a purple wicker basket on the second table, with dozens of lapel pins inside, similar to the ones on her board at home.
This time, the picture on the cards is of Mariya Owens, a four-year-old girl with pigtails and a gap between her two front teeth. She was beaten to death last Christmas Eve, hit hard enough to lacerate her liver and aorta. Police charged her mother's boyfriend with murder right away.
MOM-O used to hold these candlelight services near the scenes of murders, sometimes as soon as detectives cleared out. Often, there'd be subtle signs of an aftermath—a scrap of shredded yellow crime scene tape, a pile of flowers. A few years back, there was a shooting at the end of a MOM-O service, though, and the police department encouraged Ms. Judy to move the services to the safety of a public park.
"If I were scared, I wouldn't be able to do this," she'd told me. "I guess I don't have the sense to be scared. Maybe I should be. If I get shot, God's got a purpose for that, too. But I can't live in fear of that. It won't get you anywhere."
A little before 7 p.m., people start to arrive. More than 50 show up to grieve. They pull pins out of the basket and fix them to their jackets. They light candles and hug each other. The vigil starts and tears fall.
Children, some just a couple of years older than Mariya, press close to their parents' legs. A woman takes the microphone and leads the crowd in a wrenching version of the gospel song "I Shall Wear a Crown." As the people lift their candles to the sky, the singer hits the hymn's final verse: "I'm going to put on my robe, tell the story / of how I made it over / Soon as I make it home."