Charlotteans of the Year 2017: Oliver Merino
In 2017, Charlotte's Latino community had to loudly affirm its right to live here. Merino's voice rose above the rest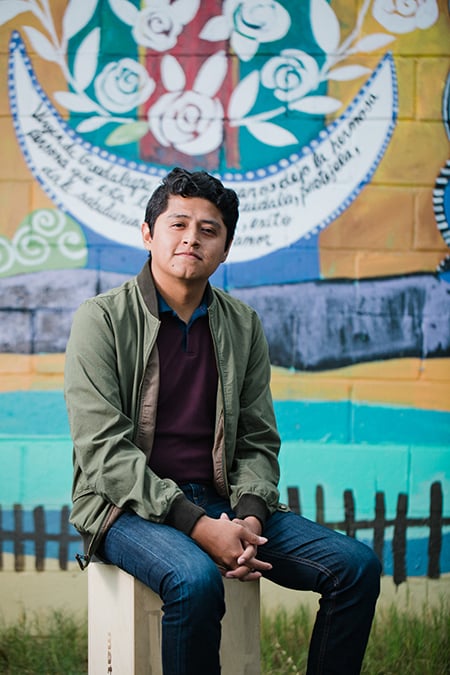 IN FEBRUARY, federal immigration agents conducted a nationwide sweep of 680 undocumented immigrants across the country, including 84 in Charlotte, sending a wave of fear through the city's Latino community. In the weeks that followed, a coalition of Latino and other activists called Comunidad Colectiva publicly demanded more protection and action from the city government, and Merino, 28—then working for the Levine Museum of the New South—served as a coalition spokesman. That put him at considerable risk. Merino is vulnerable to deportation himself as a resident under President Obama's Deferred Action for Childhood Arrivals program, which gave undocumented immigrants who had come to the United States as children a two-year grace period without risk of deportation; the Trump administration rescinded DACA in September. A native of Mexico, Merino settled in Union County with his family at age 10 and now works as a community advocate at the Charlotte Center for Legal Advocacy, a legal assistance organization for the poor. He and Comunidad Colectiva continue to advocate for reforms such as an end to police checkpoints; local government funding for housing, health, and education programs for immigrants; an end to Mecklenburg County Sheriff's Office participation in the federal 287(g) program, which allows sheriff's deputies to hold undocumented immigrants for deportation proceedings; and, ultimately, a less arduous process for immigrants to obtain U.S. citizenship, which can take years. We interviewed Merino near his office in Elizabeth in September; his comments are edited for space and clarity.
There's been a few changes at the museum, so I think it was a good time for me to take the next step and go somewhere else. Over the last four, four-and-a-half years, most of the work I've done has been grounded in community, so that's what I'm doing now at the Charlotte Center for Legal Advocacy. Part of my job is supporting the sponsors of the unaccompanied minors. We still have children at the detention centers, and they're being released to their custodians, and the custodians need support. They need to know what the legal process is going to look like, the expectations and responsibilities they have. The other part is letting people know their rights, that whether you're undocumented or not, you have Constitutional rights no one can take away from you.
ICE had been doing activity in Charlotte before. That was nothing new. But I think it was coming out of the elections and the inauguration and this new direction this president was setting this country towards. Now you're not safe, everybody's going to be rounded up, this is how it's going to be now. This is the new order.
Comunidad Colectiva is a coalition of people on a volunteer basis, similar to Charlotte Uprising in that these are all people who were already connected in the community. I'm part of the leadership team. One of the things we've learned is the reach social media can have to turn people out, and what we want to do is mobilize folks, like the people who came to the marches we've done uptown. But there's a lot of education that needs to happen, especially with all these changes going on.
After the raids, we worked together with the Southeast Asian Coalition and another group in the Triangle and in the Durham area called Alerta Migratoria, they do a lot of anti-deportation work there, to release this list of demands to the city, the county, the sheriff. I think we've learned—I say "we," but I also say this for myself—from Charlotte Uprising, providing a vision of what this community can look like, and these demands explain that. Things like advocating for the end of 287(g), releasing a statement against any kind of ICE activity in the city, ensuring that whatever databases the city has are not shared with ICE at any point. So it goes back to, 'How do I advocate for myself and not let other people advocate for me?' Whenever there's an opportunity to engage with groups or public forums or whatever, I try to do that because I don't see anyone else doing it.
In my mind, September of last year (the Keith Lamont Scott demonstrations) changed everything. It changed the city, and it changed the work we were doing at the museum. The people from Charlotte Uprising who provided the infrastructure for the protests to continue, and supported people during the protests, I already knew who they were. For me, this loose group of organizers provided a vision of what this city can look like—a city where police are held accountable when a shooting happens, there's transparency and accountability, that elected officials are pressured to provide answers to the community because the community demands that of them. When (last) November happened, the national elections, when this group began to form, Comunidad Colectiva, the majority of the people starting (to organize), including myself—all of us were in the streets in September. I think that gave me the idea that we're not alone in this fight, that there are other people in the streets who were also feeling unheard and disenfranchised.
I see people's reactions to these demands as, 'This is too farfetched,' like we can't do this. But that's like, just from the get-go, they don't want to listen to what the possibilities are. This idea of creating a fund for people in deportation proceedings, that's nothing new in other cities across the country. I understand that there's a conflict with the state and General Assembly and Charlotte, but the city had no problem fighting them on HB2. I think they have to assume that leadership and that power that they do have. Sometimes you can't structurally change something, but you can advocate for that change. To me, it's really sad to see that the city is not willing to put their political capital on the line for people who are having a very, very hard time in this city.
A question I've been asked is, 'Why are you visible when you know you're undocumented?' It's a legitimate question. For me, it's important for people to know not just my story … but I hope people understand that I do this because I want to help people, and I see it as, I have no other choice. I have to advocate for myself. I have to be present and as vocal as I can. I'd rather talk for myself than have somebody else talk for me.
> Hear Merino's appearance on the #discussCLT Podcast here.