Charlotte's Beers of Summer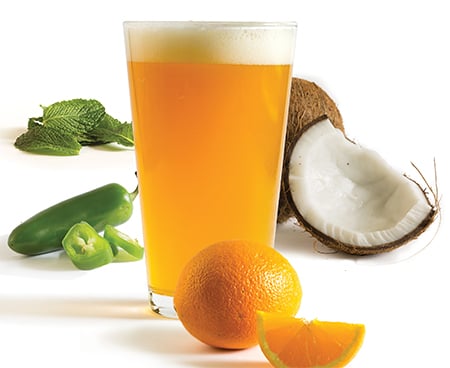 WARM-WEATHER DRINKING doesn't have to mean chugging a cold can of watered-down light beer. Local brewers are using unexpected ingredients for flavorful craft beers that keep you cool with a taste of something fresh.
---
Salty Coconut Red Ale (Sycamore Brewing)
Sycamore co-owner Justin Brigham calls brewing this beer "an act of love" because it requires more effort than others. Brigham and brewer Jordy Smith add 10 pounds of coconut to each red ale barrel, then add sea salt for the final touch. The result is a new twist on a classic red ale with great color. Sycamore's Salty Coconut is perfect for warm weather, best enjoyed on the brewery's spacious outdoor patio. 2161 Hawkins St., 704-910-3821.
---
Jalapeño Pale Ale (Birdsong Brewing Company)
Head brewer Conor Robinson takes fresh, hand-cut jalapeños and adds them to the Free Will Pale Ale base. The heat is apparent upon the first whiff, but turns out it's not too hot on the palate. Pair the impressive pale ale with a good burger or wings. Birdsong will also begin offering the beer in cans this summer. 1016 N. Davidson St., 704-332-1810.
---
Smoked Amber (Triple C Brewing Company)
Some might be hesitant to try smoked beers, but Triple C head brewer Scott Kimball puts the right touch on this amber, using cherrywood-smoked malt, English golden naked oats, and German chocolate wheat malt. This flavorful beer is made to be poured next to a big plate of barbecue. 2900 Griffith St.,704-372-3212.
---
NoDajito (NoDa Brewing Company)
Mojitos have long been a popular summer drink, but a mojito-inspired craft beer? Erase your doubts, as this Belgian Witbier is infused with mint leaves and lime zest to provide a crisp, citrusy taste. NoDajito, which was introduced in 2012 as a small batch, has become so popular that the NoDa staff decided to can it this summer. Your pool, lake, and beach days will never be the same. 2229 N. Davidson St., 704-900-6851.
---
De La Wit (Lenny Boy Brewing Company)
The organic Witbier is brewed with orange and coriander, giving this beer a hint of fruit flavor that helps sate your thirst in the heat. Make sure Lenny Boy is your final stop after a run along the Light Rail Trail, and thank us later. 2224 Hawkins St.