Charlotte's Best Breakfast is Closing
@Dawn will close and be replaced with a Charlotte location of The Yolk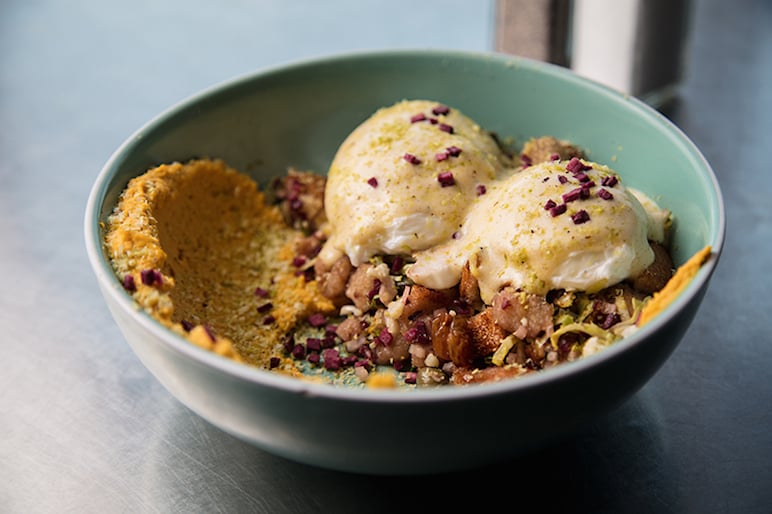 Greg and Subrina Collier are closing their restaurant @Dawn after this weekend's service. Despite being packed on weekends, the restaurant wasn't bringing in enough customers during the week, Greg says. The Arysley restaurant was named best breakfast in our 2017 Charlotte magazine Best of the Best Awards.
The Colliers will instead work on a second location of The Yolk, their original Rock Hill restaurant. This one, Greg says, will be in Charlotte, likely in a neighborhood close to uptown. They're hoping to find a space where they can build the restaurant to their liking, complete with a chef's table—where we'd love to eat given Greg's entertaining personality.
The @Dawn breakfast menu shows an impressive balance of being both approachable and inventive. A personal favorite from @Dawn is the veggie benne, a daily special eggs Benedict created around local produce available that morning. The Tennessee fries are also delicious, made with a custom spice blend inspired by Greg's hometown of Memphis, and they will remain on the menu at The Yolk.
There's no timeline on the new space yet; according to Greg, he and Subrina are looking at several opportunities in the area. In the meantime, the two are hoping to take a few days off—days that are well-deserved, as they've worked seven days a week since opening @Dawn. We're sad to see our favorite breakfast spot close, but still have The Yolk—and we're happy to hear they'll be more near in the future.