Here Are Charlotte's Tastiest Burgers: 2021
Options across the city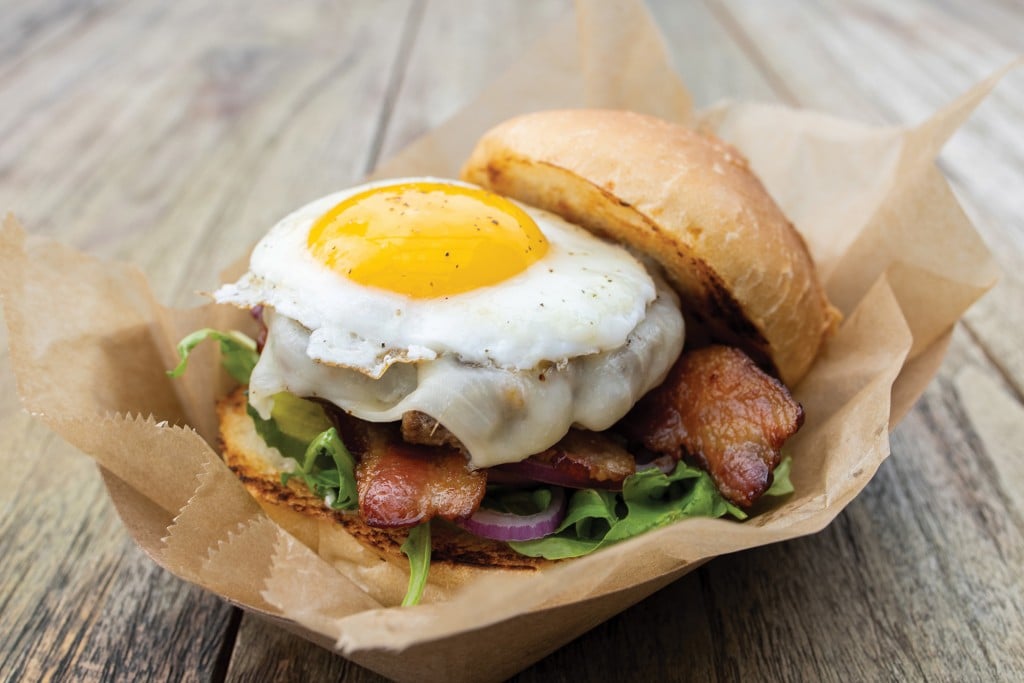 Bleu Barn Bistro
Camp North End, 1801 N. Graham St., Ste. 100
Bleu Barn Bistro's Barn Burger is a local grass-fed beef patty topped with applewood-smoked bacon and a free-range egg on a toasted bun. And let's not forget the supporting cast: mozzarella cheese, roasted garlic aioli, red onions, butter pickles, and arugula.
---
Haymaker
225 S Poplar St.
The Steakhouse Burger at this uptown spot is a delightful monster: two 6-oz. Brasstown patties with caramelized onions, Ashe County cheddar, and housemade mustard on a benne seed potato bun. It might also be the tallest on this list.
---
South 21
Multiple locations
This drive-in has served Super Boys to Charlotteans since sock hops were all the rage. South 21's signature order includes two beef patties, cheese, mustard, lettuce, tomato—and a pickle spear perched atop the bun. That combination has endured for decades. There's no reason to mess with it.
---
Midwood Smokehouse
Multiple locations
Most folks skip right over the rest of the menu and look straight to the barbecue platters at this ever-expanding barbecue spot, but the burger deserves a look. A blend of chuck and brisket, the Roadhouse comes with your typical ketchup, mustard, lettuce, tomato, and cheese, but add the sliced brisket for an additional two bucks and you won't feel bad about ordering a burger at a barbecue restaurant.
---
Harriet's Hamburgers
Optimist Hall, 1115 N. Brevard St.
We first noticed this "signature secret item" on Harriet's Hamburgers' online menu: a cheese-stuffed hamburger "hailing from the great 612." That's Minneapolis' area code, if you didn't know, and this entrée is the source of a decades long tradition (and rivalry) there. The Juicy Lucy debuted in the 1950s, with two dive bars claiming to be its creator: The 5-8 Club and Matt's Bar. In a 2017 Star Tribune story, Matt's Bar's grillmaster says they make more than 400 of these burgers a day.
Traditionally, the burger is made by placing cheese between two patties and then sealing the sides of it to make one heavy (and tasty) monstrosity. The result is surprisingly distinct from an everyday cheeseburger in texture—the separation between cheese and bun making all the difference.
The spelling of the Jucy Lucy (or Juicy Lucy) varies between the two Minneapolis joints: Harriet's in Charlotte uses the same as Matt's Bar, which drops the "i." The reason this regional item is here: Harriet's is a partnership between Brian Stockholm, owner of Papi Queso, and The Plaid Penguin, which was founded by Minnesota native Joe Haubenhofer.
---
Bob's Carry Out Pile 'Em Up
3422 Statesville Ave., 704-918-2264
The interior of Bob's looks more like a public restroom than a takeout joint with its floor-to-ceiling tiles, but its burgers are superior. From a small window inside, order a piping hot and juicy double cheeseburger with tomato and lettuce for just $4.75, and then devour it in the car before you even drive away.
---
Reid's Fine Foods
Multiple locations
Reid's steakburger is the gourmet market's answer to the fast-food staple. The eight-ounce patty is a mix of ground filet, sirloin, and rib-eye, and comes with lettuce, tomato, and your choice of side (we recommend the truffle fries). If the $15 price tag is too steep, come on Tuesday for lunch or dinner at any one of their locations and get the almost half priced steakburger special. This is one gourmet meal that's completely acceptable to eat with your hands.
---
Moo + Brew
1300 Central Ave., 980-585-4148
Chevre? Ah, oui. This burger joint has a pretty simple concept: burgers and beer, the beverage that goes easily with burgers. That doesn't mean they can't be fancy, too. The Rocket Turkey burger has a patty of farm-raised ground turkey, chevre (goat cheese), arugula, a balsamic fig spread, and roasted red pepper—everything you never thought to put on a burger, but should have.
---
The Crunkleton
1957 E 7th St., 704-919-0104
The Crunkleton may be most famous for its cocktails, but the spot also offers a tasty seasonal menu. Among the most beloved entrées is the aptly named A Really Good Burger, on which you can add a fried duck egg or fried oysters (among other options) for an even heartier meal.
---
Brooks' Sandwich House
2710 N. Brevard St., 704-375-7808
It's a tough call, given strong challenges from The Diamond in Plaza Midwood, Pinky's Westside Grill in FreeMoreWest, and the newly established Billy Jack's Shack in NoDa, with its aptly named "Napkin Burgers." But a burger is a working-class meal, and our homing device still points us to Brooks' humble red hut and the heft of those rough-hewn burgers with homemade chili. Eat 'em there, using the unvarnished wood shelf in the gravel parking lot as a makeshift table.
---
Pinky's Westside Grill
1600 W Morehead St., 704-332-0402
Chef Greg Auten created what is now Pinky's best-selling sandwich, The White Trash Burger, when he was looking for a creative way to use the uneaten fried pickles an onion rings he had to toss every day. The five-ounce burger (you can make it a double for $2 more) comes with provolone, fried pickles, onion rings, and spicy ranch. You can customize any one of Pinky's championship burgers with your choice of toppings ( "Westside" style includes mustard, chili, slaw, and onion), but the White Trash burger is more than enough on its own.
---
Foxcroft Wine Co.
Multiple locations
You know what pairs well with a glass of wine? A really good gourmet burger. Foxcroft Wine Co. serves a signature burger with ground hanger steak, grilled onion, tomato, greens, truffle aioli, and a choice of cheddar or bleu cheese on a house-made potato bun. Order it with a side of truffle fries and your taste buds will really dance.
Contributions come from Taylor Bowler, Andy Smith, Adam Rhew, Kristen Wile, and John Short.