Charlotte's Contradictory Nonprofit Sphere
#discussCLT panelists agree on need for partnerships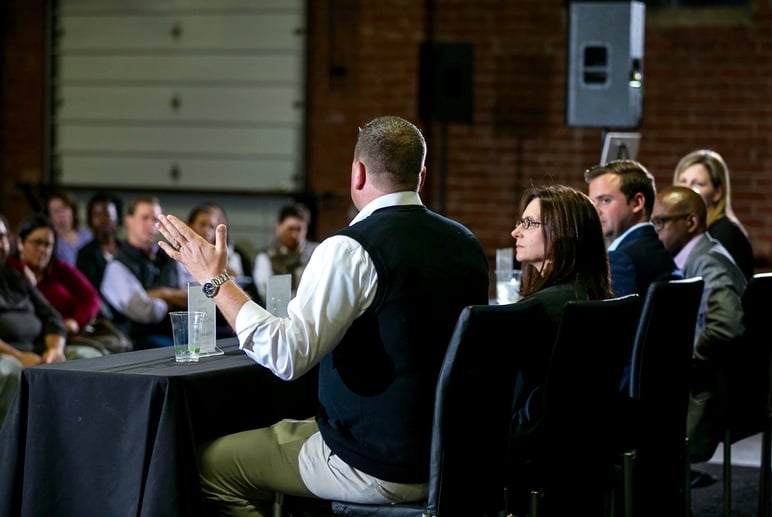 The nonprofit sector, in Charlotte and in general, is caught in a circle of contradictions.
Mecklenburg County has roughly 1,100 nonprofits devoted to everything from education to serving the homeless, according to the North Carolina Center for Nonprofits. But most are small and isolated from each other—"siloed," to use the trending term—and miss chances to cooperate.
Charities could accomplish far more with broader missions and larger budgets to cover expenses such as payroll, marketing and advertising, and long-term planning. But donors and the public tend to condemn nonprofits that spend too much on such "overhead" expenses, perceiving that they're drawing money and resources away from their primary missions.
At a time when nonprofits most need to combine their goals and form partnerships, a new generation is graduating from college with an inclination to found rather than join—to act as independent entrepreneurs instead of partners, a mindset that suits business but not necessarily charity. And the ideal outcome for a nonprofit built to solve a specific problem would be success in solving it, which would make the nonprofit unnecessary.
The panel we assembled last week for "Navigating Nonprofits," the final #discussCLT event of 2017, had to wrestle with these contradictions. It was a tough match. Our panelists are some of the most experienced and talented leaders in Charlotte's nonprofit community: Kelly Brooks of SHARE Charlotte, Michael DeVaul of YMCA of Greater Charlotte, Mary Gallivan of Foundation For The Carolinas, and Josh Jacobson of Next Stage Consulting. Even they had trouble mapping a route forward.
Several of their comments and insights were punctuated by some variation of the phrase "figure out a way"—as Gallivan put it at one point, "In a dream world, we have to find a way to share our mission or plug into other organizations … But people get so singularly focused that it's hard to do that. So until we figure out that piece of it, I think it's going to be a challenge." How to do that? Where to start? There's the rub.
If collaboration is a necessary step forward, it'll take organizations and donors demanding it, the panelists agreed. There's no formula. You just have to do it. The main difficulty in Charlotte is that it hasn't really been done before.
Large Northeastern cities, which established their civic foundations and large nonprofit communities in the 1960s, have more experience in delivering services and setting up systems to guarantee them for the long term, Jacobson said. "We're a very young city when it comes to the nonprofit sector," he said. "We're in that life cycle of figuring out whether we're better together than we are independently."
The Task Force is one sign that nonprofits are moving toward partnerships. So is Read Charlotte, a three-year-old community effort among several groups that aims to double the rate of reading proficiency among third-graders by 2025. More than one panelists mentioned the program, whose board of directors includes representatives from the Belk Foundation, Foundation For The Carolinas, and the C.D. Spangler Foundation, as a good example of a working nonprofit collaboration.
But those are large, established, well-funded charitable organizations. Lassoing the hundreds of small nonprofits that start with one person's impulse is far tougher, and the system seems designed to discourage nonprofit leaders from thinking in new ways and taking risks: Small nonprofits lack resources. They can get big donations from the corporate sector. But big business generally wants to play it safe with contributions for fear of alienating shareholders. So small organizations—and many big ones—hit a low ceiling when they try to alter the way resources get to the people who need them most.
One of the most refreshing observations of the night came from Gallivan: "Corporate philanthropy, in my opinion, is not purely altruistic. They're doing it for employment engagement reasons, for brand recognition, to establish a presence in the community." Donors have to accept making contributions with no strings attached, letting nonprofits decide how best to use the money, "and we're a long way away from getting there."
An activist, author, and entrepreneur named Dan Pallotta delivered a TED Talk in early 2013 that shook the nation's nonprofit sector to its core, drawing both raves and condemnations from thousands. Its central point: By limiting the amount of money they spend on overhead and long-term financial stability, charities hamstring themselves from growing and doom themselves to never solving the large-scale social problems they're expected to address. That Puritanical idea—charities, unlike businesses, should spend as low a percentage of their revenue as possible on salaries, development, and "keeping the lights on"—has come to be known as "the overhead myth," and Pallotta's thesis gained even more credibility when the founders of three large charities supported it in a joint letter to their donor bases.
So it wasn't surprising for the overhead myth to come up during the #discussCLT event. Partnerships among charities may help the sector grow, DeVaul said, but those collaborations need time and investment themselves even before they work toward their ultimate goals. Brooks, whose group serves as a matchmaker for donors and charities, suggested that donors can help by researching what's important to them and guiding charities to each other. "We have to help them get their head up and start looking at the bigger picture of the community," she said, "and then help them find ways to come together."
That task may be getting tougher. Jacobson made a few distressing observations about the first post-millennial generation—the "Founder Generation," or "digital natives."
"I think the nonprofit sector is ripe for disruption. But I'm actually a little worried, because that Founder Generation, the digital native, is now graduating college, and their inclination is to start things and not join things," he said. "So how are we going to channel that great ingenuity, that entrepreneurial spirit that we know is amazing, into our institutions that have the scale, the capacity to make the change that we all desire? I think that's a question to ponder a little bit."
Yes, it is, and it seems reasonable to conclude: with great difficulty, or not at all. Whether that's an overly gloomy forecast is another question to ponder, and another vexing problem we need to figure out how to solve, somehow.