Charlotte's East Side Electric Coffee Shop
Leo and Kellie Solis draw Charlotte's Latino and music communities to their east side coffee shop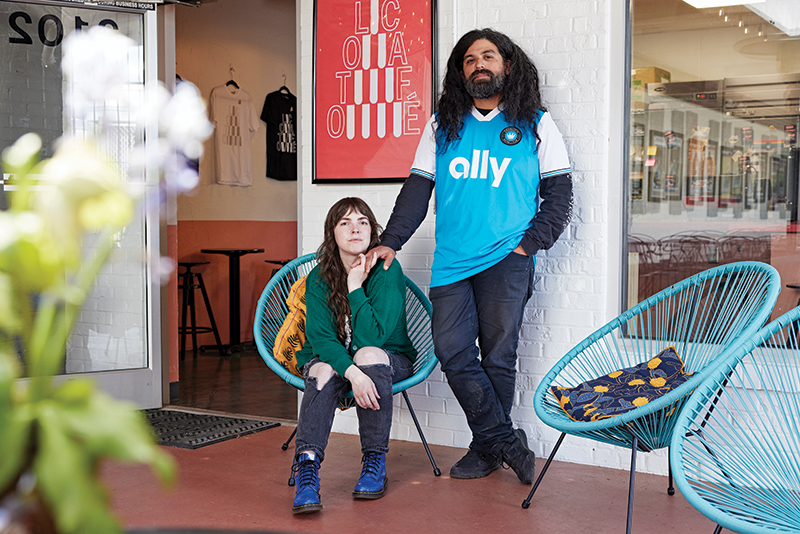 I'm at the far end of the west side coffee shop when they enter, dripping cool: His thick, dark beard and retro brow-line glasses set off his camel-colored beanie, flannel shirt, and dark pants and boots. She's in cobalt-blue ankle boots, black pants, and a graphic tee, and her face is framed by cropped bangs and a wavy shag that falls over her shoulders.
I'm pretty sure I've got 200 photos of that exact haircut saved on a Pinterest board somewhere, not that I have the balls (or face) to pull it off. All my insecurities are instantly triggered. Jesus, I think, she looks like Anya Taylor-Joy as a hipster. Thank God I at least wore all black today.
He walks toward the bathroom as she orders a latte and bagel with cream cheese. I approach her.
"Are you Katie?" I, an idiot, ask.
"No, I'm Kellie," she says.
"Oh, my God, I'm so sorry."
"Oh, it's fine! I've actually never gotten that name before, so"—she smiles—"that's fun. Thank you!"
I'm instantly at ease. Over the next hour or so, I get to know Kellie and Leo Solis over coffee. I've visited their own coffee shop, Loto Café, three times since it opened on Charlotte's east side in February. Something beyond good coffee, conchas, and bright, cheery walls draws me back. Leo and Kellie have been integral members of Charlotte's music and Latino communities over the past decade, so their shop—in a diverse and fast-changing neighborhood with a large Latino population—already feels like an institution.
On May 9, 2009, Kellie traveled from her home in Charlotte to Myrtle Beach to see her friends' band, Paper Tongues, perform at House of Blues. After the show, she met Leo, Paper Tongues' sound engineer. "I had already looked into his—whatever social media existed back then," Kellie says.
The two instantly hit it off. Leo toured with Charlotte-based Paper Tongues for the next year and a half, and he spent a lot of time here—and with Kellie. She was a singer and pianist, so they bonded over music. As the ball dropped on New Year's Eve 2010, Kellie explains, Leo asked her to be his girlfriend.
Leo sits back in his chair and smiles. "I'm a sucker for an event," he says.
The couple married in the summer of 2011. Music has remained the center of their life together. They write, record, and perform "electronic, moody, dark pop," as Kellie describes it, under their last name, SOLIS. Kellie, 35, writes the lyrics, sings, and plays piano. Leo, a multi-instrumentalist, records himself playing other instruments—guitar, drums, bass—and mixes the songs. Today, SOLIS has 12 songs on major streaming platforms.
Leo, 36, makes a living producing for other musicians, too. He co-owns Four Finger Records, an independent record label for Charlotte bands, and Gigantic Recording Company, a remote production studio. Between Leo's engineering work, the SOLIS band, and caring for their 2-year-old son, Rémy Lotus, Leo and Kellie were happy and busy as full-time musicians and parents.
"We were definitely not looking to open a coffee shop," Leo tells me in March. Kellie nearly chokes on her bagel as she laughs in agreement.
"I mean," Leo continues, "we've thought about doing a pop-up sometime with some of the things I grew up eating. We love cooking at home. We make homemade tortillas weekly, homemade salsa—"
Kellie interjects with a chuckle. "You are so sweet to say 'we,' but I just need, on the record, to say: I play no part."
Leo says he's always been drawn to food and the community around it. He traces it back to his upbringing in San Bernardino, California, with Mexican immigrant parents who taught him about his culture through food. Leo beams when he talks about the restaurant his parents own in New Mexico.
"And then, while traveling to do music, I've gotten to experience culture and food and share food with different people who don't speak my language," Leo says. "Some of my personal heroes are people in the food and beverage space—Jonathan Gold, Anthony Bourdain. They're like punk-rock pirates. I've always said that if I wasn't in the music scene, I would be in a kitchen somewhere."
In early December, after a few weeks of traveling, Leo went to one of his favorite local hangouts, Tommy's Pub, in Eastway Crossing. He passed the long alcove between VisArt Video and Nail Trix that EastSide Local Eatery used as a patio—and saw boxes outside a dark storefront. He called Gina Stewart, EastSide's co-owner, executive director of neighboring VisArt, and fellow musician, in a band called Doubting Thomas. She confirmed EastSide was closed, and asked if he had an idea for the space.
"I mean, I just kind of wanted to throw a rave in the alleyway or something music-related," Leo says with a laugh. "Like bring in a taco truck, throw a rave, stay up until 3 a.m. But, well … that kind of spiraled into a full business plan."
Most entrepreneurs have a business plan before a physical space. The Solises did it the other way around. Within 24 hours of learning the EastSide space was available, Leo had drafted a menu and plan for a community-oriented café that sources from and supports other Latino-owned businesses. He and Kellie both had "fallen in love with coffee while touring," and they couldn't think of a better use for the space. "It felt like the next phase of who we already were," Kellie says.
They called James and Miracle Yoder, Charlotte-coffee-scene pioneers and owners of Not Just Coffee. The couples had met in 2009 when Leo worked in a small recording studio in Optimist Park's Area 15, near the first Not Just Coffee location. The Solises and Yoders quickly became friends. James and Miracle taught Leo and Kellie about coffee, and SOLIS played Not Just Coffee's grand openings.
"We called and were like, 'Are we crazy? Is this the dumbest thing?'" Leo says. But the Yoders loved the idea. So did Stewart. By Christmas Eve, Leo and Kellie had the keys to the east side space. They opened Loto Café—Loto is Spanish for Lotus, their son's middle name—in February, and serve coffee drinks plus empanadas and pastries from Manolo's Bakery and Dulce Dreams Café. They also host other Latino-owned businesses, like Café con Brujeria, Limoncito Goods, and Raw Bites by Risa, for weekend pop-ups.
The shop's living room-sized space, with its terra cotta-and-cream-colored stucco walls, red lacquered countertops, and single flowers in Jarritos bottles, looks like it belongs in L.A.'s historic, majority-Latino Boyle Heights neighborhood. It spills out onto the long, narrow patio with iron two-tops and a garage door that leads into VisArt.
Leo and Kellie tell me they've been moved by the support that Loto has received from east side residents, the Latino population, VisArt supporters, and music industry folks. "We've learned, both from this and from music," Leo says, "that when you support the local scene, they'll support you."
We've finished our coffees and the interview, but Leo and Kellie don't stand to leave as I thank them for their time. Instead, Leo says, "OK, so tell us about you," and the three of us chat a while longer.
*Loto Café closed its original Eastway Crossing shop on May 14. Information about its new location is coming soon.
Tess Allen is the associate editor.