Charlotte's Identity Crisis
So we got the DNC. Does that mean we can drop the 'N.C.'?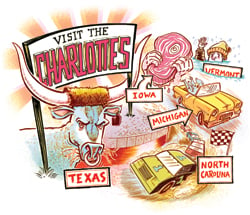 The mayor of Charlotte didn't know the Queen City had landed the 2012 Democratic National Convention. To be clear, this particular mayor is Dee Smith of Charlotte, Michigan, a former Oldsmobile-producing suburb of Lansing that erroneously gets a few letters a week meant for us. Sure, Smith has been to our Charlotte a few times. He's never left the airport, though.
There are, by the count on the wayfinding sign on The Green in uptown, at least eleven other cities and towns that share some part of our name. We're the biggest. But it's generally agreed upon that Charlotte would cross some sort of importance threshold once common folk and media elite no longer mention North Carolina in the same breath. With one name, we'd be in the same gaggle as Chicago, Boston, and Miami.
The Associated Press Stylebook, the arbiter of most reporters' grammar questions, mandates an "N.C." in nearly every Charlotte dateline. But lo, President Obama put us on a first-name basis three months ago in a speech about Libya. Benghazi, he said, was a city the size of Charlotte.
He was not referring to Charlotte, Iowa, 930 miles west of here. There, Terry Messerich owns Charlotte Locker, which slaughters and processes meat in a town that's just barely big enough for a bar, a restaurant, and a fire station. He's heard of us. Sort of. He knows we have a stock-car race. (Technically there are three, all in Concord.) We're "a historical town," he says. (Technically, if you ignore the strip malls.)
He thinks we can get by without an "N.C." after our name, too. He also heard about some big convention we're getting. He just couldn't remember what it is.
Then there is the Prius-loving, tractor-parade-holding, strawberry-picking hamlet of Charlotte, Vermont. In March, the biweekly Charlotte News had a headline crowing about two feet of "Epic Snow," enough for cutesy front-page pictures there but potential Armageddon here.
Charlotte, Texas, seems to be located somewhere in No Country for Old Men. Charlotte, Maine, appears to be a bend in the road. Charlotte, Tennessee, is home to the Dickson County Jail, where someone from Grumpy's Bail Bonds will meet you if you find yourself a bit short on freedom.
Three Charlottes are pronounced shar-LOT. Two are, like us, named after Queen Charlotte of Mecklenburg. One is home to a cowboy festival.
Messerich doesn't think we're ready to drop the "North Carolina" from our name. Nancy Wood, editor of the Charlotte News is on his side. If it happens, she sighs, she'll get more misguided press releases than she already does. But Mayor Smith thinks people will understand that simply saying "Charlotte" means Charlotte, North Carolina. "We're pretty small potatoes."
Back to that wayfinding sign—Gary Sweeney is the San Antonio-based baggage handler/artist who created it. He got the idea by going to an atlas and running down all the other places named Charlotte. On the sign, we're listed as the Center of the Known Universe. "It's something everybody can get a chuckle over," he says. He thinks we can get by without an "N.C." after our name, too. He also heard about some big convention we're getting. He just couldn't remember what it is.