Charlotte's newest brewery invites you to step into the Unknown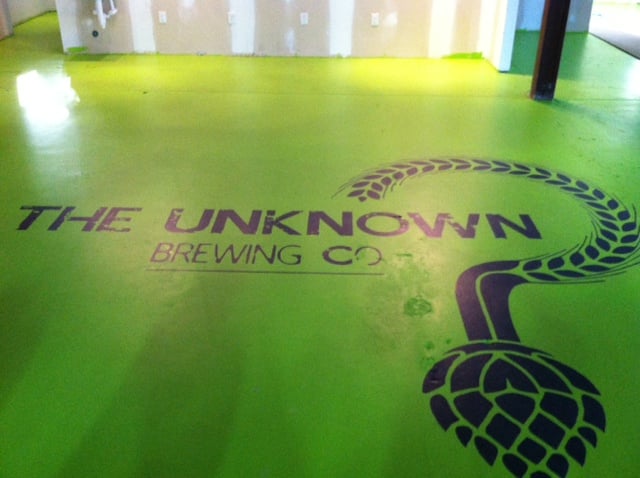 Uptown Charlotte will be entering unknown territory this fall.
The Queen City's latest brewery, Unknown Brewing Company, had a groundbreaking party over the weekend while also celebrating finally signing their lease at 1327 S. Mint St., less than a half-mile from Bank of America Stadium.
Headed up by Brad Shell, Unknown had been eyeing the 22,500 square-foot warehouse since last August. However, it wasn't until last week, when the Charlotte City Council approved new rules that allowed breweries to operate in mixed-use and transit-oriented development areas, that the brewery could move forward with its plans.
Shell, who was one of the main proponents leading the charge for the new zoning rules, says he's pleased with the results and can't wait for things to get started.
"This is a great neighborhood just waiting for something to happen," he adds. "You see the growth of South End and we hope to continue anchoring that growth and really bring more of a presence to uptown as well. I think that 'live, work, play' that goes on, I think we have a lot of the live/work environment but we want to add to the play side.
"This is a scene that you want to be a part of, but there just has to be something that brings people here other than the regular 8-5 (job). I think having a brewery where there's live music playing, great beer, good food and arts, it gives people a reason to come down and enjoy us."
Unknown will carry what Shell calls three "foundation" beers: an IPA, pale ale and Hefeweizen. The taproom will boast 12 total taps, four of which will be guest taps featuring other Charlotte breweries. The remainder will be part of the brewery's mystery, says Shell.
"We're going to try crazy off-the-wall collaborations," he says. Barrel-aged processes, Belgians … you name it. The whole point of American craft beer is go big, so we're going to step into the unknown."
And while the latter half of that sentence is the brewery's trademark slogan, Shell is anything but anonymous in the craft beer world. He brings more than 10 years of experience in the business, starting at SweetWater Brewing Company in Atlanta and later working at Terrapin Beer Company and Rogue Ales.
I first met Shell at the annual Black & Blue event this past March, and was thoroughly impressed by Unknown's test batch of Big Mouth IPA. They'll continue to do test batches at 5 Seasons Brewing Company in Atlanta, which Unknown will bring up to Charlotte in time for the taproom's projected opening date of Aug. 29.
Unknown's equipment is expected to arrive in September (the brewery will have a 30-barrel production system), and the construction should be finished by Oct. 1. Shell says the target date for everything to be fully operational is the end of October.
Once up and running, Unknown will feature live music on some nights, along with food trucks and other events. They also plan to distribute their beers to restaurants and bars in Charlotte and, eventually, other parts of North Carolina.
With big plans for the future, this brewery looks to be the opposite of unknown, but Shell says the name means so much more.
"The whole point of the unknown is to not be the Unknown Comic and put a paper bag over our head," he says. "The Unknown to me, means stepping into the unknown. It's about adventure; it's about getting outside of your everyday process, your 9-to-5 life and do something you've never done before—step outside of your comfort zone.
"I always tell people, 'Try anything, question everything, fear nothing.' Step into the unknown: that's our ultimate culture."