Charlotte's Own Giving Tree
The Fig Tree Restaurant celebrates 11 years with 11 acts of service.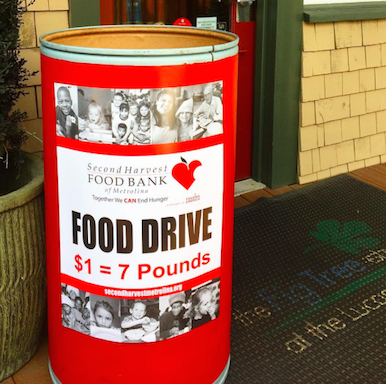 The Fig Tree Restaurant celebrated its tenth anniversary last year in fairly unremarkable fashion. This, despite the fact that 2015 was the restaurant's most successful year yet—no small feat in a competitive industry and a city brimming with culinary newcomers.
This year, co-owners Greg and Sara Zanitsch unexpectedly decided to make a big deal of their eleventh anniversary, and in an unexpected way: by marking each year they've been in business with an act of kindness.
The Giving Tree, as they are calling this series of acts, sprung its first branch on March 5, the date on which The Fig Tree Restaurant first opened its doors. Executive Chef Greg Zanitsch made a barbecue feast for the Urban Ministry's Soup kitchen, feeding hundreds at Charlotte's oldest soup kitchen.
Since then, the Giving Tree has continued to grow more branches. The restaurant held a bake sale in April for the Ronald McDonald House of Charlotte, complete with truffles and palmiers from Pastry Chef Samantha Ward, who also participated in Sugar Shock for Project 658. Last month, they ran a food drive for the Second Harvest Bank of Metrolina. Each act of kindness is designed to let diners participate, even with a gesture as simple as bringing a few canned goods to the restaurant's doorstep.
The idea for the Giving Tree came after a charity breakfast held last December, one for which they later received a national award from the Assistance League. Reflecting on the success of the event, Greg and Sara realized how much they enjoyed connecting with the community in this way.
On the spot, they decided to do it more often. "We want to show Charlotte that we are thankful for the support we've received from diners, and connect with community members we're yet to meet," says Sara.
They also decided to focus on organizations that help children. "Being parents of three young children, we would really like to help families in our community that are struggling," says Greg. "We will be looking for more ways to do that as the Giving Tree grows."
Greg and Sara expect to partner with the Assistance League of Charlotte again this year, along with Levine Children's Hospital, and Classroom Central. Plans for a cleanup day at Independence Park, located directly across the street from the restaurant, are currently in the works. To stay connected with these efforts and others related to the Giving Tree, and to learn how you can help, visit the restaurant's Facebook page.