Charlotte's Philly Side
The authentic cheesesteak is much-loved; fakers are much loathed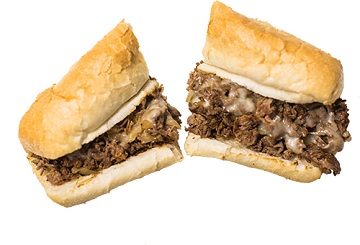 When in Philadephia, the city of brotherly love, one must do as the Philadelphians do and eat as the Philadelphians eat. That being said, the go-to meal in Pennsylvania's bustling city is the cheesesteak. Made with crusty bread, thinly sliced beef, and lots of cheese sauce, your caloric intake will soar and so will your heart and tastebuds. Oh, and I consider myself an authority on this, having grown up a mere 40 minutes from the city.
Outside, and very far south, however, the cheesesteak is harder to come by. Rather, a GOOD cheesesteak is rare round these parts. First, the perfect cheesesteak needs to have:
The Roll: The vessel for your cheesesteak adventure — the roll — needs to be long, chewy, and substantial enough to hold all of the glorious goodness that'll be pressed inside.
The Meat: The beef needs to be thin, and it needs to be tender. Also, there needs to be a lot of it — enough to be falling out of the roll.
The Cheese: American cheese, Provolone cheese or Cheez-Whiz are the only acceptable options for a cheesesteak. Asking for Swiss, Cheddar, or another cheese is blasphemy. The key is mildness and meltability.
The Extras: Many opt for the beef+cheese+nothing else cheesesteak, but a cheesesteak with grilled onions and hot (or sweet) peppers is acceptable.
Secondly, here are a few places in Charlotte dishing it up the right way:
Duckworth's Grill & Taphouse – Funny enough, the Duckworth's menu was actually founded on the cheesesteak. If you're going for authenticity, order the original; a combo or Cheez-Whiz, ribeye, sauteed onions, and chewy bread.
Penn Station East Coast Subs – Although I love Penn Station for their Italian subs, their cheesesteaks are also spot on.
Jack Beagle's – This bar and eatery in NoDa has a delicious Philly cheesesteak with a choice of cheeses – including Cheez-Whiz.
It's getting colder, so warm gooey cheesey meals should start becoming a weekly occurance. Enjoy!