Charlotte's 'Sake Sara' Takes on Japan's Masculine World of Sake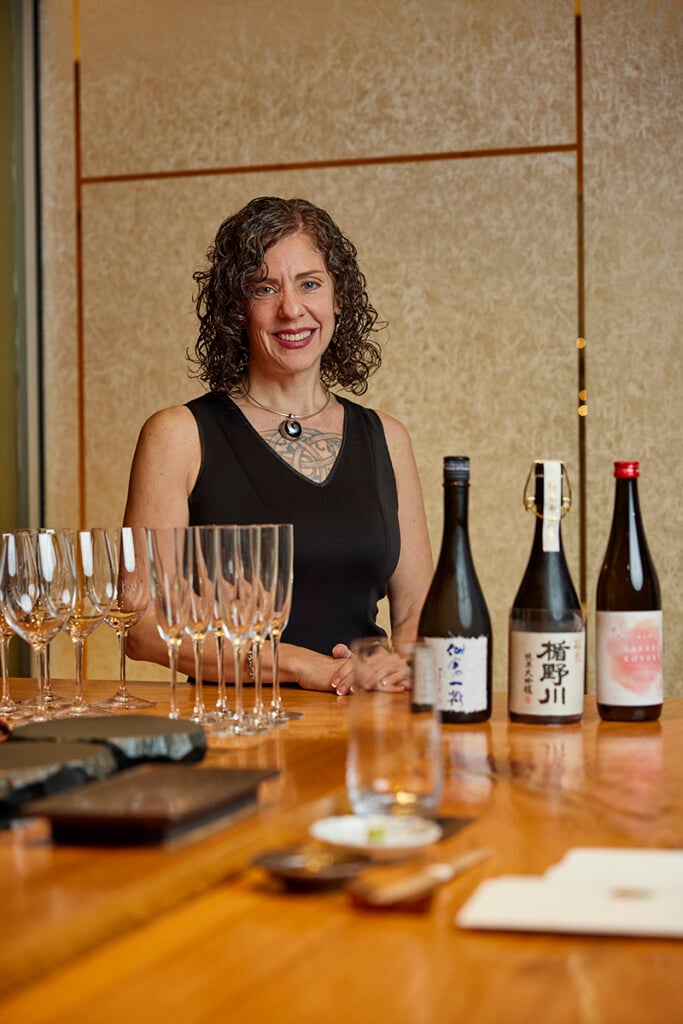 Sara Guterbock prides herself on not being a wine snob. But just for fun, say two words to her: "Supermarket sushi." She'll shudder, but subtly, like Lurch on The Addams Family. "Sushi is the one food I might be a snob about," she admits. "I'll eat blue-box macaroni and cheese but not grocery store sushi."
She's earned her high standards. An alphabet of wine qualifications follows Guterbock's name: CS (certified sommelier), ASP (advanced sake professional), CWE (certified wine educator). There are more, but you get the idea. Only 442 people in the world hold the CWE title, and about half of those are women, according to Ben Coffelt of the Society of Wine Educators in Washington, D.C.
Impressive enough. But over the past decade, Guterbock has developed another layer of expertise and added more letters to her name: ISS (international sake sommelier), aka "kikisake-shi." It's an even rarer designation than CWE. Coffelt doesn't know the exact number of people with both a CWE and an ISS, but says, "It's likely a very tiny group." And it's granted Guterbock, 47, admission into another world traditionally dominated by men.
Guterbock grew up in a globetrotting family. Her father was a professor at the University of Virginia, while her mother studied Japanese at Stanford University. A sip of wine changed her world when she was 19. Her stepmother let her taste Penfolds Bin 389, an Australian cabernet-shiraz blend. "It was like Alice in Wonderland," she says. "My body grew small, and I fell into the glass."
Guterbock was in college, studying painting and printmaking, when her world changed again. She got pregnant. She decided to raise her daughter as a single mother, and that meant she needed a career more lucrative than starving artist. Thanks to her family, she knew enough about wine to get a job with National Distributing in Richmond and Charlottesville. It was a steady income with better hours, and it gave her a chance to become a specialist.
In 2007, Guterbock came to Charlotte to take a job with Mutual Distributing. The city's wine scene at the time was "a boys club—110%," she says. "I didn't know how important it was to pick a (sports) team." (Or at least make it sound like she cared about sports.) Charlotte had something else, though: Johnson & Wales University, where several women were teaching about wine, including the late Catherine Rabb.
"When I met Catherine, it was another moment when the Earth stood still," Guterbock says. "I thought, I want to be her when I grow up." With Rabb as her mentor, Guterbock became a CWE.
Being an expert in European-style wine would be enough for most people. But Guterbock had another interest. When she was 15, her father earned a Fulbright Scholarship to study in Japan, and Guterbock went along. She developed a taste for Japanese culture and cuisine. In 2013, she volunteered to take over sake sales for Mutual Distributing. It was a bold move: Most people assigned to sake "acted like they drew the short straw," she says. "A lot of them didn't even like it."
Her timing was ideal. The world was finally figuring out that sake is more than the rice liquor in the warm carafe you order with teriyaki. Sake imports to the U.S. grew by 16% in 2017, and the U.S. is now the world's largest importer of Japanese sake, according to the Kyoto-based sake distributor Sake Portal. Today, Guterbock is the national sales manager for one of the biggest sake importers in the country, New York Mutual Trading. On Instagram, her handle is @sake_sara.
Guterbock's experience navigating a male-dominated wine industry has come in handy. Japan's sake world is even more masculine. Some sake breweries don't even allow women on the premises, and every business interaction is highly detailed, right down to how high you hold a cup when making a toast and the correct posture when you present your business card. "There are 45 ways to say, 'Thank you,'" Guterbock says.
What has she learned from breaking into two beverage industries where women are scarce? Women have better palates than men, she says. And yet women constantly apologize and play down their own knowledge.
"Women have to find a way to have an attitude of, 'What do I have to lose?'" she says. "You have to have the moxie to do it, to have the moxie to put yourself out there."
KATHLEEN PURVIS is a longtime Charlotte writer who covers Southern food and culture.