Charlotte's Top Winter Beers: 2018
Try these stouts and porters to warm up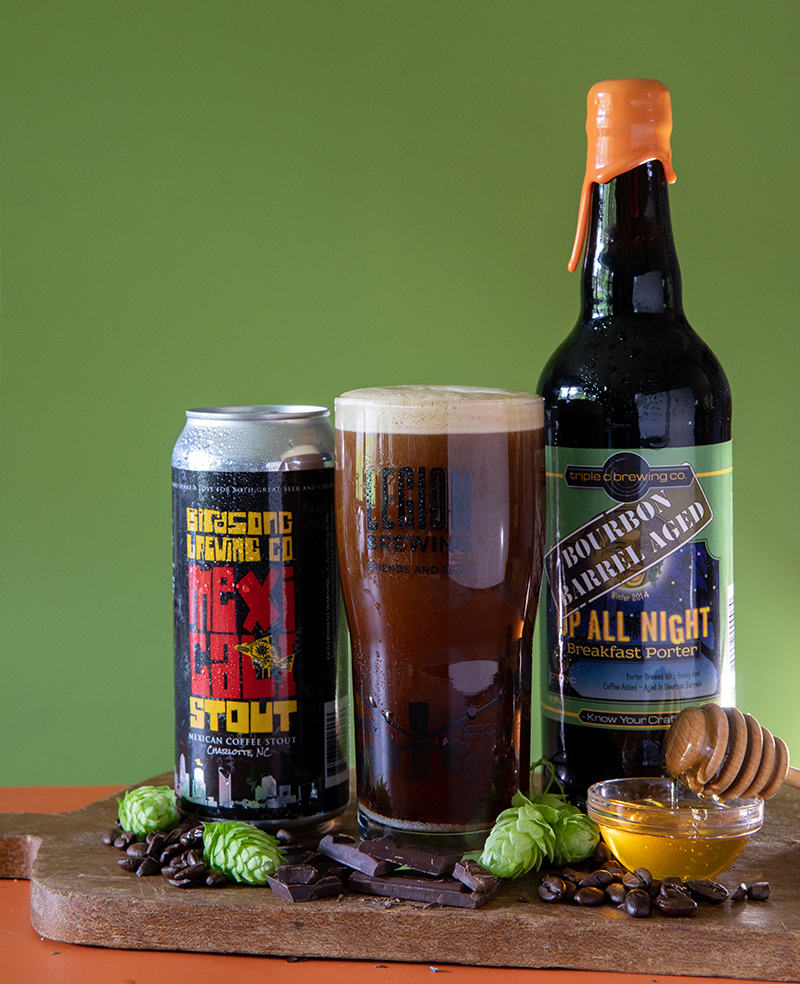 WHEN THE TEMPERATURE DROPS and it's time to add extra layers, winter craft beers can be an added source of warmth. Many feature full and hearty characters to provide a toasty feeling and help stave off the cold. Porters and stouts are the popular styles for this season, and Charlotte's breweries have a thorough lineup of both. Here are three local beers to seek out when the weather turns chilly. [See our list of Charlotte's 50 Best Craft Beers here.]
---
MexiCali Stout – Birdsong Brewing Co.
This stout is dynamic from the first time the beer hits your palate, thanks to a blend of chili spice, cinnamon, cocoa nibs, coffee (local, from Central Coffee), and fresh serrano peppers. The subtle peppers offer warmth right away, and smooth finishes of chocolate and coffee are comforting.
Release date: November, in cans and on draft
---
Komrade Shokolad – Legion Brewing
Legion is known for its Juicy Jay IPA, but this stout may be the Plaza Midwood brewery's best, thanks to its multidimensional flavor profile. Caramel, chocolate, molasses, and vanilla are all present in this balanced beer brewed with local coffee from Nova's Bakery. Komrade Shokolad is heavy on taste, but easy to drink.
Release date: December/January, on draft
---
Up All Night – Triple C Brewing Co.
This breakfast porter named after a popular Widespread Panic song has been one of Triple C's most popular beers since the brewery opened six years ago. Two local ingredients, coffee (Magnolia Coffee Company) and honey (Cloister Honey), help this beer stand out. The sweetness from the honey intertwines with the roasted coffee flavor for a well-rounded brew made for sipping by a fire. Head brewer Scott Kimball has crafted various barrel-aged versions of Up All Night, including an apple brandy one for 2018.
Release date: December, in bottles and on draft