Charlotte's Wall
In early February, ICE swept the city's Latino community more aggressively than before, driving fear of arrest and deportation deeper into the streets of Charlotte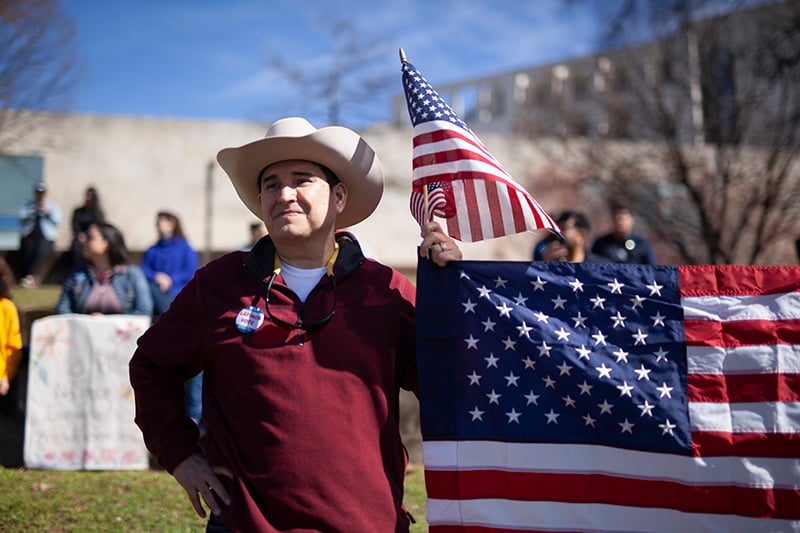 ¿Hablas español? Haga clic aquí.
---
CINTHIA AND HER PARTNER, Cesar, began the new year with a new baby, a surprise early delivery that added a third child, a boy, to their family. Four weeks later, Cinthia was feeding her son when she answered the phone. It was a U.S. Immigration and Customs Enforcement agent. ICE had arrested Cesar that morning. Cesar would tell Cinthia later that it was a matter of mistaken identity, and he expected ICE to release him quickly, so he asked the agent to call her.
Six weeks later, he still hadn't come home.
Cinthia gradually pieced together what happened as Cesar called every day from a regional ICE detention center near Atlanta. On the morning of February 5, an ICE agent in an unmarked car stopped Cesar, a plumber, as he drove to work. The agent showed him a picture of a man whom ICE sought on criminal charges; Cesar did not recognize him. When the agent asked for identification, Cesar acknowledged that he was an undocumented immigrant from Honduras.
Although he wasn't the man the agency was looking for, the agent took Cesar to the ICE offices on Tyvola Road. Agents fingerprinted him, took his phone, and, later that day, moved Cesar to the detention center. For weeks, he hoped for a bond hearing and to return home. Cesar has no criminal record, Cinthia told me.
Cesar's arrest came during a week when ICE detained hundreds of undocumented immigrants in North Carolina. The precise number is unclear. ICE said it arrested an even 200. Local journalists and immigration groups said the number was closer to 275. Plain-clothed agents in unmarked vehicles arrested immigrants in residential and commercial areas, some with criminal records or pending charges, many not. The agency concentrated its raids in east Charlotte, the hub of the city's Latino community and a place where, even weeks later, normally bustling shops and public spaces were unusually quiet.
Cinthia, a stay-at-home mother, found a part-time job to pay their bills while Cesar stayed in the detention center. She cleaned offices and brought her baby to work with her. She and Cesar told their two daughters, ages 5 and 6, that their dad was away on a big job. She didn't expect to keep up the story this long, and she didn't know how much longer she could expect them to believe it.
***
ICE ARRESTED undocumented immigrants in the most ordinary places—a CVS on Central Avenue, a QuikTrip on Eastway Drive—and infused danger into the mundane. People feared going to work, lest agents pull over a van or show up at a work site. Parents feared walking their children to school bus stops. Gas stations, grocery stores, restaurants—all threats. Many families, regardless of their criminal or immigration statuses, feared leaving home at all. So they didn't.
ICE calls an arrest like Cesar's a "collateral arrest." In the search for wanted criminals, agents can arrest any undocumented immigrant they encounter. If ICE seeks a criminal in a work van, agents can detain any undocumented immigrant in that van. If ICE seeks a criminal in a grocery store, agents can arrest other undocumented immigrants in that store. "If you have a white construction van with ladders and you look Hispanic," says Wendy, whose family fled from Honduras to Charlotte when she was a child, "you're going to get stopped."
The new aggressiveness is a Trump administration priority. The president inherited policies that prioritized the removal of dangerous criminals but largely overlooked longtime U.S. residents who weren't violent criminals. Within a week of his inauguration in January 2017, President Trump issued an executive order that tripled the number of ICE agents and made clear: The undocumented were criminals just by living in the United States.
Three weeks after the executive order, nationwide ICE raids resulted in about 680 arrests, 84 in North Carolina. ICE arrests increased 30 percent that year. ICE still contends that it targets dangerous criminals, but the executive order blurred the boundaries of those targets.
If Trump's executive order unleashed the 2017 raids, North Carolina sheriff's elections provoked the most recent ones. In November, the state's most populous counties, Mecklenburg and Wake, elected sheriffs who campaigned on promises to end their jurisdictions' cooperation with ICE—specifically through the federal 287(g) program, under which county authorities can hold jail inmates for the agency to potentially deport. In December, as his first act, new Mecklenburg Sheriff Garry McFadden ended the county's 12-year participation in the program. ICE warned that the decision would result in more aggressive enforcement in neighborhoods. During a press conference in Charlotte after the February raid, ICE's southeastern field office director, Sean Gallagher, welcomed Mecklenburg and Wake counties to "the new normal."
The new normal intensified old fears. At minimum, ICE arrested more than twice as many North Carolinians than in the 2017 raids, including a rise in collateral arrests where immigrants lived and worked. A clean criminal history wasn't enough anymore; a poorly timed grocery trip could mean arrest. The raid created fear and confusion that looked less like byproducts of federal policy and more like its goals.
As the president insists on building a border wall 1,500 miles away, federal immigration policies have built a wall around thousands of Charlotteans. To venture beyond the wall is to risk never returning home.
***
ABOUT TWO-THIRDS of the 11 million undocumented immigrants in the United States have lived here for more than a decade. Now, millions of them are stuck: They fled impoverished and violent countries for a new home and an economy that relies on their labor—but with a system that offers no realistic pathway to citizenship and where politics now criminalizes their presence.
Ana came to Charlotte from Mexico 14 years ago with her husband, who was looking for work. On the morning of February 9, she was making breakfast for her children when someone knocked at her door. (At their request and for their safety, I used a pseudonym for Ana and first names only for Cinthia, Cesar, and Wendy.) She and her toddler were in the kitchen while her four older children watched TV in their upstairs bedroom. Ana peeked outside to see three ICE agents on her doorstep. When they saw her, one raised a piece of paper to the window.
Ana grabbed her youngest child from the kitchen and hid in a closet, hoping the older children would stay in their room. The agents knocked so hard, Ana feared the door might come down. She stayed in the closet, crying, with her toddler. One of her sons came out of his room to investigate; he saw the ICE agents at the door, then looked around until he found his mom. After about 15 minutes, the agents left.
Ana was in Charlotte during the 2017 ICE raids, but these felt different. Agents had detained three people from her apartment complex. In 14 years, her family had never been this scared.
The fear hasn't subsided. Any knock at the door sends her son into tears. Ana no longer leaves the house unnecessarily, and each time she must, her kids beg her to stay home. Her husband works fewer days at his construction job; he knows ICE pulls over work vans and visits job sites, but bills are accumulating. When he leaves for work, he and Ana look at each other a little longer than usual, knowing that look could be their last for weeks, or even months.
Throughout east Charlotte, teachers share stories of children who come to school in tears, afraid they'll return to an empty house, and who take their lunch apples home to parents afraid to shop for groceries. It's a shocking development for people who came to Charlotte a generation ago to find better lives.
The city's Latino community began to grow in 1989, when the Bank of America tower broke ground and contractors had to lure labor to build it. The community grew with the city's skyline in the 1990s and 2000s; even today, a third of Charlotte's undocumented immigrant workers are in construction.
Why, people ask, don't undocumented immigrants just wait their turn and enter legally? The answer: Doing so, at least from Mexico or Central America, is nearly impossible. The average wait for an immigration hearing is 739 days, even for those who seek asylum. For people in the Northern Triangle region of El Salvador, Honduras, and Guatemala—among the most dangerous regions in the world—the United States denies about 80 percent of asylum applications. Nearly all immigrants approved for visas have steady incomes, property, and advanced degrees—which excludes those with the most reason to flee. So why don't undocumented immigrants wait their turn in line? Because there is no line.
The dilemma poses a question to native-born Americans: What would you do? If you lived in a country overrun with gangs and poverty—and nearby, a relatively safe and prosperous country had more low-wage jobs than it could fill—how long would you wait for your turn, knowing your turn may never come?
People like Ana are in a near-impossible spot. They've established lives in America but cannot gain legal status. The United States offers no pathway to citizenship for those who entered illegally. To apply for a green card, people must return to their country of origin, apply at the U.S. consulate, then face a punitive travel ban based on how much time they spent in the country illegally. Someone who lived in the United States illegally for more than a year can be banned from entry for the next decade. The end of the travel ban doesn't guarantee that people can re-enter. It guarantees only that they are eligible to apply for legal status.
Ana and her husband have lived with this reality for 14 years. They now live with the trauma of knowing that the U.S. government can, at any time, remove them from the country and separate them from their children.
"We are not criminals," Ana tells me through a interpreter. We're at ourBRIDGE in east Charlotte, an afterschool center for immigrants and refugees that four of her children attend. "We came here to pursue better opportunities. We're here to work, and we don't want to steal anything. We just want to stay here."
***
EVEN PEOPLE WHO CAME with their parents as small children live with the ramifications. Wendy was a little girl when her parents fled from Honduras to Charlotte 20 years ago. Although she has DACA status, which defers deportation and grants her a work permit, she worries about Trump's threats to repeal the program. What then? Wendy's immediate challenge is tuition: She's lived in the state almost all of her life and pays taxes, but North Carolina DACA recipients don't qualify for in-state tuition or federal student loans, which threatens her dream of becoming a teacher.
Yet Wendy believes her parents were right to flee the violence of Honduras. "The longer we waited, the longer we risked dying," she says. I ask her how long the family would have waited to enter legally. Wendy shakes her head and says, "We would still be back there."
Wendy loved growing up in Charlotte. She enjoys her job as a school secretary, her interactions with students and parents, her sense that she's helpful. She's always felt welcome. Since February, however, she's been scared and wonders if this is where she wants to stay.
So is this fear and uncertainty the ultimate aim of the raids? The government's goal, says immigration activist Yisel Pomier Maren, is self-deportation: for ICE to induce enough chaos and fear for immigrants to leave on their own.
As the director of the deportation defense program at Latin American Coalition during the February raids, Maren connected families that had been affected by ICE detentions to lawyers, drivers, interpreters, churches, food banks, and others who offered help. When she listened to families, she told them she understood.
Maren grew up in poverty in Cuba. When they were children, her sister would go to school in the morning, Maren in the afternoon. Her family had one pair of shoes, which the girls traded at lunch. The shoes were size six; Maren's feet grew to size 12.
In 2010, Maren fled to Venezuela, where she began a six-week journey to seek asylum in the United States. She rode in cars and on motorcycles. She swam, walked, and biked through Colombia, Panama, Costa Rica, Nicaragua, Honduras, Guatemala, and Mexico. Before she reached the U.S. border, Mexican immigration officers arrested her for being there illegally. After 45 days in a detention center, police put her in a plane and told her they were taking her to another detention center. When the plane landed, Maren was back in Cuba.
Maren did it again in 2014, following the same route. Again, she landed in a Mexican detention center. This time, a human rights organization there to inspect the center intervened on her behalf to grant her asylum in the United States.
Working in this field isn't easy for Maren. It triggers her worst memories. She's traveled through the poverty and violence immigrants flee from, and through many of their home countries—twice. She believes she owes it to others to use her experience to help them achieve what she has. As an American, she's free. Maren travels wherever she wants and supports her family in Cuba. She has a good life and a fulfilling career—and many, many shoes.
***
"GAR-RY! GAR-RY! GAR-RY!" The standing ovation swells into a chant. It's February 18, about two weeks after the raids began, and Garry McFadden concludes his speech to a standing-room-only crowd of more than 700 at Lirio de los Valles Church in west Charlotte.
Earlier that day, during the Dia Sin Inmigrantes (Day Without Immigrants) rally in Marshall Park, speakers criticized local law enforcement, specifically the Charlotte-Mecklenburg Police Department, for its failure to protect the Latino community. Tonight, McFadden, a 34-year CMPD veteran and ex-homicide detective, has come to this Hispanic church to answer questions and reassure the crowd.
"Hello, I am Garry McFadden," he greets the crowd. "And I am your sheriff."
McFadden pledges to protect all residents, regardless of immigration status. He tells the crowd they can report crimes and come forward as witnesses without fear of arrest. He encourages the community to get to know him and his deputies.
"Invite us to your parties. Invite us to your restaurants. Invite us to your weddings! And we will come. We don't want to be strangers to you," he says. "And if that means you all want to play sports against us, well, we'll take up that challenge."
He doesn't tell the church that his office or CMPD will halt the ICE raids. He doesn't tell them that he'll stop the arrests. He can't. Local agencies have no power over federal ones. The most McFadden can do tonight is distinguish local authorities who don't make immigration arrests from federal agents who do.
McFadden descends from the stage to shake hands with the crowd. He doesn't expect what's next: that dozens of people will surround him, waiting for a selfie with the sheriff, or that parents will ask him to pose with their children for pictures. He certainly doesn't expect the elderly woman who exclaims with a laugh, "I never thought that one day I would hug la policia!"
McFadden made his promise to end the county's participation in 287(g) the core of his campaign. Mecklenburg's breakaway hardly made it a rogue county. Only 78 of 3,007 U.S. counties participate in the program. One main reason why: 287(g) can erode the trust between local law enforcement and the community it serves. Any interaction with police can be seen as a risk.
"I have almost four decades' experience in this. This isn't a study. I didn't have to go through the data," McFadden tells me in his office the next day. "I'm looking at people who say, 'I'm not going to come to court,' or 'I'm not going to report this crime.' And those kids. Imagine these kids growing up with this fear their entire lives."
As sheriff, McFadden serves criminal warrants, regardless of immigration status. To make their arrests, ICE agents use civil warrants. Immigration enforcement usually falls under civil law, which allows ICE to arrest people without the judge's signature required for a criminal warrant. ICE contends the civil warrants still prioritize criminals.
McFadden resists the claim and asks: What kind of criminals? In 2017, almost three-quarters of the 143,470 people ICE arrested had criminal convictions—42 percent DUIs, 31 percent traffic offenses. Only one percent had been convicted of homicide, only 2.6 percent of sexual assault. Murderers and speeders? Both criminals to ICE.
"If these people are so violent, why don't you have the necessary paperwork to have a criminal warrant signed against them?," McFadden asks. "They know these people by name; they know the crimes they've committed. Why not sign a criminal warrant and have them arrested?"
McFadden believes the February raid was retaliation against North Carolina for its turn against 287(g): As of this year, 96 of the state's 100 counties don't cooperate with ICE. The agency blames those counties for forcing it from jails and onto streets, where it says it must police aggressively and where collateral arrests are inevitable.
To McFadden, it seems like an attempt to bully sheriff's offices back into cooperation with ICE. "But I stand my ground," he says, "and I'm going to continue to do what I need to do to protect this community."
***
CINTHIA SPENDS most of her time worried about what will happen. Sometimes she's angry about what already has. She used to love Charlotte, but now she wonders if this is the right city for her family.
As of mid-March, Cesar remained at the detention center in Georgia. I ask Cinthia what she'd do if she learned he'd been released. "I will thank God for the blessings," she says, "that everything will turn out all right."
Jen Tota McGivney is a writer in Charlotte. Reach her at jennifer.mcgivney@gmail.com or on Twitter, @jen_mcgivney.
Translated to Spanish by Edwin Dávila-Lizasoaín.