Checking in on the Farms
Last frost date still a couple of weeks out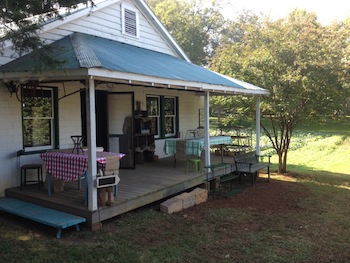 As a freeze warning swept across the region over the weekend, gardeners rushed to cover budding shrubs and bring potted plants inside. But for area farmers, protecting vulnerable early crops isn't that simple.
Despite taking precautions, Mary Roberts of Windcrest Farm in Monroe received damage to the last of her overwintering crops and some early spring crops. The cold temperatures wiped out her snow peas. However, her large supply of blueberry bushes fared well. Roberts' farm is a USDA Certified Organic operation. In addition to selling produce throughout the season, Roberts sells many transplants. This year, she offers nine varieties of farm-grown three-year-old blueberry bushes. Learn more here. Roberts plans to hold off on transferring late-spring and summertime plants from the greenhouse to the ground until after April 15th, the average date of the last frost for this area.
Over at Renfrow Farms in downtown Matthews, Pressly Blackley Williams didn't suffer any big problems over this past weekend. The cold temperatures bit the edges of her kale and collard leaves, but the damage was minimal. Williams planted herbs last week, and they survived. Her cut flowers have become one of Williams' favorite farm products, so she was pleased that her daffodils and other spring flowers came through the weekend unscathed. She, too, will wait another couple of weeks to plant the majority of her produce.
For those ready for an official marker of spring's arrival, the Davidson Farmers Market celebrates its opening day of the season this Saturday, April 4. The market operated on a limited schedule through the winter, but it resumes regular hours this weekend. The market is open every Saturday from 8 a.m. to noon through Thanksgiving. Don't expect instant summertime, though. Strawberries, peaches, and tomatoes won't be on hand Saturday, but root vegetables, greens, and local meat and eggs should be plentiful. Learn more about opening day plans by clicking here.