Cheer In the Panthers' Week of Strife
Stewart lends piano talents, self to autistic children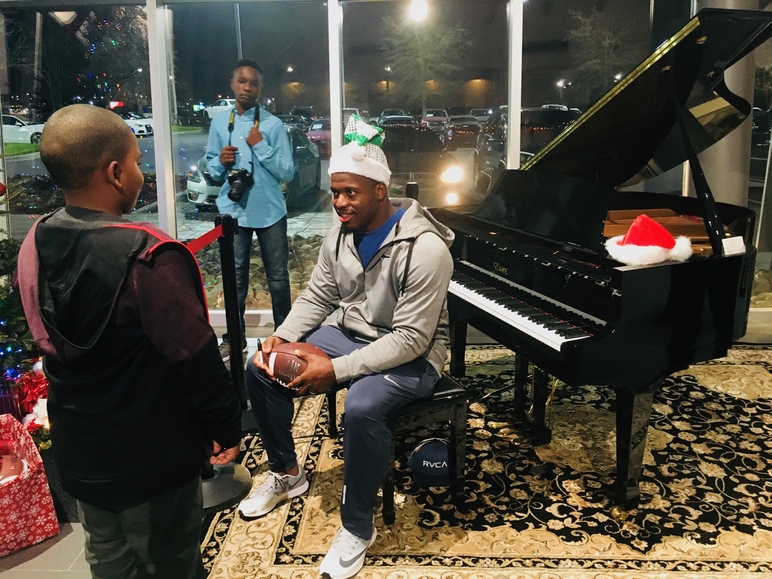 Jonathan Stewart is the Carolina Panthers' starting tailback and, by the end of this season, could be the team's all-time leading rusher. He's also an accomplished pianist, as he's demonstrated at times during his nearly 10 years in Charlotte. On Thursday evening, Stewart stopped by Audi of Charlotte and mixed the two, taking photos with and signing footballs for about 20 autistic children who receive services from Autism Charlotte. He then sat at the keys—a Steinway baby grand player piano that cost $31,000—and led the kids and their parents through a few Christmas songs.
Stewart's association with the dealership came about through its general manager, Jim Mangano, whom Stewart met this year when he and a friend came in to look at cars "because we're Audi fanatics," Stewart said.Mangano, who learned of Autism Charlotte's work through a colleague at Audi of Charlotte, has a nephew who suffers from Asperger's Syndrome. He decided to help sponsor the 2017 iCan Bike Camp for disabled children in June and have the dealership act as a corporate sponsor for Autism Charlotte in 2018. When he and Stewart met, Mangano asked him to come in around Christmas to play piano and visit with the children.
After photos and football signings Thursday, Stewart took his seat behind the Steinway. "Disclaimer here," he announced. "I really don't know much Christmas music, but I'll give it my best shot." He played a lovely rendition of "Silver Bells," then had to hunt-and-peck his way through "Jungle Bells," "Rudolph the Red-Nosed Reindeer," and "Frosty the Snowman." The kids sang merrily along, not seeming to mind.
It was a warm and slightly discordant scene considering the news that's come out of the Panthers organization in the past week: Multiple allegations of sexual harassment against owner and founder Jerry Richardson, and Richardson's announcement Sunday that he plans to sell the team, throwing its Charlotte future in doubt. Stewart made it plain that he didn't visit the Audi dealership to discuss all that. "I can't answer any of those questions," he said, politely but firmly, and headed for the door.